Cherry Blossoms 2012: Tokyo Report (4/18)
Cherry Blossom Report 2012
Official cherry blossom reports by japan-guide.com
2012 Cherry Blossom Forecast - Schedule of upcoming reports - Post your own report
Popular cherry blossom spots - How to do hanami? - Cherry tree varieties
2012/04/18 - Tokyo Report
So far this season, I have been mostly covering cherry blossoms of the Somei Yoshino variety. As Somei Yoshino are the overwhelming majority among cherry trees in Japan, they have become synonymous with the term "cherry blossoms". Thus, when someone refers to cherry blossoms without specifying the variety, they almost always refer to the Somei Yoshino.
Today I travel to Tokyo to check out the late blooming varieties of cherry blossoms. As you might know (please also take a look at Scott's reports for the situation at Tokyo over the past 2 weeks), the season for Somei Yoshino has pretty much ended in Tokyo, but that also leads to exciting times for the discovery of cherry blossoms of other kinds.
Ueno Park
April 18, 2012 - approaching full bloom (50-80%) (Ichiyo)
April 18, 2012 - approaching full bloom (50-80%) (Kanzan)
April 18, 2012 - end of season (Somei Yoshino)
April 18, 2012 - end of season (Weeping cherry trees)
April 18, 2012 - beyond peak (Yaebeni weeping cherry trees)
It was amazing to see that the scene of pinkish white from the Somei Yoshino blossoms had changed to a scene of green from their leaves, within the space of a couple of weeks. If you look closely enough, you can still see some petals languishing from the branches, looking as if they would finally fall with the next gust of wind.
And so, on a canvas sheet, paint brown tree trunks in two rows along a gray path, fill the tops of most of the trunks with green and tints of yellow, mix two shades of pink on your palette and randomly fill in the tops of the remaining tree trunks, add in some people (an average number is enough), and you have a good representation of Ueno Park as it is now.
As for the two shades of pink, the darker is Kanzan and the lighter Ichiyo. Today I found them not to be in full bloom yet, but pretty close. The Ichiyo were generally in a more advanced stage than the Kanzan, and should reach their peak in a day or two. The Kanzan would probably be following soon after.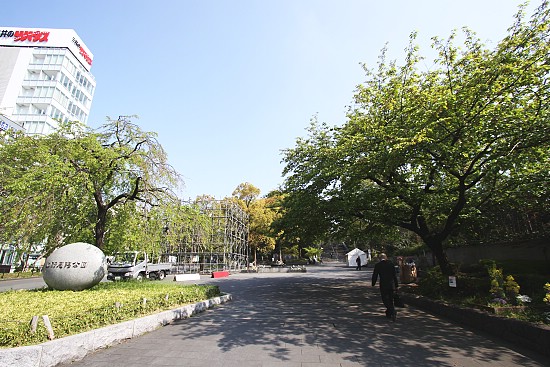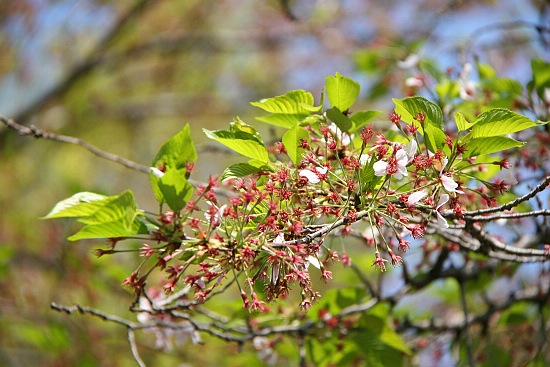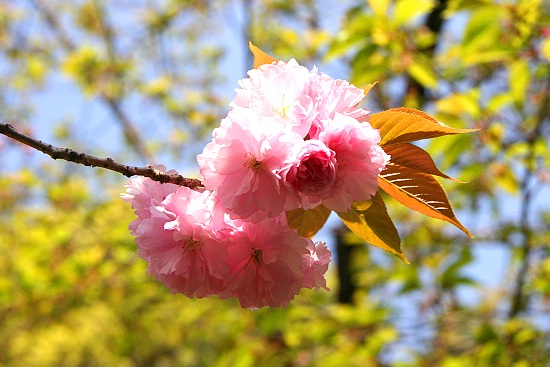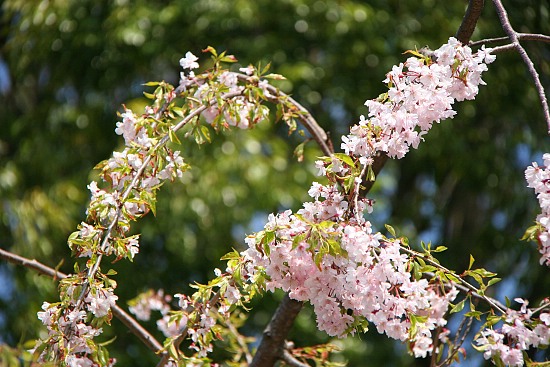 Koishikawa Botanical Garden
April 18, 2012 - approaching full bloom (50-80%) (Ichiyo)
April 18, 2012 - end of season (Somei Yoshino)
April 18, 2012 - petals starting to fall (Taihaku)
I was bouncing into the garden, feeling refreshed from the nature around me: birds chirping sweetly, flowers and plants smelling nice, butterflies fluttering around, bees buzzing away busily as always. Then, it just had to happen; time stood still for an eternity... ... a crow flew by singing. All crows should be banned from grounds of botany.
Koishikawa Botanical Garden is a great place to visit for those interested to find out about the various types of cherry blossoms available. Trees are usually well labeled to help visitors tell them apart. It is also usually less crowded than other cherry blossom locations in Tokyo, so for those who would like to spend some time away from the crowd, this is a good option.
The Somei Yoshino blossoms were gone as expected, with Ichiyo trees emerging to step into the spotlight. Now, the Ichiyo blossoms have suddenly become the superstars that people stop for to take pictures of. I counted the open flowers versus the closed ones: not quite full bloom yet, but soon. As Ichiyo flowers grow in tight bunches and have many petals, they presented a visual fullness which covered the unopened buds, resulting in a picture already very pleasing to the eye.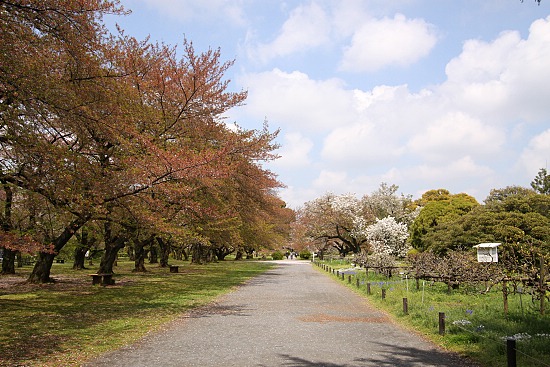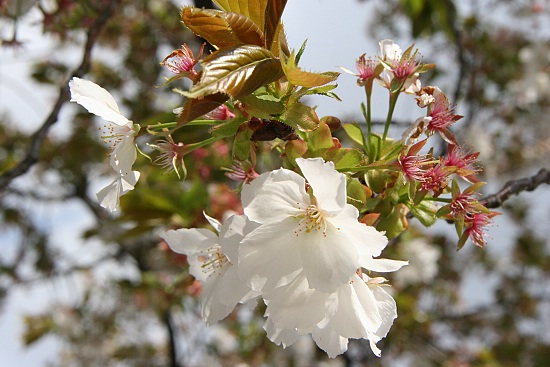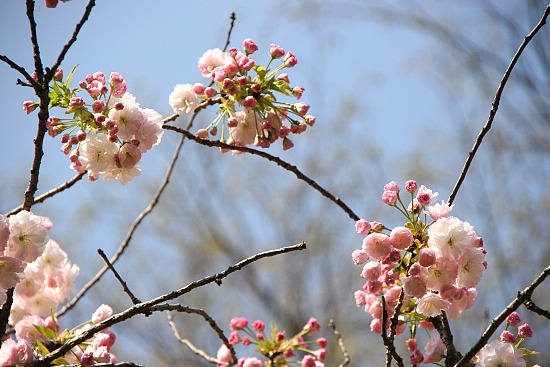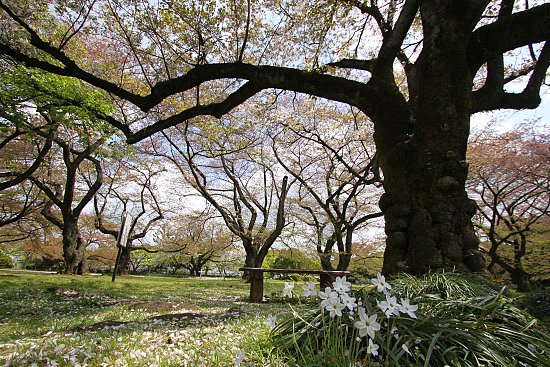 Shinjuku Gyoen
April 18, 2012 - full bloom (Ukon)
April 18, 2012 - approaching full bloom (50-80%) (Ichiyo)
April 18, 2012 - opening (10-50%) (Fugenzo)
April 18, 2012 - opening (10-50%) (Kanzan)
As I made my way towards Shinjuku Gyoen, I noticed that the posters on the walls of the train stations have been changed since the last time I came to Tokyo. Now the advertisements were for cherry blossom viewing trips to northern Japan; to places like Hirosaki, Kakunodate, Miharu and Hakodate. Places in the Tohoku Region will see their first cherry blossoms open later this month, while those in Hokkaido will probably have to wait till May.
There were a nice number of visitors at Shinjuku Gyoen, enjoying a picnic or taking a stroll. Here, I took notice of four varieties of the cherry blossoms in bloom. The states of the Ichiyo were similar to those at the previous two locations, while the Kanzan trees were considerably slower in their development. The Fugenzo have also yet to reach the halfway mark, while the unique yellowish-golden Ukon were already in full bloom.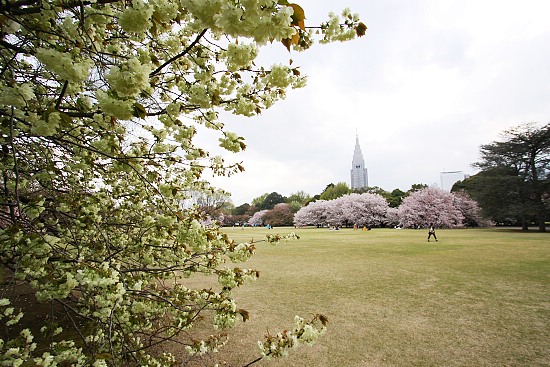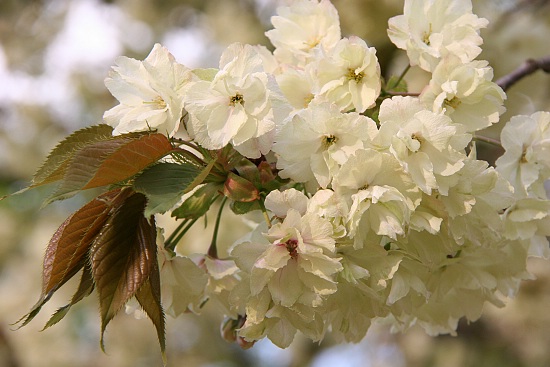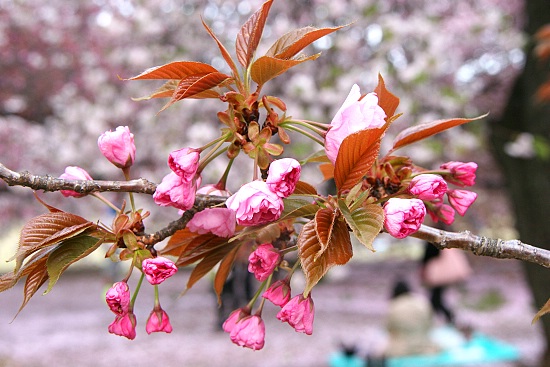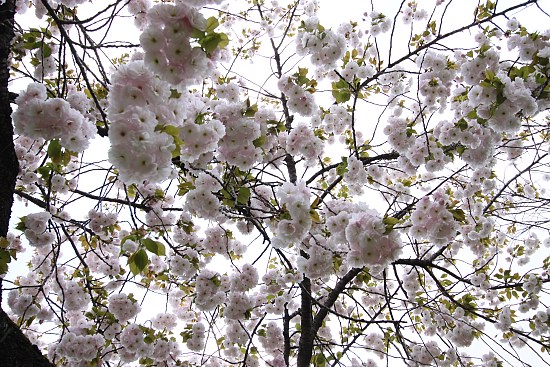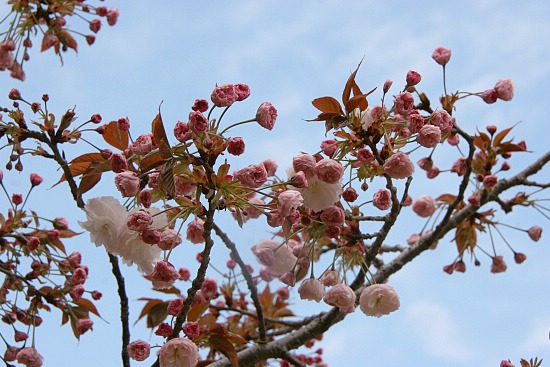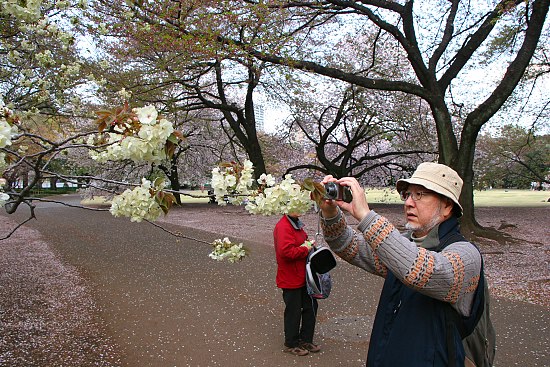 Questions? Ask in our forum.