Cherry Blossoms 2013: Kyoto Report (3/20)
Cherry Blossom Report 2013
Official cherry blossom reports by japan-guide.com
2013 Cherry Blossom Forecast - Schedule of upcoming reports - Popular cherry blossom spots
How to do hanami? - Cherry tree varieties - Post your own report
2013/03/20 - Kyoto Report
by scott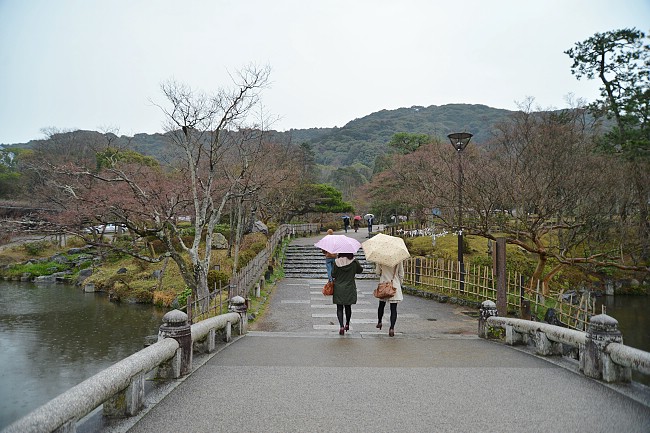 Maruyama Park
Schauwecker and Sean have already been out covering this season's cherry blossoms with quick trips to see the early blooming Kawazu Cherry Trees and to report on Tokyo's record setting early opening. Today it was my turn to head out on what will be the first of many longer reporting trips around the country. First stop: Kyoto.
In a typical year the cherry blossoms around Kyoto tend to open just a day or two after Tokyo, so after Tokyo's record setting early opening this past weekend you might expect the blossoms around Kyoto to open soon as well. However, it happens that Kyoto has not felt the same abnormally high temperatures that Tokyo has been experiencing, and as a result will not likely see the season sped up to the same degree.
This was also reflected in the cherry blossom forecasts which had drastically revised their predictions for Tokyo (accurately I might add) by over a week, but only moved up Kyoto's expected opening date by a day. The current forecast predicts the Kyoto blossoms to open on March 25th, and that still seems a reasonable estimate based on the current state of the blossoms and the upcoming weather.
So with today's schedule I visited four sites around Kyoto including Arashiyama, Kyoto Imperial Park, Maruyama Park, and Kiyomizudera Temple. And despite the chilly, drizzly weather it was pretty crowded everywhere as today was a national holiday.
Arashiyama
March 20, 2013 - still closed
After arriving in Kyoto by shinkansen, I took a local train out to Arashiyama in the northwest corner of the city. The district lies outside of the city center at the base of Kyoto's northern mountains, and as a result the blossoms here tend to open a little bit later than the rest of the city. So far none of the trees around Togetsukyo Bridge or Nakanoshima Park have bloomed yet. Their buds were still tightly packed together and will not open for at least several days.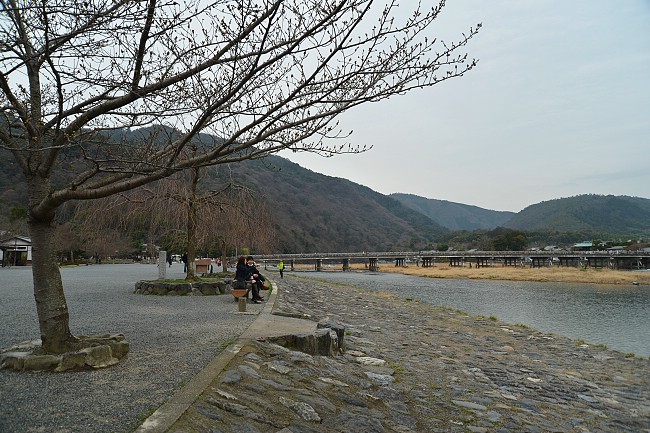 Togetsukyo Bridge from Nakanoshima Park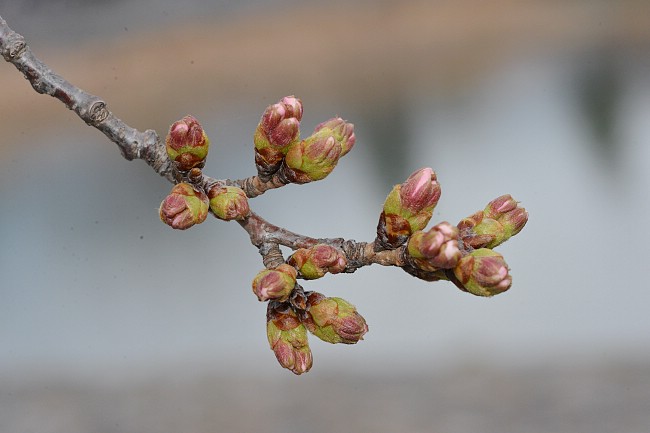 The buds have divided but are still tightly packed together
Nakanoshima's weeping cherry tree still has yet to blossom, but an early blooming tree behind it is around full bloom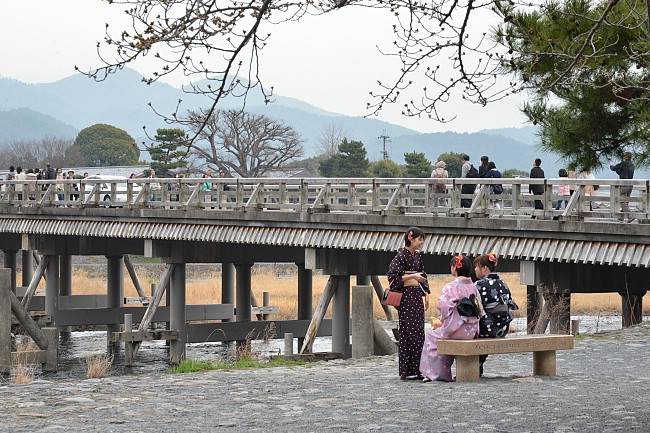 Lots of girls dressed in yukata today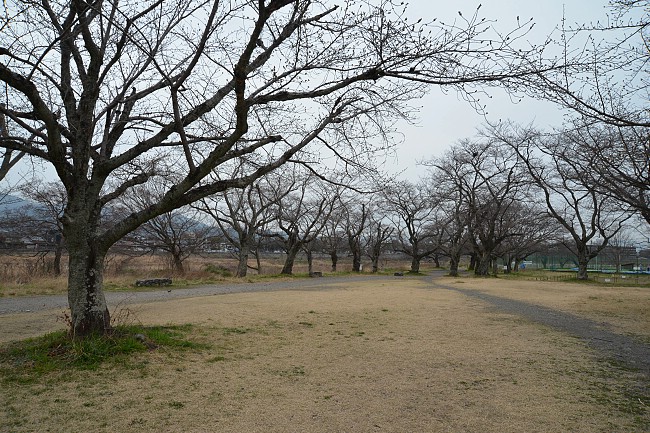 A grove of cherry trees on the way to Hankyu Arashiyama Station
Kyoto Imperial Park
March 20, 2013 - approaching full bloom (50-80%) (Weeping Cherry trees)
In the northwest corner of the Kyoto Imperial Park is a group of weeping cherry trees that tend to bloom a couple of days ahead of the predominant Somei Yoshino variety found everywhere else. There are actually several varieties of trees here, some bloom a little early and some bloom later, and about half of the trees were already well on their way to full bloom. But many of the other tree's blossoms were either still closed or only just opening, so the area should make for a nice visit for weeks to come.
This was definitely the best spot today and worth a visit if you are in Kyoto too early for the main season.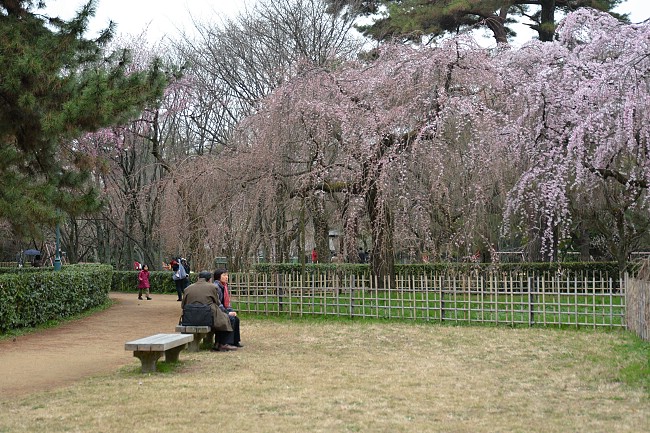 Kyoto Imperial Park
The blossoms of one of the more advanced trees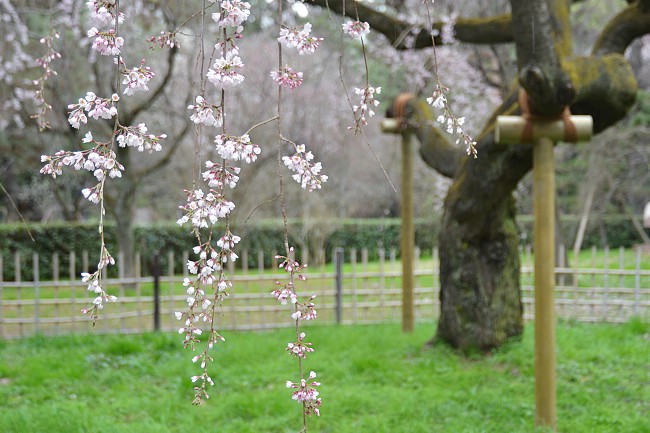 Weeping cherry tree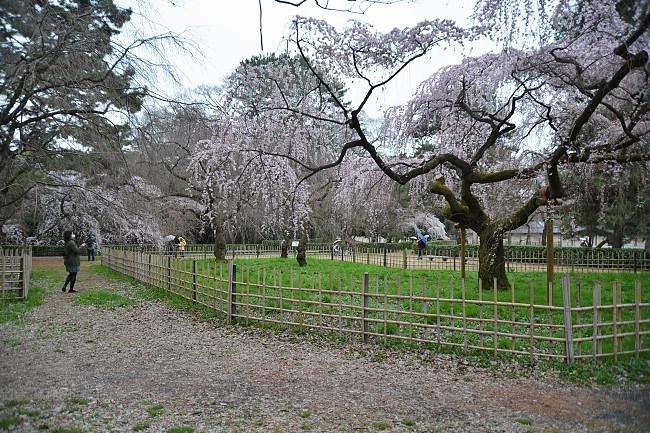 Most of the area directly under the trees is closed off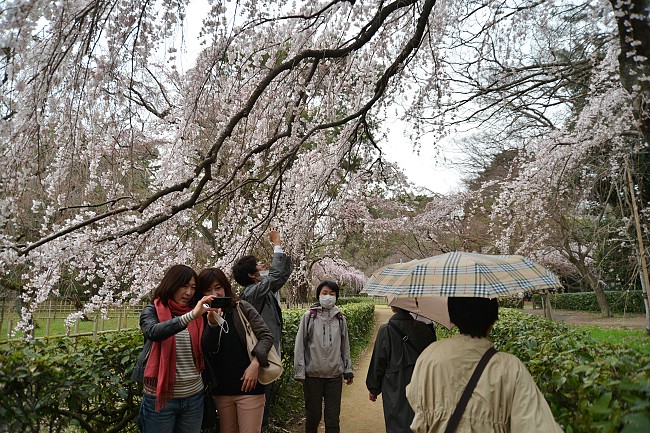 An advanced tree over the walking path
Maruyama Park
March 20, 2013 - still closed
Next I continued on to eastern Kyoto and Maruyama Park, one of the city's most popular spots for hanami parties. Unfortunately the weather turned as I got there and it started to lightly rain. This also seemed to have dissuaded most of the revelers from partying today and there was only one group out who huddled together tightly under a shell of umbrellas. Again the cherry blossoms were still tighlty closed just like in Arashiyama.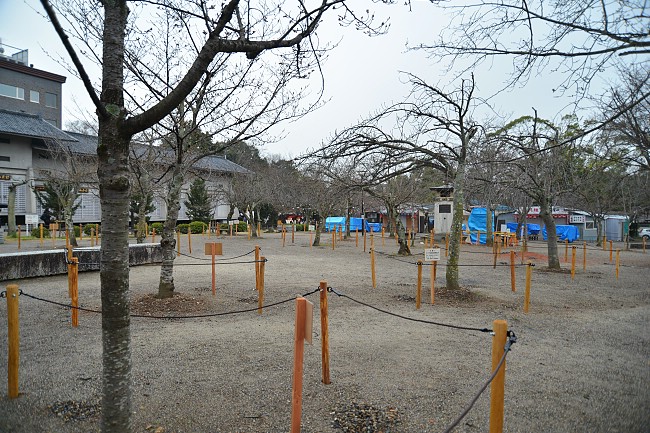 Maruyama Park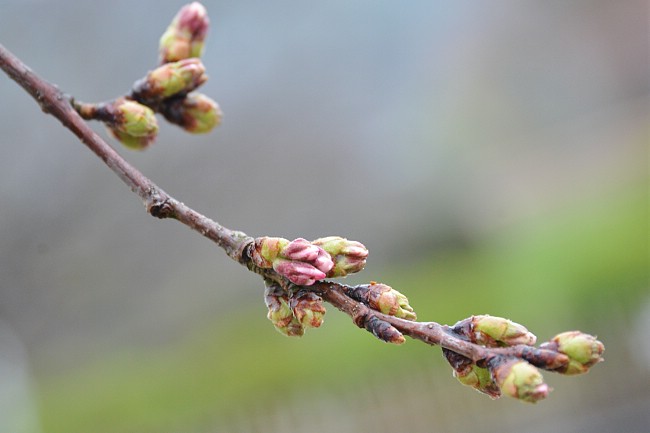 More closed blossoms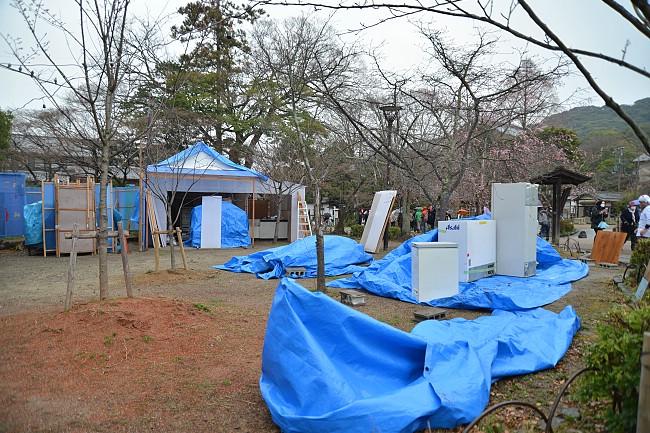 Still setting up the outdoor restaurants
Even the park's central weeping cherry tree has not seen its blossoms open yet, even though it tends to follow a slightly earlier schedule and usually blooms about 2-4 days in advance of the Somei Yoshino trees.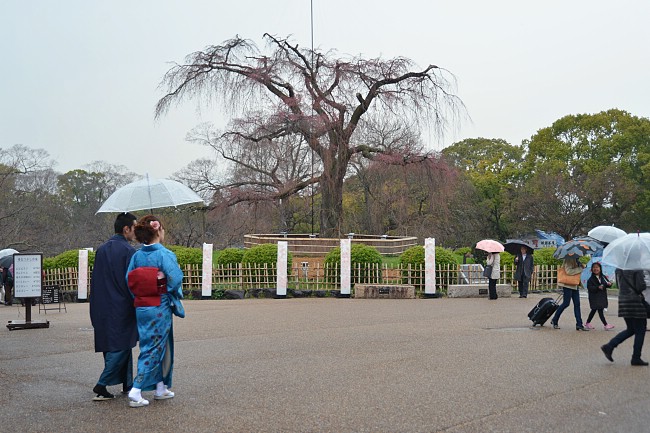 Maruyama Park's large weeping cherry tree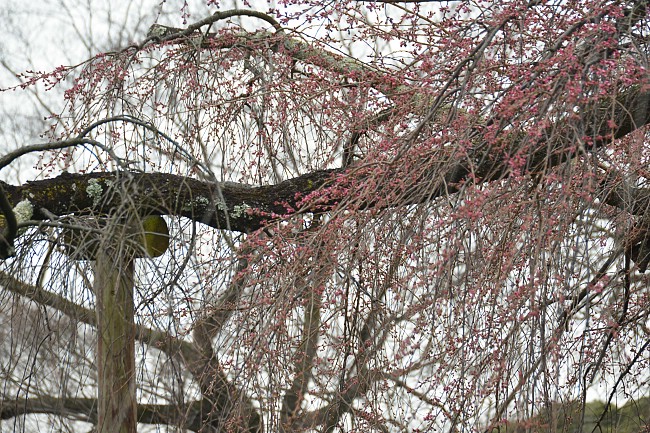 Close up of the weeping cherry tree's blossoms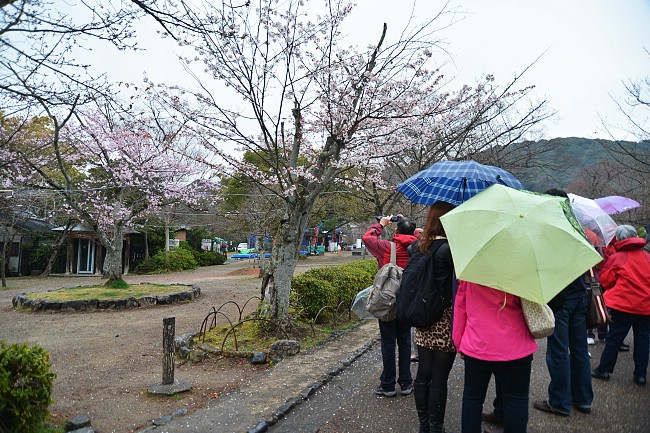 Some trees of an early opening variety
Kiyomizudera Temple
March 20, 2013 - still closed
My final stop of the day was Kiyomizudera Temple, one of the city's most popular tourist spots and a staple of our Kyoto report trips. At the peak of the season the temple's famous wooden stage sits over a sea of cherry trees. But not just yet as the blossoms around the temple were the least advanced of all the sights today.
Judging from the state of the blossoms it looks like things are right on track for a March 25th opening date. I just hope the weather isn't drastic enough to change that and mess up everyone's carefully planned schedules like it did for Tokyo.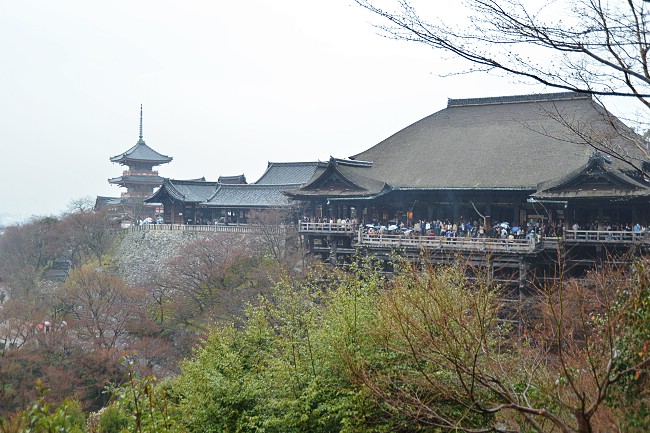 Kiyomizudera Temple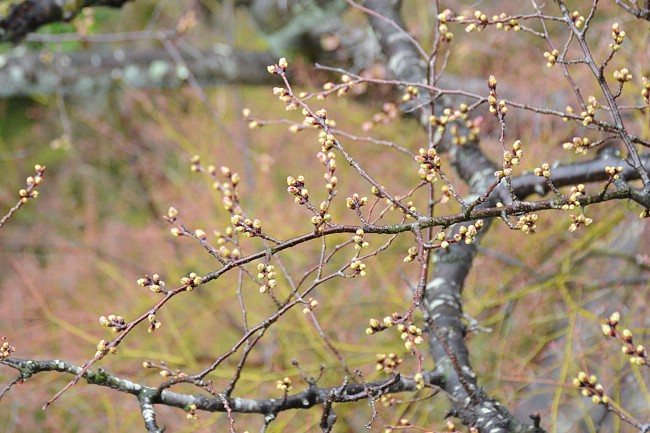 The blossoms were a little too far away for a good closeup but you can see they are still closed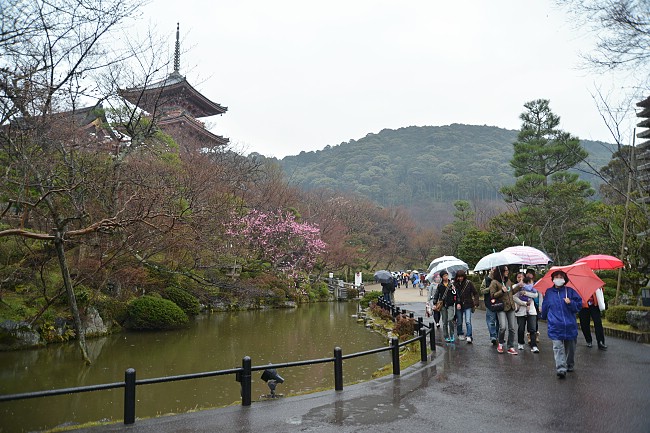 A handful of early blooming trees could be seen around the temple grounds.
Questions? Ask in our forum.