Cherry Blossoms 2014: Tokyo Report (3/31)
Cherry Blossom Report 2014
Official cherry blossom reports by japan-guide.com
2014 Cherry Blossom Forecast - Schedule of upcoming reports - Popular cherry blossom spots
How to do hanami? - Cherry tree varieties - Post your own report
2014/03/31 - Tokyo Report
by raina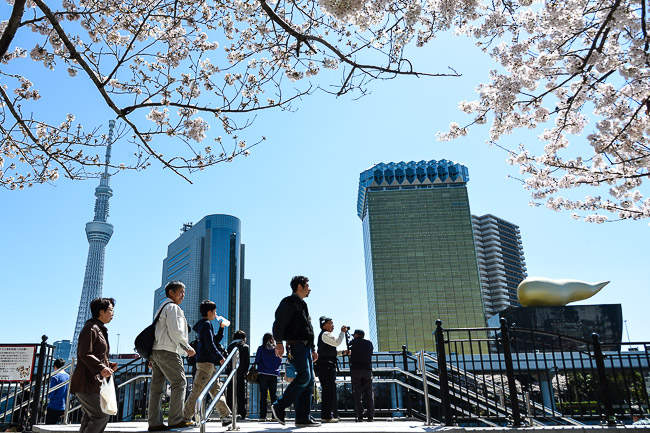 View of Tokyo Skytree and Asahi Beer Tower from Sumida Park
It has been four days since my last visit to Tokyo when the cherry trees just opened. With strong winds and rain all day yesterday, I was a little worried for today's visit. However, all my worry was for naught as today's weather was perfect for cherry blossom viewing (hanami) and I also had Scott joining me to view the blossoms in Tokyo as well.
Tokyo officially reached full bloom (mankai) yesterday and having seen the cherry trees at the different sites with my own eyes today, I concur with their decision. You can expect the cherry blossoms to stay at their peak over the next few days. Elsewhere in Japan, Kyoto's cherry blossom season officially started on the 27th, check out Scott's Kyoto report when he visited two days after it opened.
Yasukuni Shrine
March 31, 2014 - full bloom
Our first stop for today was once again Yasukuni Shrine. Tokyo city's representative tree located on the shrine's grounds, as well as the other cherry trees in the vicinity had just reached full bloom. There were many food and drink stalls set up as well and I am sure that it was bustling with activity over the weekend past. Even though it was still early when we arrived at Yasukuni Shrine, there were a lot of people out and about taking pictures of the beautiful blossoms.
View from the entrance of Yasukuni Shrine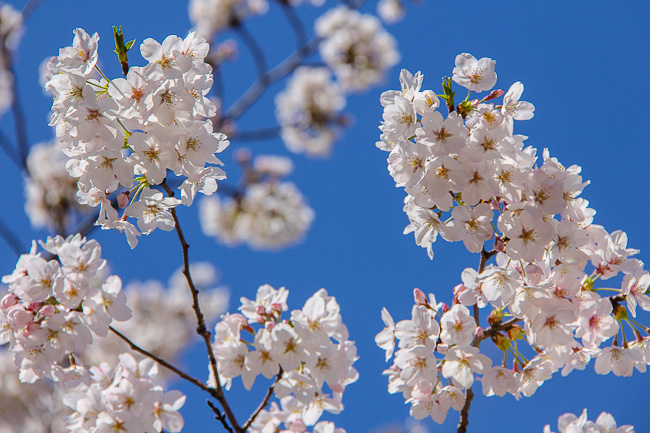 Full bloom is expected to continue for the next few days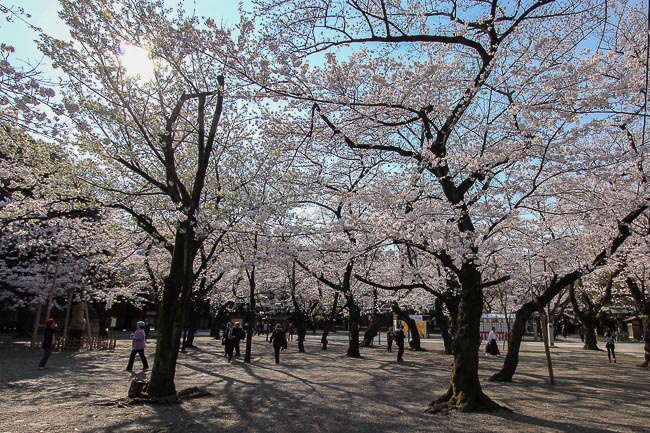 View of the cherry trees in Yasukuni Shrine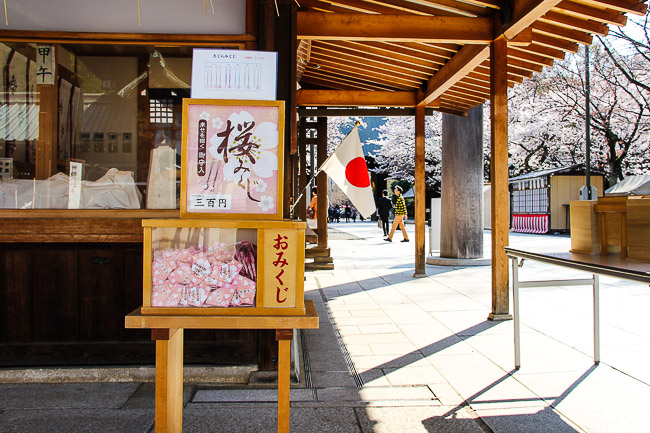 Seasonal fortune slips available at Yasukuni Shrine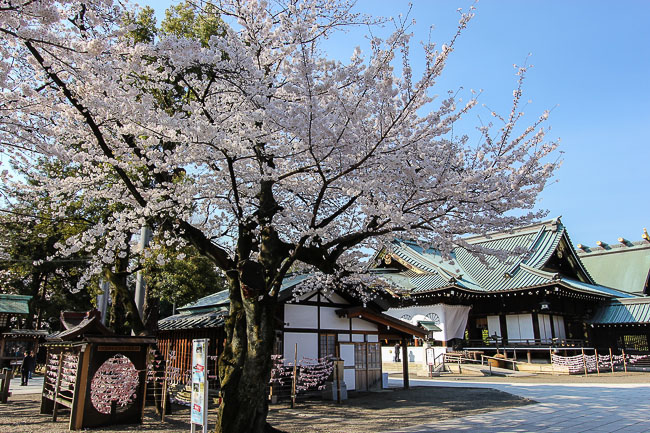 Cherry tree at Yasukuni Shrine
Chidorigafuchi Shrine
March 31, 2014 - full bloom
Since Chidorigafuchi is just across from Yasukuni Shrine, we headed there after visiting the shrine. Chidorigafuchi is a moat located northwest of the Tokyo Imperial Palace and there are about 260 cherry trees planted along the 700 meter pedestrian path. Like at Yasukuni Shrine, Chidorigafuchi was crowded with tourists and photographers taking advantage of the beautiful weather and blossoms in full bloom. Chidorigafuchi will be illuminated at night from 18:00 till 22:00 until April 6th.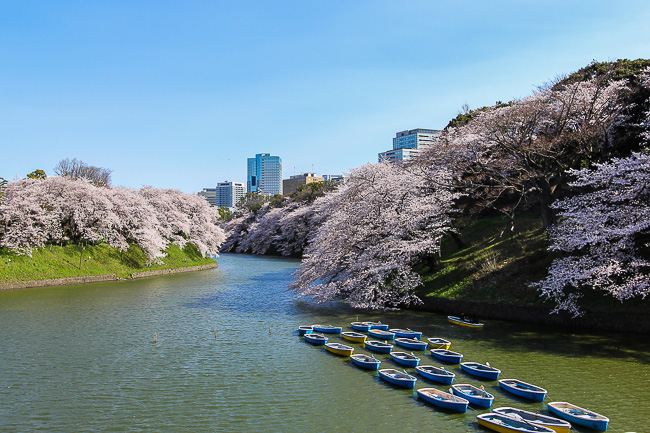 View of the moat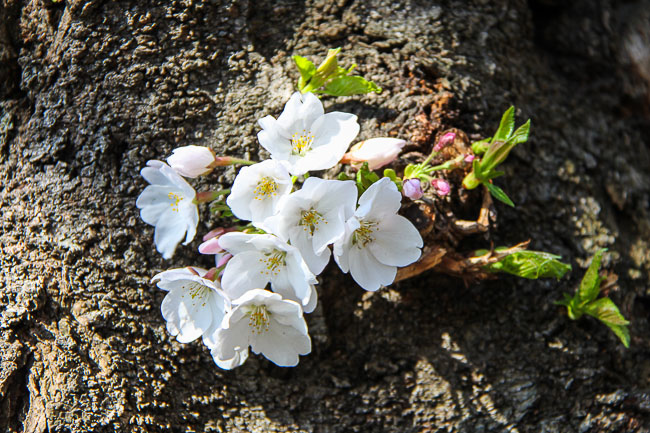 Close up of the state of flowers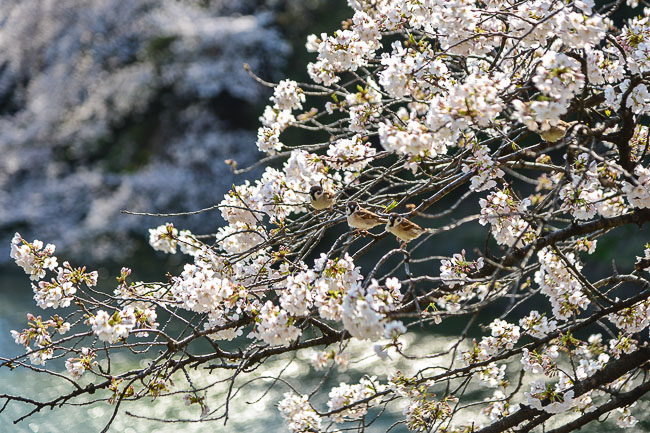 Sparrows chilling at Chidorigafuchi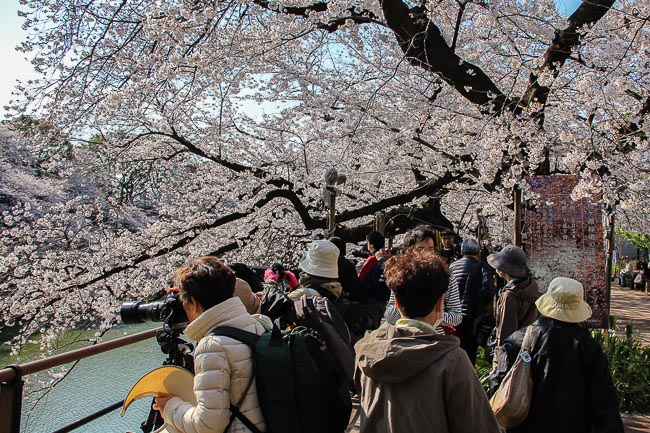 Crowds at Chidorigafuchi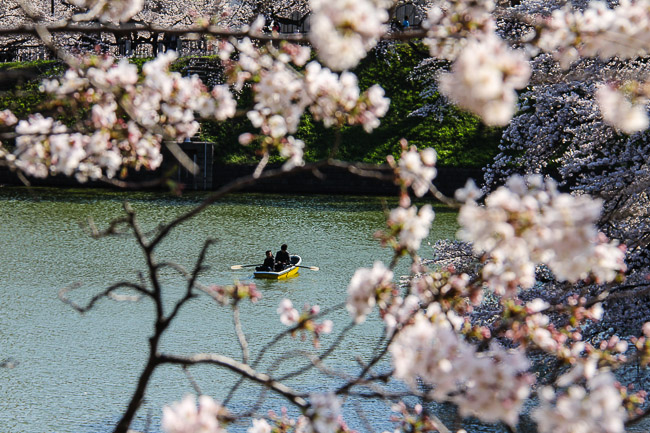 Row boats also available for rent at Chidorigafuchi
Ueno Park
March 31, 2014 - full bloom
Our third stop for today was Ueno Park, one of Tokyo's more popular cherry blossom viewing spot. The cherry trees in Ueno Park tend to blossom faster than most places in Tokyo, and I am sure the park played host to many cherry blossom viewing parties (hanami) over the weekend. As expected the blossoms were out in full force and there were many people taking pictures in today's awesome weather. Further down near Shinobazu Pond, there were food stalls set up and rental paddle boats, that were very popular amongst tourists.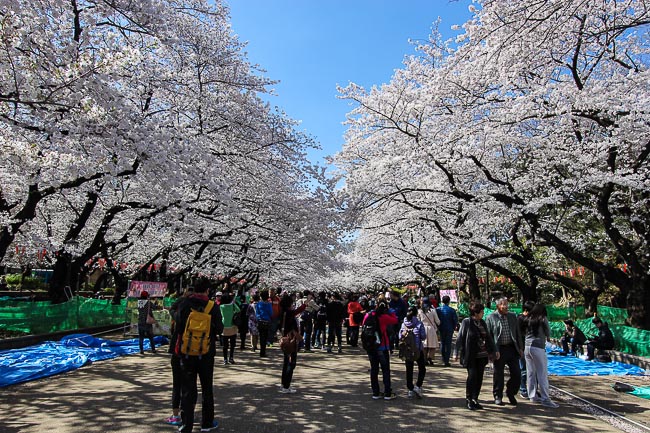 Full bloom at Ueno Park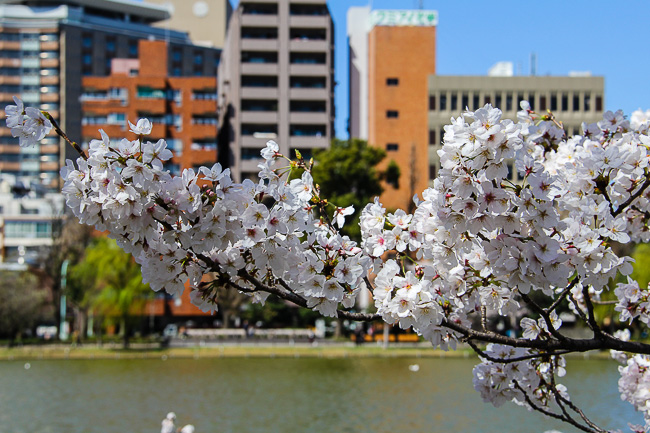 Blossoms near Shinobazu Pond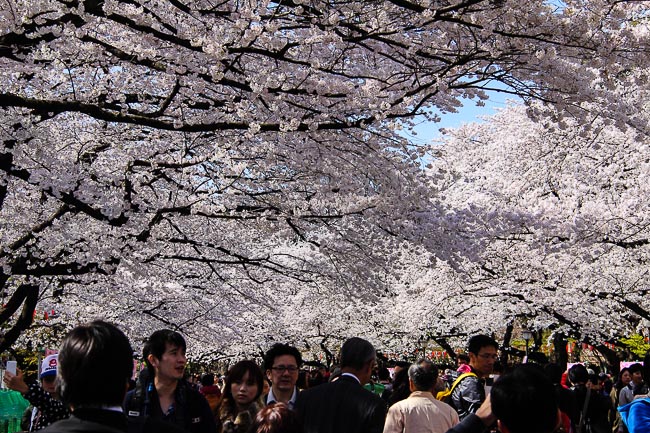 People, people everywhere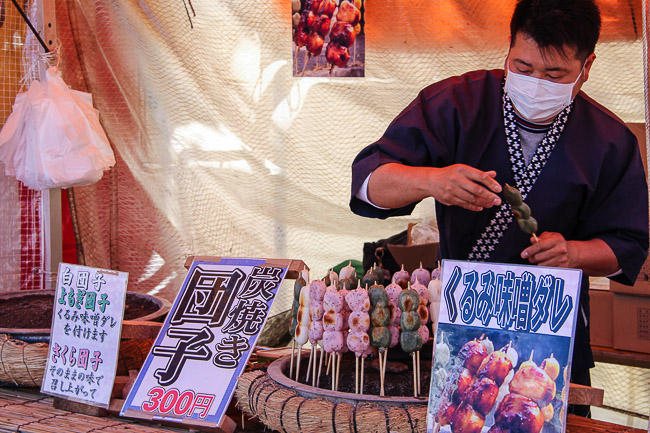 Food seller at Shinobazu Pond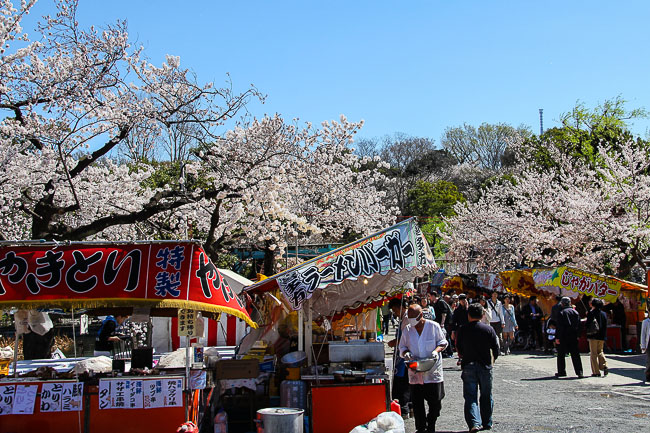 Food stalls giving a festive vibe to the area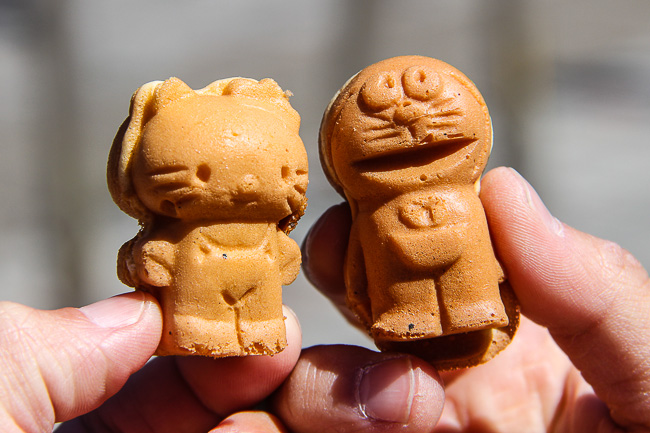 Hello Kitty and Doraemon castella
Sumida Park
March 31, 2014 - full bloom
Our last stop of the day was at Asakusa, where its main attractions are Sensoji and Nakamise shopping street. Sumida Park, my focus for today, is just a stone's throw away from Tobu Asakusa Station. There is a water bus pier where water buses travel along the Sumida River towards Tokyo Bay. The water buses that we saw were very crowded and definitely a popular choice to view the blossom from a different angle.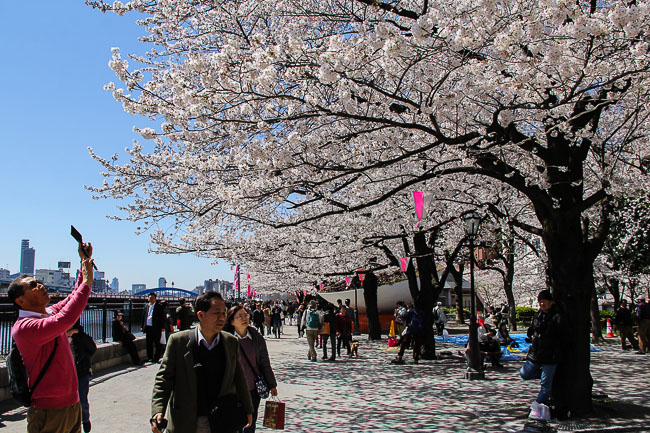 Pink for sakura season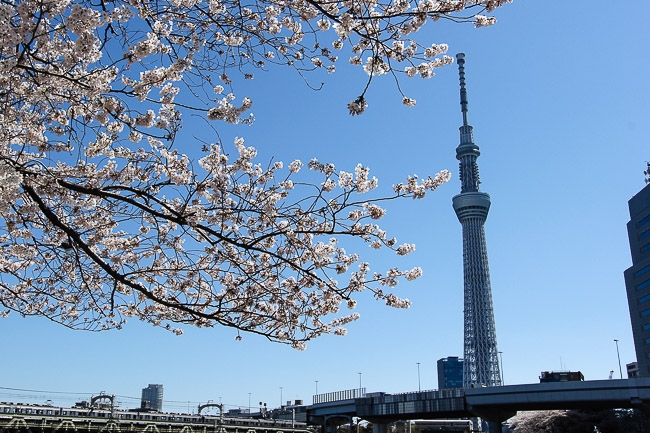 Tokyo Skytree and cherry blossoms
A stroll along the cherry tree lined park also offers great views of Tokyo Skytree and Asahi Beer Tower. Being in close proximity to Asakusa also meant that you could also take a rickshaw ride. We saw many people on rickshaws, listening to the driver's commentary and taking lots of pictures. It was my first time in Sumida Park during the cherry blossom season and it was just beautiful to be there when the flowers are at full bloom.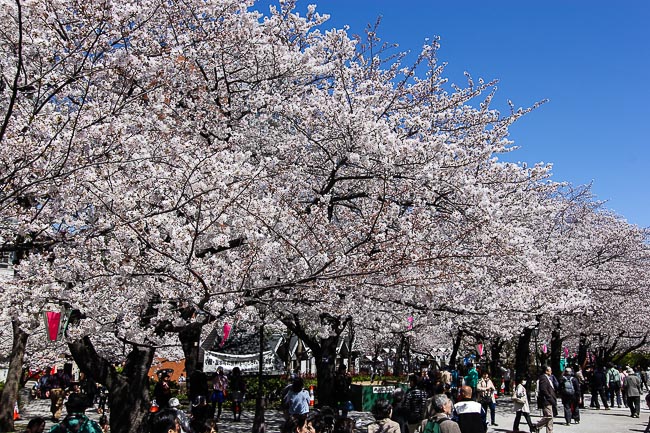 Full bloom at Sumida Park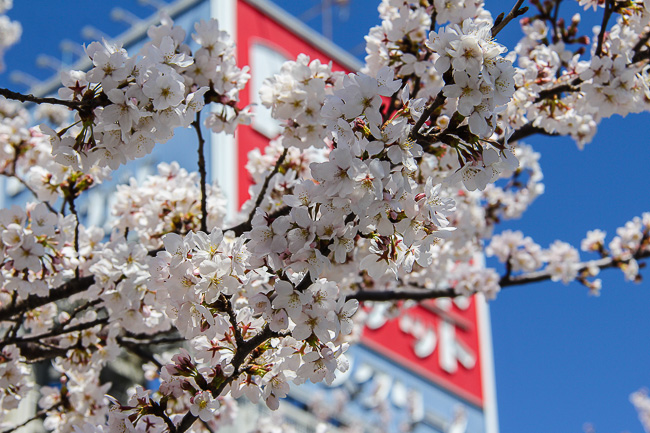 Close up of the flowers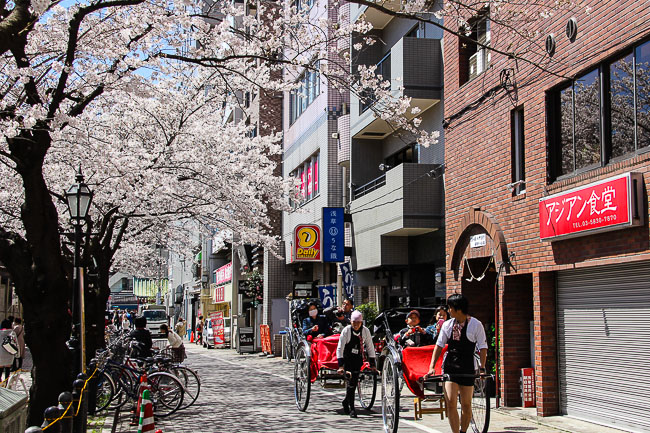 Beautiful day for a ride in a rickshaw during the cherry blossom season
Questions? Ask in our forum.