Cherry Blossoms 2013: Takayama Report (4/17)
Cherry Blossom Report 2013
Official cherry blossom reports by japan-guide.com
2013 Cherry Blossom Forecast - Schedule of upcoming reports - Popular cherry blossom spots
How to do hanami? - Cherry tree varieties - Post your own report
2013/04/17 - Takayama Report
by sean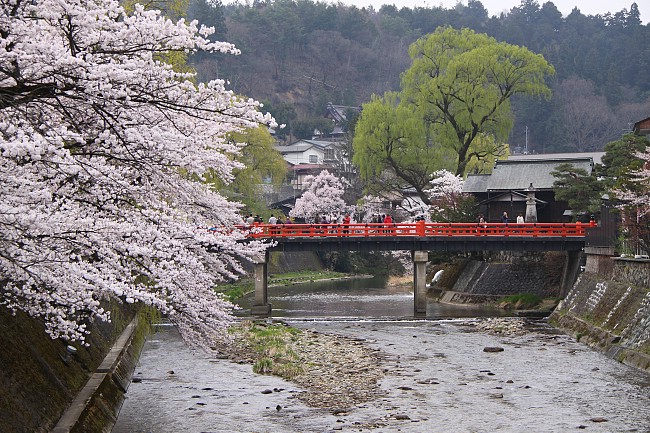 The famous Nakabashi Bridge
Takayama in Gifu Prefecture is a popular tourist destination, especially around its central area which retains a lovely old town atmosphere. Today I walked through the streets of the quaint town and visited some of its cherry blossom spots.
The cherry blossom season started in Takayama on April 7 this year, and had just recently peaked. Interestingly, after a few warm days including today and tomorrow (according to weather forecasts), the week from Friday is likely to see a return to somewhat chilly weather. This could result in a slightly preserved season here at Takayama.
Over at the Tohoku Region, Yamagata had its first open blossoms on April 15, while those at Sendai reached full bloom on the same day. Scott will be reporting from Matsushima tomorrow, so please check out his report for what I'm sure will be filled with nice cherry blossom pictures.
Miyagawa Ryokuchi Park
April 17, 2013 - full bloom
Miyagawa Ryokuchi Park is a simple park along Miyagawa River north of the town center. There are about a hundred trees surrounding a big lawn, which provides some good space for hanami (cherry blossom watching) parties. The cherry trees at the park were at full bloom today, and views are likely to remain good till a day or two beyond the weekend.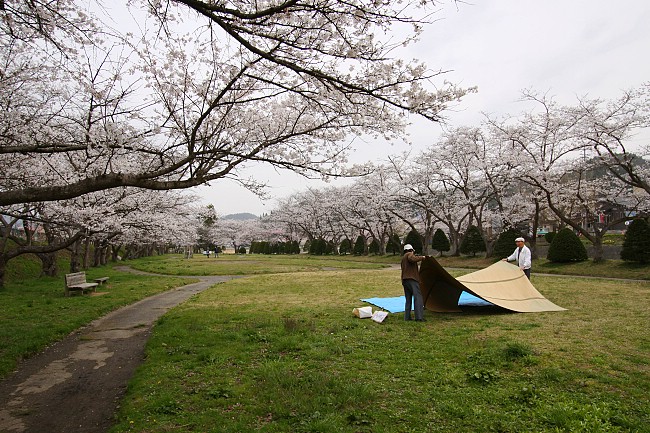 Two men preparing for a hanami party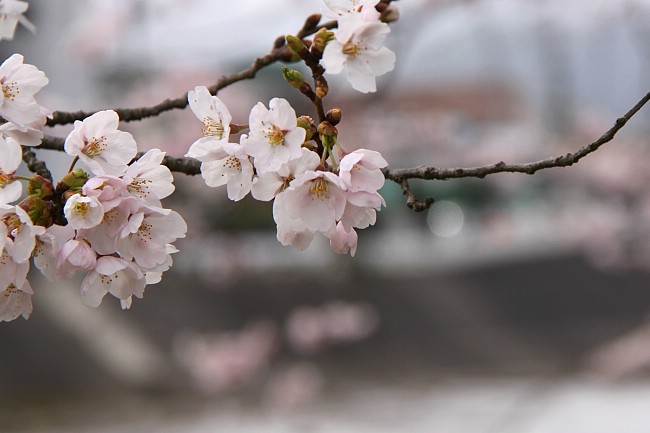 Some cherry blossoms by Miyagawa River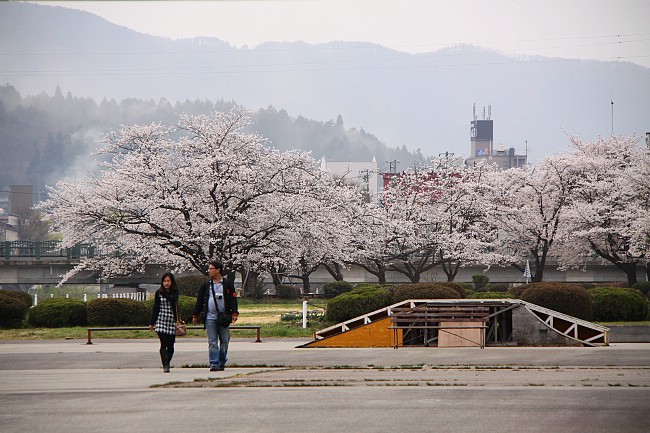 There are ramps at the southern end of the park for skateborders to try stunts
Enakogawa River
April 17, 2013 - full bloom
Enakogawa is a narrow river that flows across the northern section of the old town. Although there is not a high concentration of cherry trees at any particular spot, cherry trees of serveral varieties are planted along the river flanked on both sides by old-fashioned houses, which provide the setting for a nice leisurely walk. Today, the cherry trees here were at full bloom, and peak would likely continue to the weekend and possibly beyond. Illuminations are held in the evenings till May 6, from sunset to 22:00.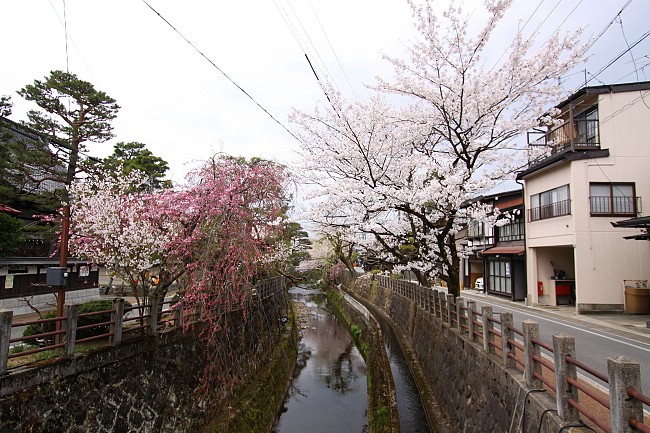 Enakogawa River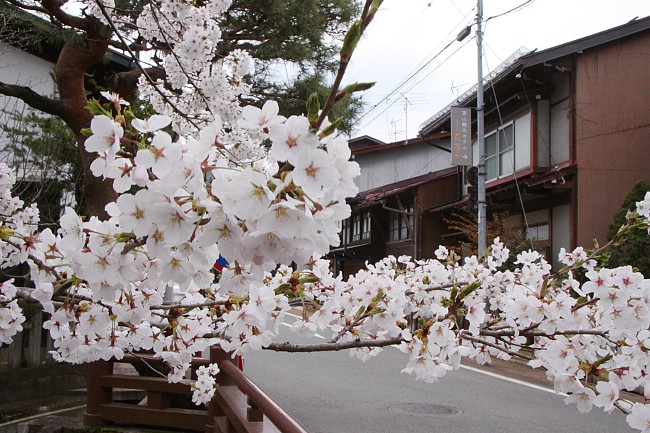 Cherry blossoms at full bloom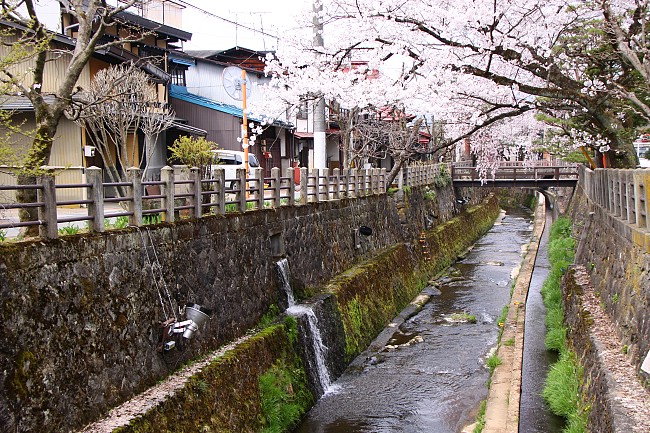 Tranquil neighbourhood
Shiroyama Park
April 17, 2013 - full bloom
Shiroyama Park is the site of the ruins of the former Takayama Castle. It is located atop a hill south-east of the town center. I was very surprised when I arrived, because although the park is listed as a site for cherry blossoms, I didn't see much cherry blossom views at all. I took a closer look at the few cherry trees at the park grounds and noticed that, while they were at full bloom, they had very little blossoms - which made them look very sparse from a distance.
I checked with the nearby restaurant owner: he said that cherry blossom views here were much better in the past. Indeed, I looked at a picture of the same spot where I was at, and the trees did look fuller. I wasn't able to find out the reason for the decline in open blossoms nor when it started, but it could be due to certain diseases which affect cherry trees. Nevertheless, many were still at the park enjoying picnics, as it offers wide open spaces and many play structures for children. Shiroyama Park is also part of the Higashiyama Walking Course, a serene walking trail which leads through cedar woods and a series of temples and shrines.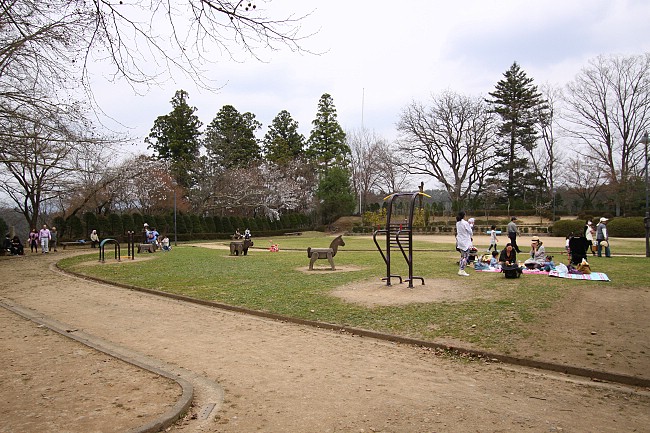 The cherry trees (far center) were in full bloom but looked barren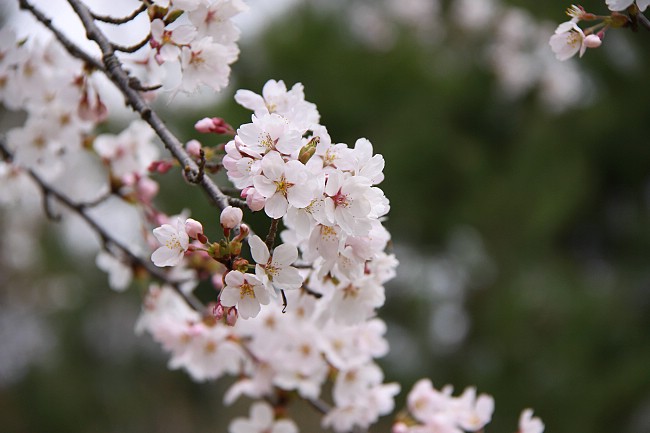 Some open blossoms
Nakabashi Bridge
April 17, 2013 - full bloom
This is the best recognized landmark of Takayama. It is often spotted carrying ceremonial floats (Yatai) on pictures of the Takayama Spring Festival. Today, the many flowering cherry trees near the bridge added to the nice scenery. The blossoms were at a similar stage to those at the previous locations; maybe just a tinge more advanced; but most are still expected to remain to delight this weekend's visitors. Illuminations are held till 22:00 in the evenings until May 6.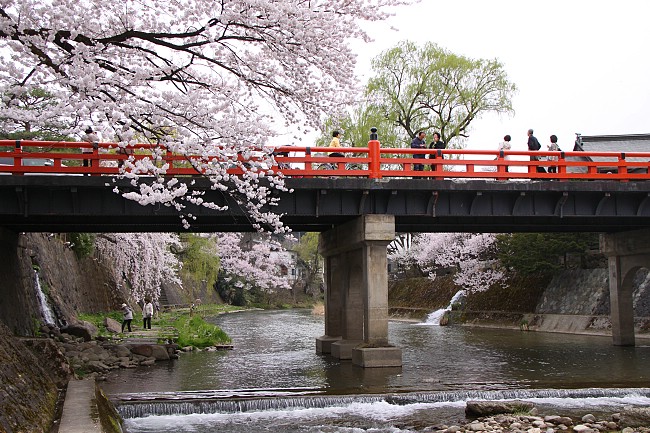 View of Nakabashi Bridge from below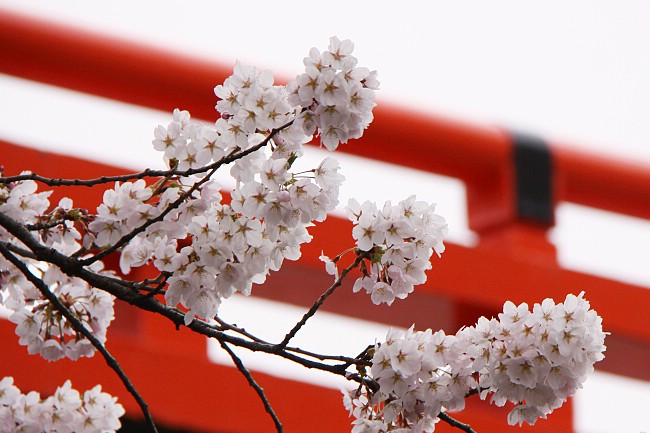 Healthy-looking cherry blossoms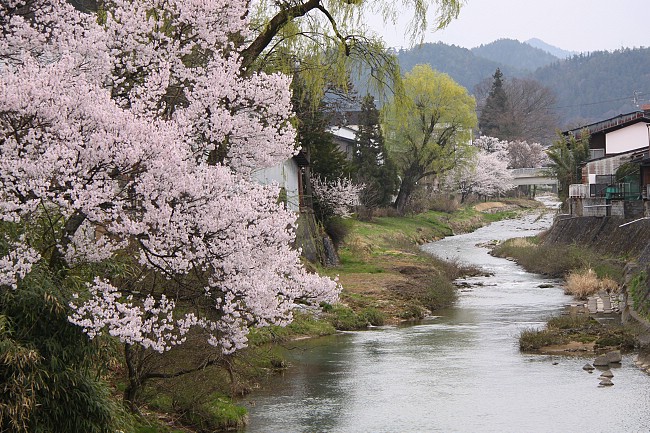 Miyagawa River south of Nakabashi Bridge
Questions? Ask in our forum.