Cherry Blossoms 2013: Tokyo Report (3/17)
Cherry Blossom Report 2013
Official cherry blossom reports by japan-guide.com
2013 Cherry Blossom Forecast - Schedule of upcoming reports - Popular cherry blossom spots
How to do hanami? - Cherry tree varieties - Post your own report
2013/03/17 - Tokyo Report
by schauwecker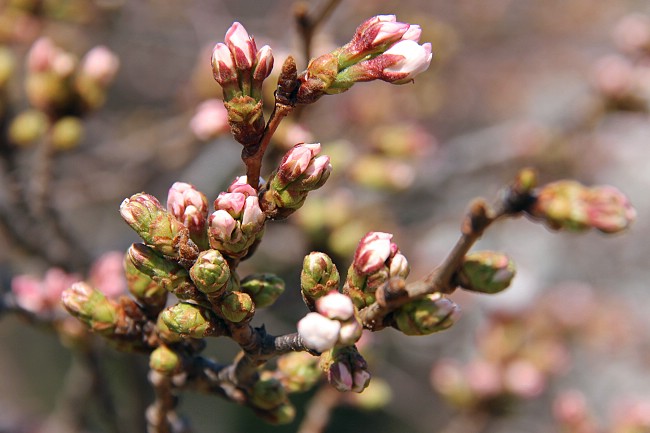 After a cold winter, many weather services predicted this year's cherry blossoms in Tokyo to open at an average pace in their initial forecasts. Yet, the city's representative tree ended up opening already yesterday, on March 16, setting a new record for earliest opening since the beginning of record taking in 1953. In the average year, it opens on March 26. Cherry trees on Kyushu were even faster: in Fukuoka they set a new record by opening on the 13th, while Kumamoto Castle reported its first open blossoms on the 12th.
The main reason for this year's fast pace are the above-average temperatures of the past two weeks that accelerated the progress of the buds in a spectacular manner. The temperatures in Tokyo are expected to remain above average until at least Wednesday which will likely result in a relatively swift opening of the trees. If the weather remains warm beyond Wednesday, the next weekend could already see Tokyo at full bloom, and the peak of the season could approach its end together with the month of March.
Five days after our first report from Tokyo, I re-visted three of the city's most popular hanami spots to check with my own eyes and camera lenses how representative the city's representative tree really is. I dropped by Ueno Park, Chidorigafuchi and Tokyo's representative tree at the nearby Yasukuni Shrine, as well as Shinjuku Gyoen.
Ueno Park
March 17, 2013 - just opened (0-10%)
The trees at Ueno Park have only just started to open, with under 0.1 percent of the blossoms open during my visit in the early morning. While some of the many buds were on the verge of opening, others looked like they needed quite a few more days of warmth to fully develop.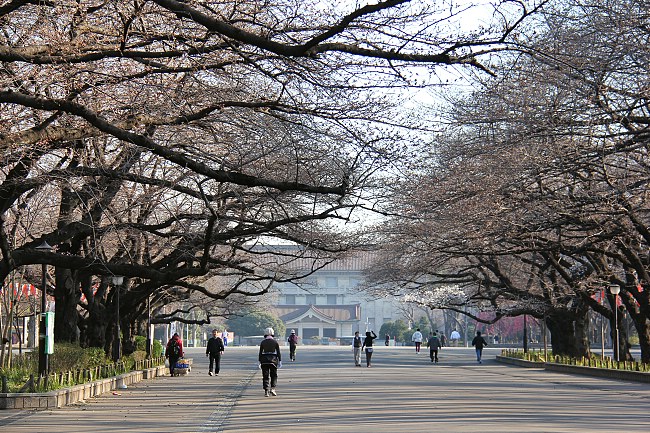 Ueno Park in the early morning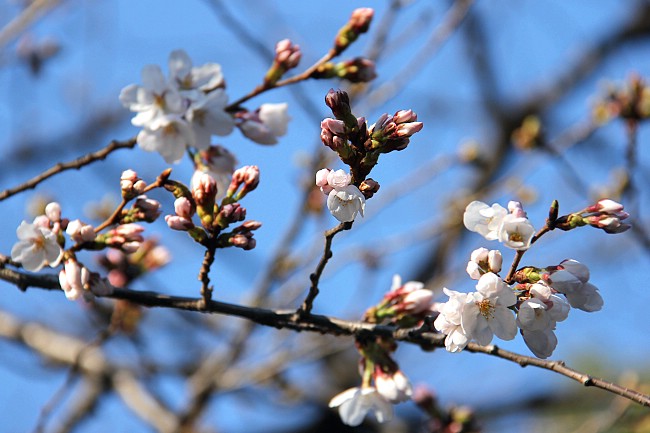 One of the most advanced branches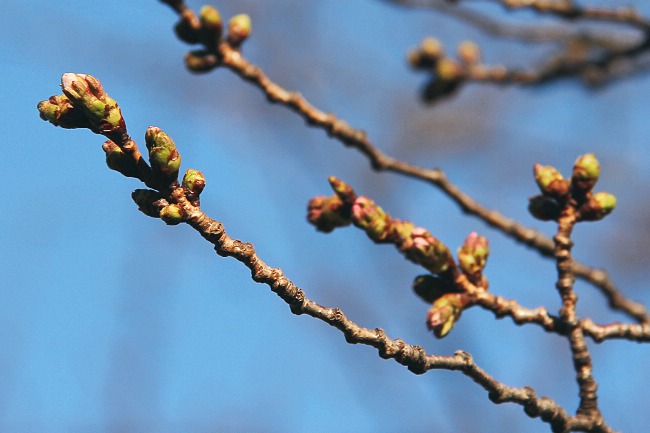 Less advanced twigs
Chidorigafuchi and Yasukuni Shrine
March 17, 2013 - just opened (0-10%)
Yasukuni Shrine is the site of Tokyo's representative cherry tree. When this tree's first 5-6 blossoms have opened, Tokyo is declared to have entered the blooming season, and when over 80 percent of its blossoms have opened, Tokyo is declared to have reached full bloom.
As announced yesterday, the tree opened its first few blossoms, but it was still well below the one percent mark this morning. A majority of the tree's buds, however, looked rather well developed already, and it would not surprise me if Tokyo would be declared to have reached full bloom within just a week. In the average year, it takes the representative tree eight days to progress from kaika (first opening) to mankai (full bloom).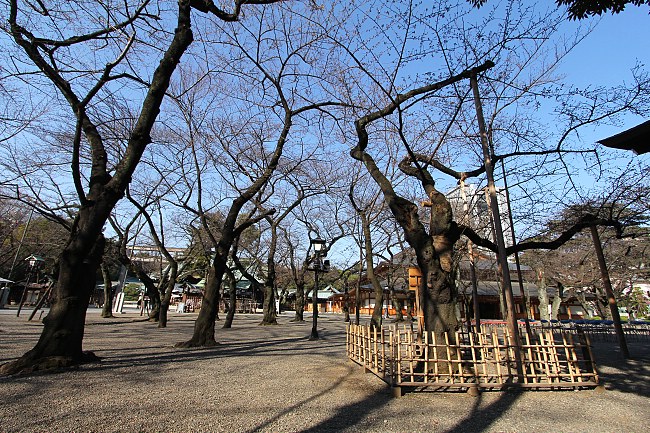 Tokyo's representative cherry tree (right, surrounded by a low, wooden fence)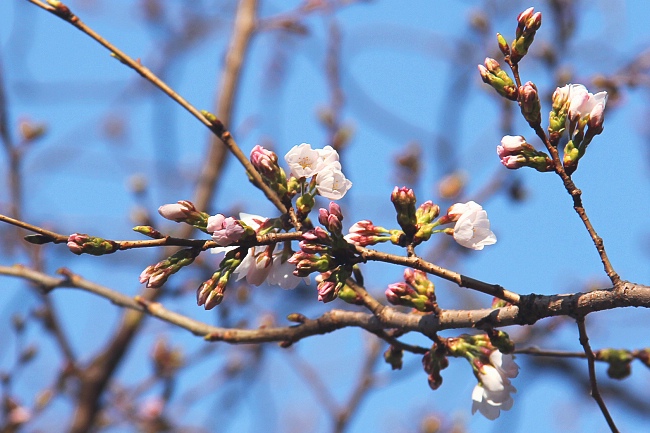 Tokyo's representative blossoms and buds
The trees along nearby Chidorigafuchi, the wide moat surrounding the northwestern part of the former Edo Castle, seemed just slightly less advanced than the representative tree at Yasukuni Shrine. Neverthless, I was able to count a few open blossoms on several of the trees along the pleasant promenade.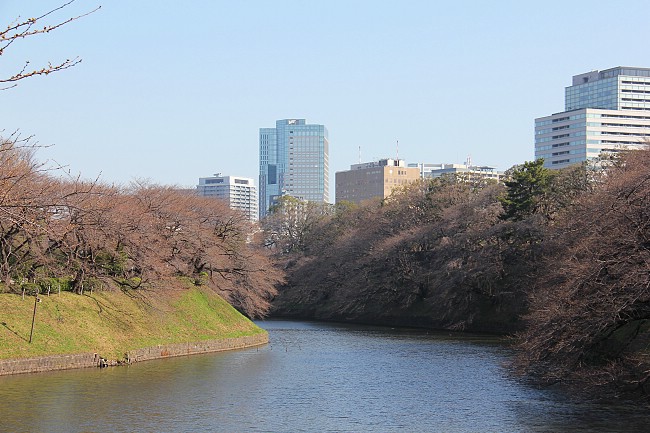 Chidorigafuchi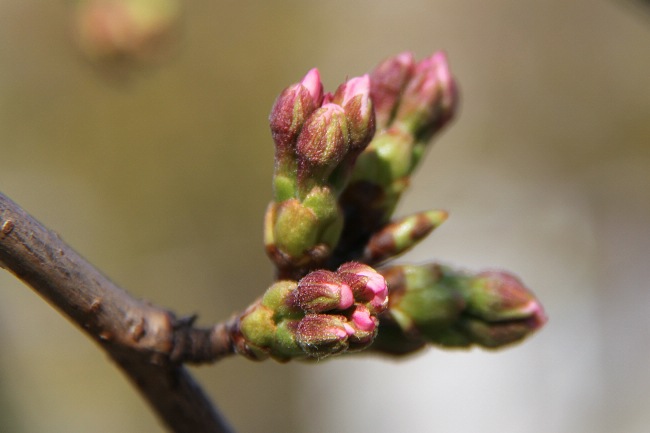 Each bud turns into multiple blossoms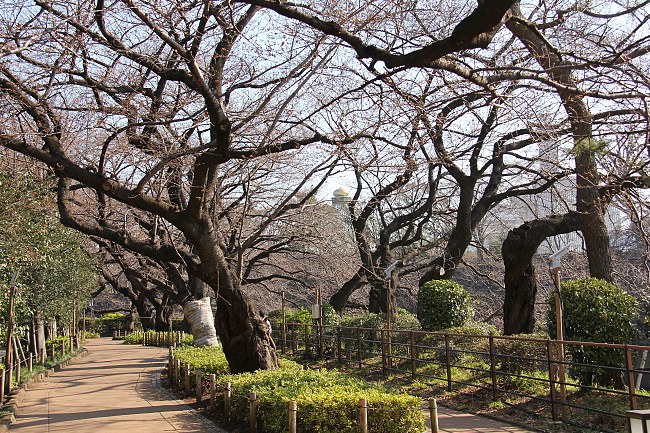 Not many people walked along the promenade this morning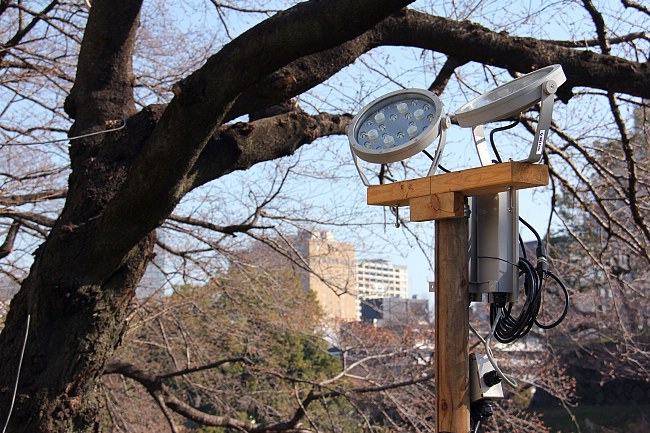 Daily illumination of Chidorigafuchi starts on March 22 with these compact LED lights
Shinjuku Gyoen
March 17, 2013 - about to open (Somei Yoshino)
March 17, 2013 - approaching full bloom (50-80%) (Weeping Cherries)
As observed in previous years, the trees in Shinjuku Gyoen were generally a little bit behind the pace of the trees in Ueno Park and Yasukuni Shrine. Most of them - with a few exceptions - were still completely closed and seemed to require several more hours of warmth for their first blossoms to open.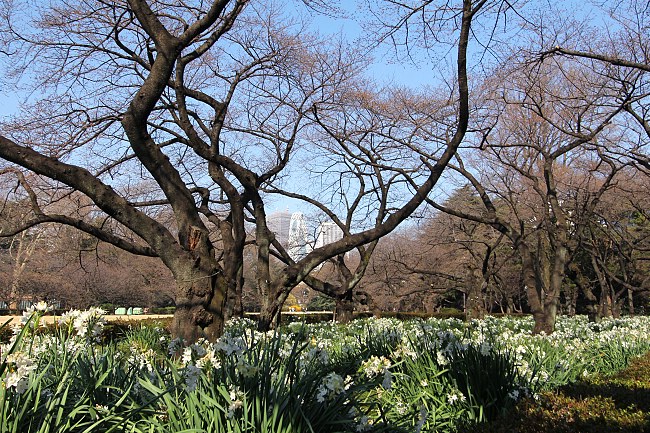 Shinjuku Gyoen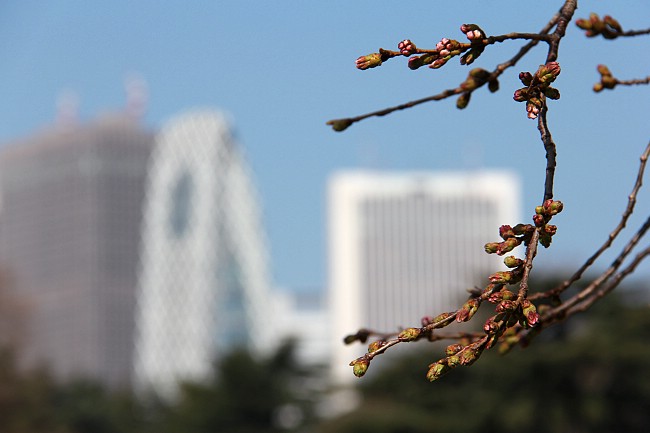 Typical state of the blossoms at Shinjuku Gyoen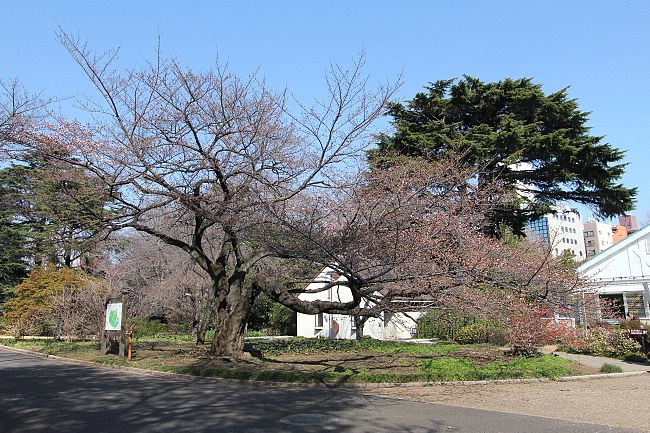 Shinjuku Gyoen's representative tree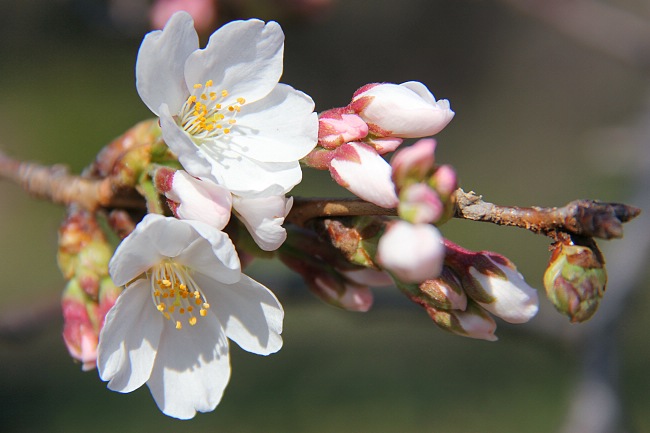 The park's representative tree was one of the few that already had started opening
The highlight of today's reporting trip was the group of weeping cherry trees in the southeastern corner of Shinjuku Gyoen. One of the trees has already reached full bloom and looked spectacular with the small daffodil flowers below it.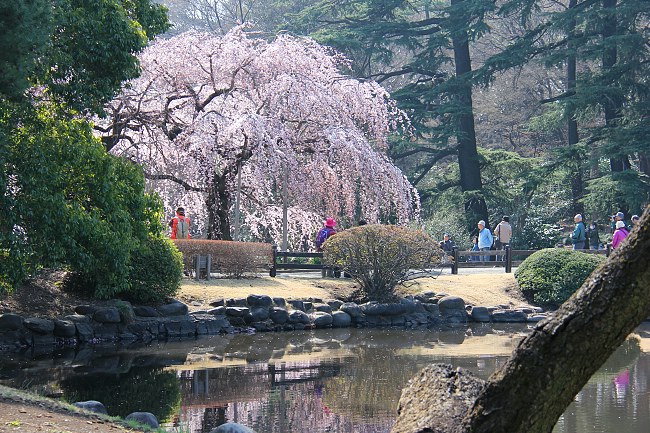 Weeping cherry trees in the southeastern corner of Shinjuku Gyoen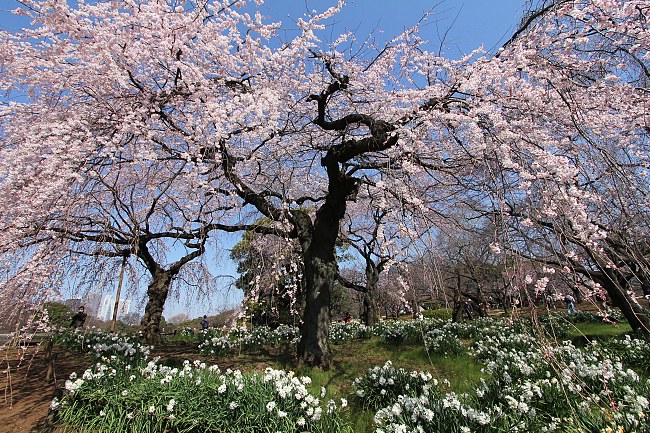 Weeping cherry over daffodil flowers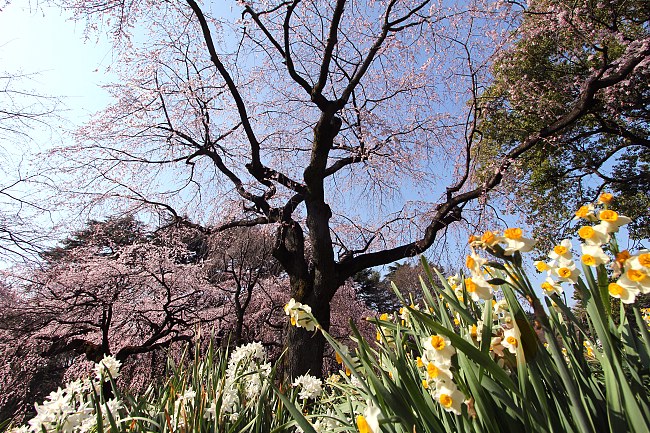 Spring has come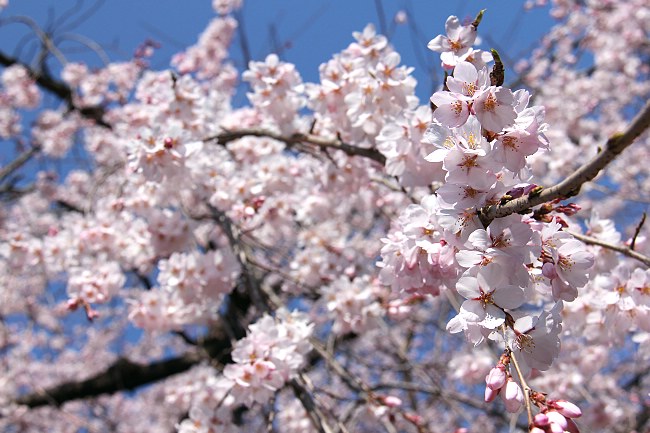 Weeping cherry tree in full bloom
Questions? Ask in our forum.