Cherry Blossoms 2014: Aizu Report (4/22)
Cherry Blossom Report 2014
Official cherry blossom reports by japan-guide.com
2014 Cherry Blossom Forecast - Schedule of upcoming reports - Popular cherry blossom spots
How to do hanami? - Cherry tree varieties - Post your own report
2014/04/22 - Aizu Report
by raina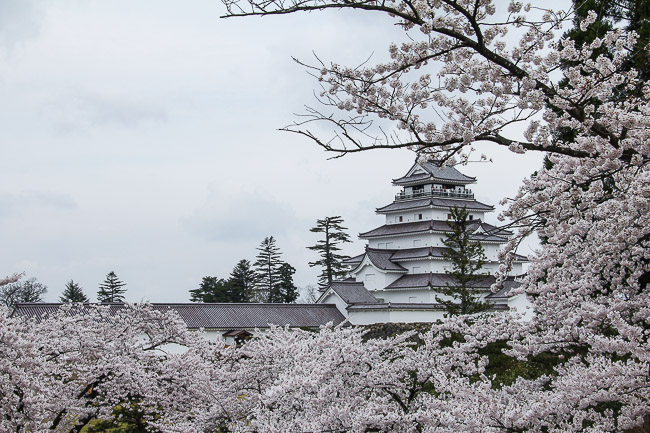 View of Tsuruga Castle from the castle wall walk
After a brief hiatus and continuing with cherry blossom reporting in the Tohoku region, I headed to Aizu-Wakamatsu today. Aizu-wakamatsu is in Fukushima prefecture, and is about 3 hours away from Tokyo. It is a castle town and you can see traditional buildings between the castle and the station.
Tsuruga Castle
April 22, 2014 - full bloom
The cherry trees at Tsuruga Castle reached full bloom a couple of days ago and I was fortunate enough to make it there today. The skies were overcast and it was a little chilly when I was at Tsuruga Castle, so there weren't many people picnicking under the cherry trees. The cherry blossoms held up well despite the rain yesterday. The weather for the rest of the week is forecast to be good and if there are no strong winds, the cherry blossoms should maintain their beautiful state and be worth a visit over the weekend.
There are about 1000 cherry trees of different varieties planted on the castle grounds and the castle is lit up until May 6, from sunset till 21:00. There were a lot of people at Tsuruga Castle by the time I arrived and I followed the bus loads of students and tour groups into the keep. Entry into the castle keep costs 410 yen and the interior has been transformed into a museum with lots of exhibits.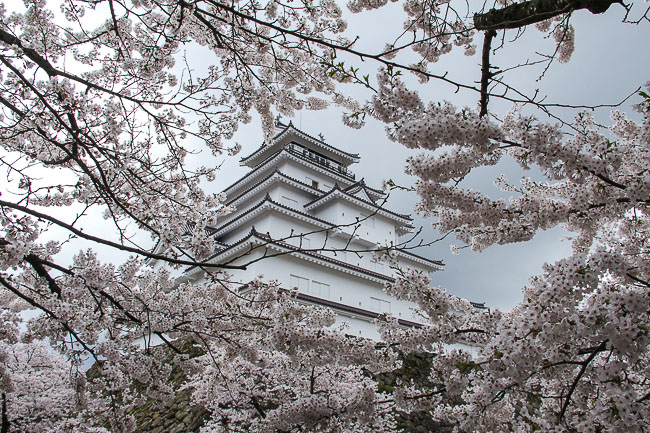 Sakura frame for the castle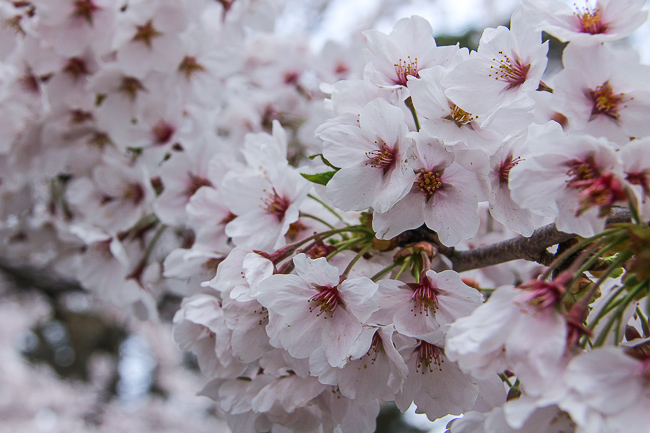 Close up of the flowers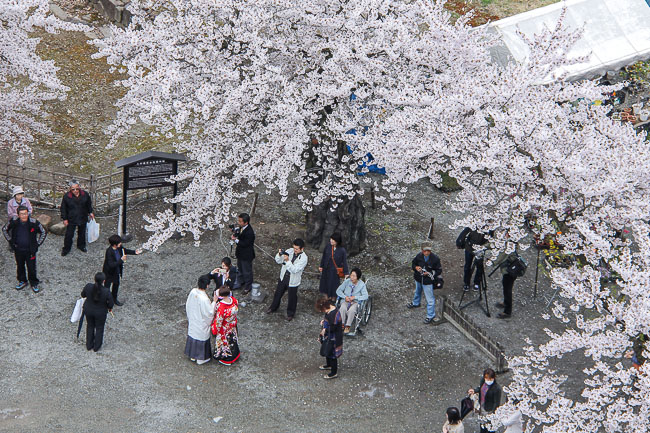 One of the two wedding photoshoots I saw today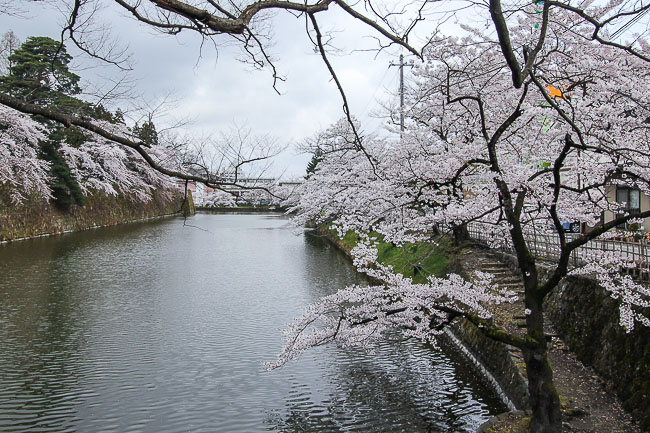 Cherry trees along the moat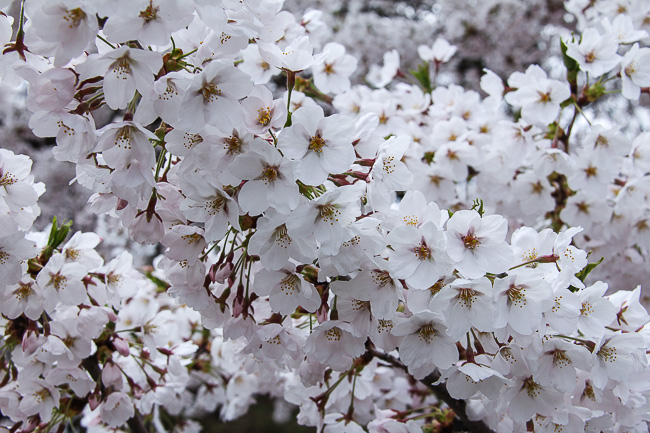 Sturdy blossoms that should last for the next few days
Cherry trees line the path along the moat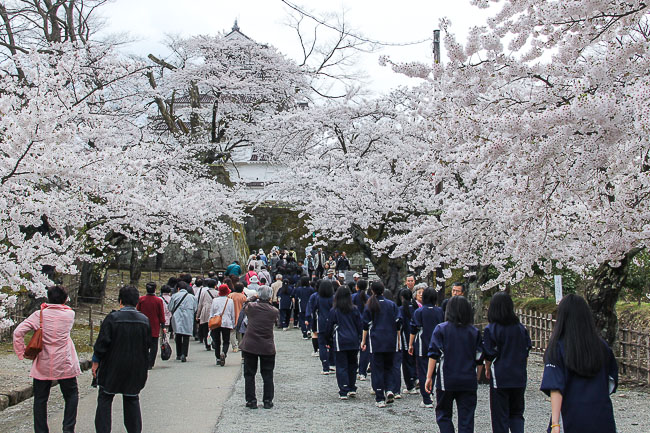 So many people visiting Tsuruga Castle today
Ishibezakura
April 22, 2014 - full bloom
From Tsuruga Castle, I went to see the Ishibezakura, a huge cherry tree. It is about a 10 minute walk from Iimoriyama and many visitors visit it on the way to Iimoriyama. The Ishibezakura tree is estimated to be 650 years old, and is a Edo-higan cherry tree. The tree has a height of 11 meters, and 8 trunks, the crown spread is said to reach 20 meters. This year, they've built a stage for visitors to get closer to the tree without trampling on the nearby field, and there's security around the area to guide traffic and make sure that visitors don't destroy or step on the fields. The tree is at full bloom now and like the cherry trees at Tsuruga Castle, the views should remain till this weekend baring strong winds.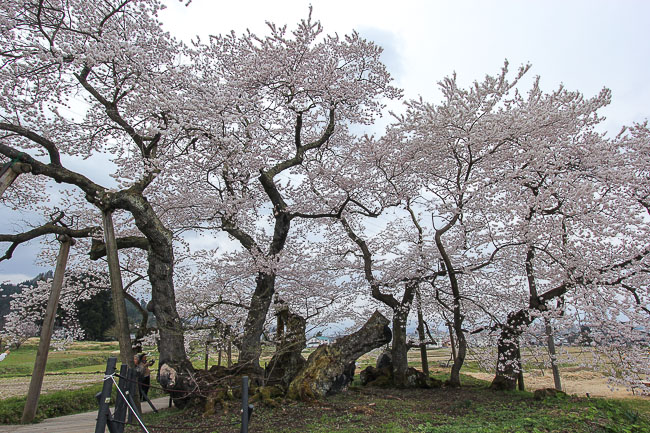 The Ishibezakura tree looks like it's made up of a few trees, but there is really only one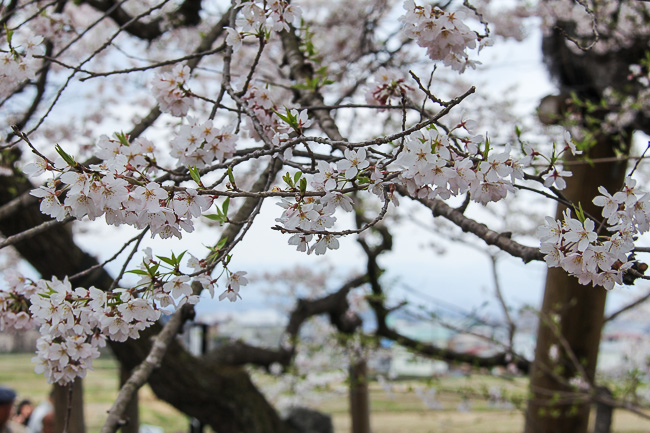 Blossoms on the Ishibezakura tree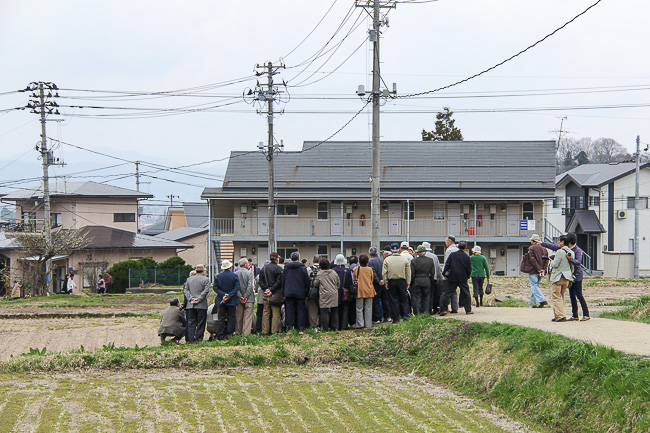 A tour group taking a group picture, maybe I'll be in it too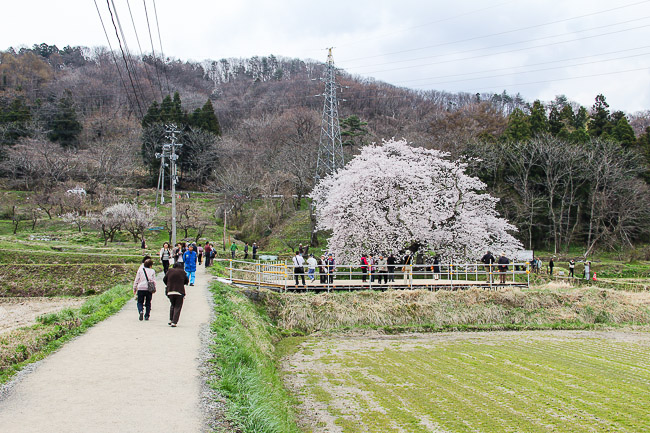 The road to the tree and the specially built stage in front of it
Questions? Ask in our forum.