Cherry Blossoms 2014: Fukuoka Report (4/3)
Cherry Blossom Report 2014
Official cherry blossom reports by japan-guide.com
2014 Cherry Blossom Forecast - Schedule of upcoming reports - Popular cherry blossom spots
How to do hanami? - Cherry tree varieties - Post your own report
2014/04/03 - Fukuoka Report
by sean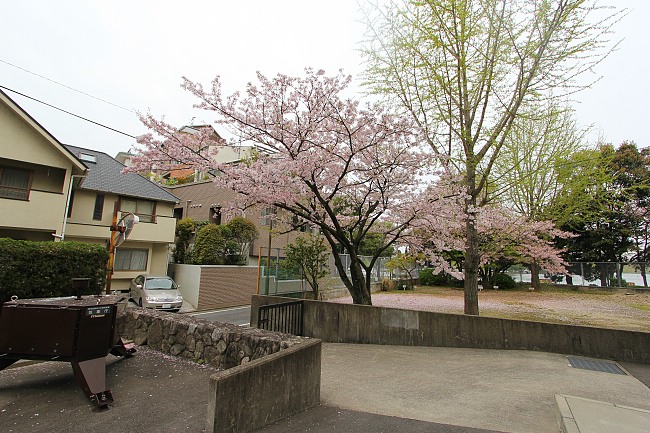 Fukuoka's representative cherry tree stands on the southern side of Ohori Park's lake (next to Maizuru Park)
The peak period for cherry blossoms started this year on March 27 at Fukuoka, about five days earlier than the average year. Scott was lucky to have visited on that exact day, and he was able to catch some great views of the sakura at their best.
By the time I visited today, however, the season was approaching its tail end for the mainstream Somei Yoshino. Another cherry tree variety, the yae-weeping cherry trees, were the ones in the spotlight, with their hanging branches pretty and full with pink blossoms.
For the most of Kyushu, this year's cherry blossom season is coming to a close, while further north in cities in the Kansai Region and Tokyo the peak period continues. Raina is in Kyoto today to check out the cherry blossoms there; you can see her report on this page.
Atago Shrine
April 3, 2014 - beyond peak
My first destination for the day, Atago Shrine, is a small shrine located on top of a hill about 10 kilometers west of Hakata Station, Fukuoka's main train station. Hundreds of cherry trees stand on the slopes of the hill below the shrine, making this a good hanami spot (cherry viewing spot) each spring. This year I have missed the prime hanami period and was left to make do with cherry tree crowns which were only sparsely decorated with remaining petals. Well, at least my efforts of climbing to the top of the hill were rewarded with good views over Hakata Bay (despite it being cloudy).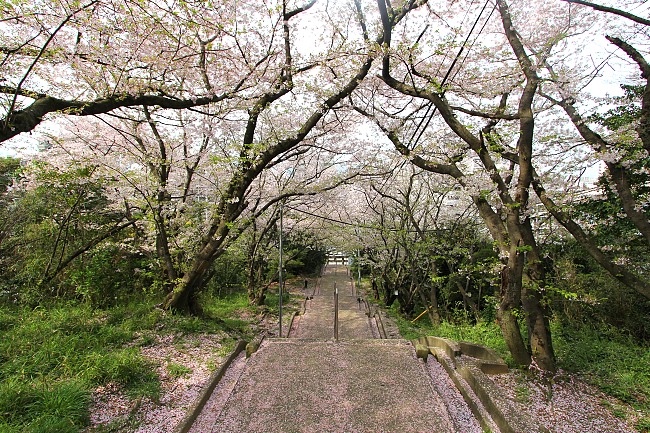 Stairs leading to Atago Shrine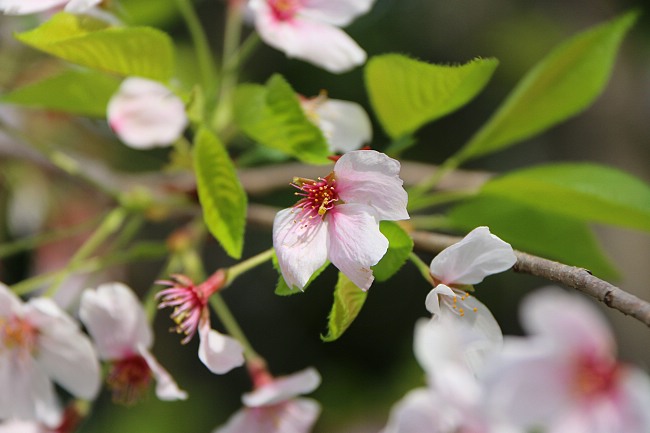 State of blossoms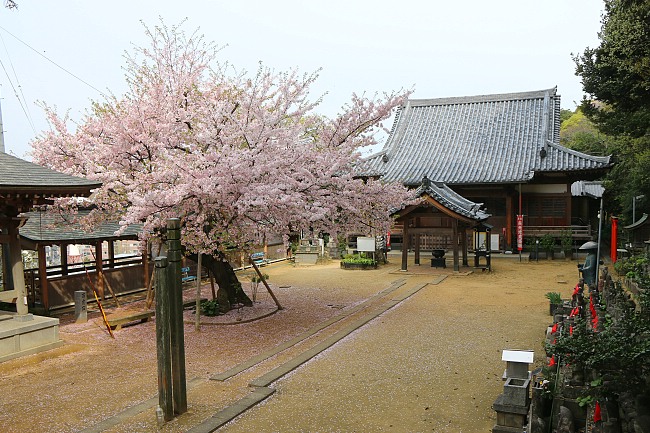 The best looking tree was located by a temple about halfway up the hill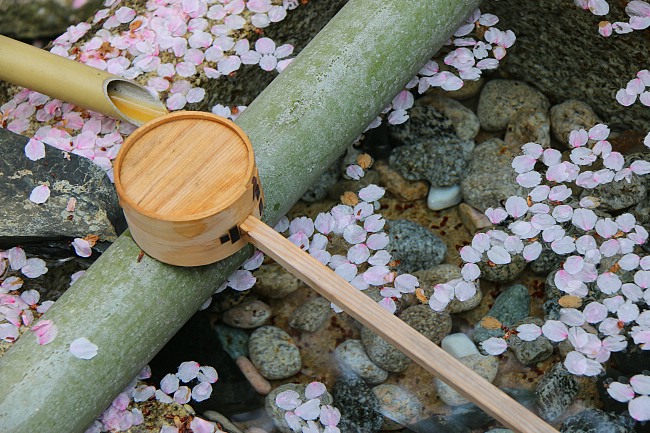 Petals in a basin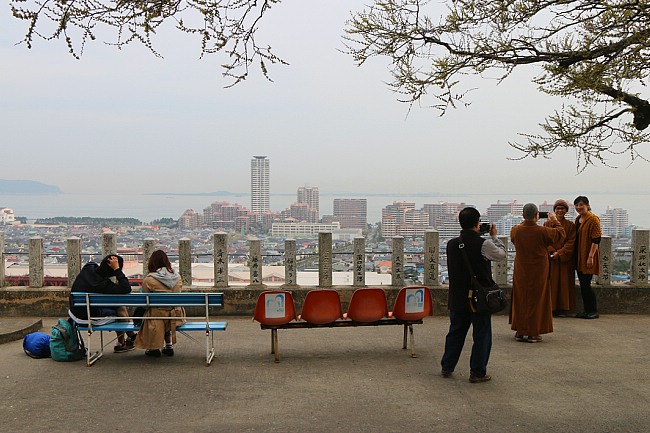 At Atago Shrine
Fukuoka Castle (Maizuru Park)
April 3, 2014 - petals starting to fall
I next visited Maizuru Park, which is also the location of the ruins of the former Fukuoka Castle. Here, there are about a thousand cherry trees planted across the ex-castle's grounds, existing in harmony with the remaining stone walls and few castle buildings. Today I found the cherry blossoms here to be of relatively good shape compared to the ones I saw at Atago Shrine, although not by much. Nevertheless, there were many individuals and companies having their hanami parties at the site's spacious lawns, enjoying the closing stages of the Somei Yoshino cherry blossoms' season.
At the park were also many yae-weeping cherry trees in full bloom, providing welcomed conviviality to the environment. In addition, rows of late-blooming Kanzan cherry trees lined the outer moat of the former castle, and today they were only just starting to flower. These two varieties should provide visitors (who missed the main season) with pleasant cherry blossom views till beyond the weekend.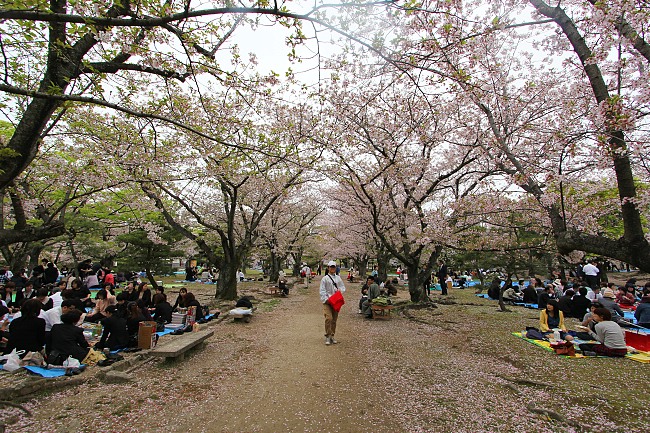 Hanami parties at Maizuru Park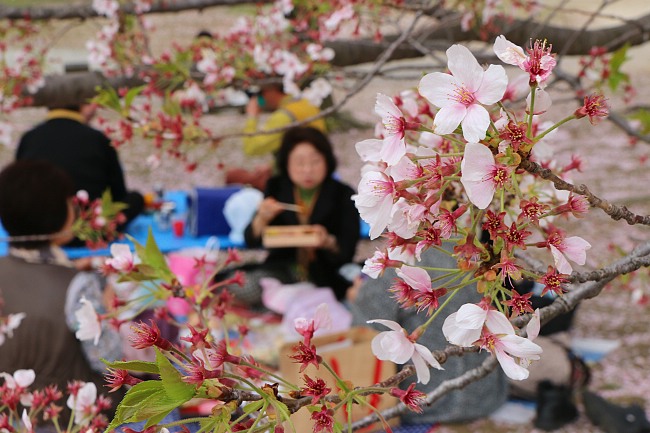 State of blossoms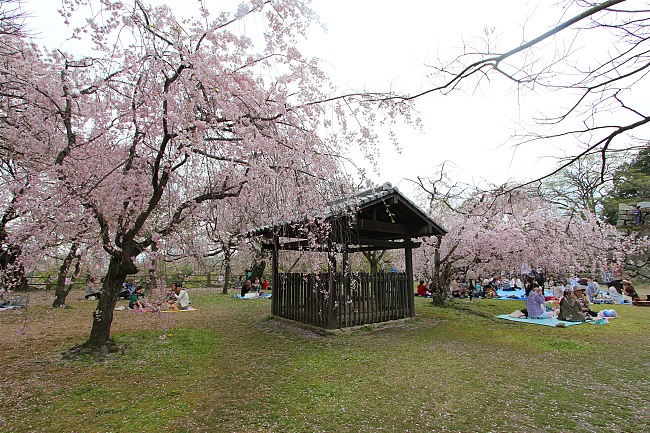 Yae-weeping cherry trees in full bloom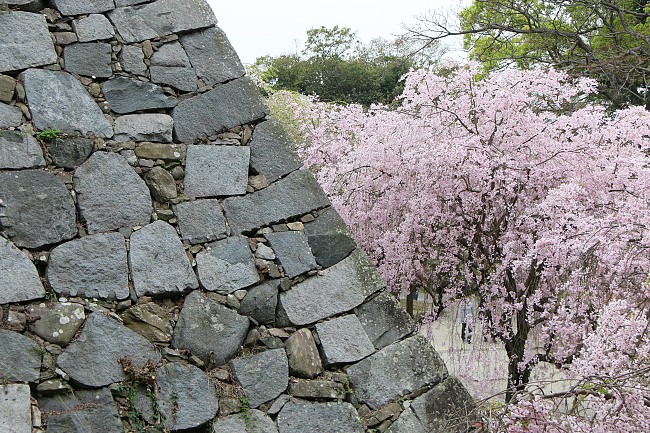 Castle wall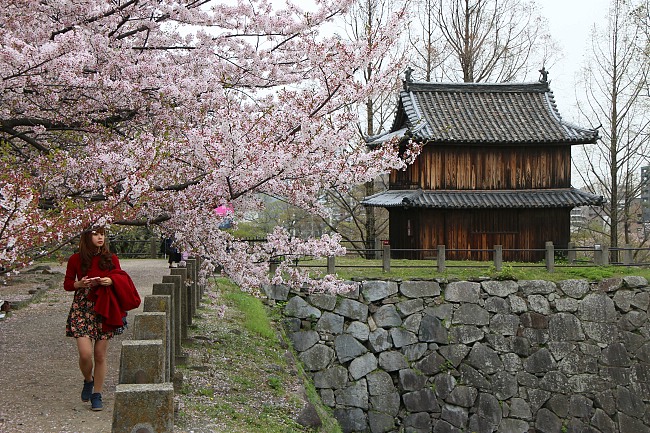 Castle turret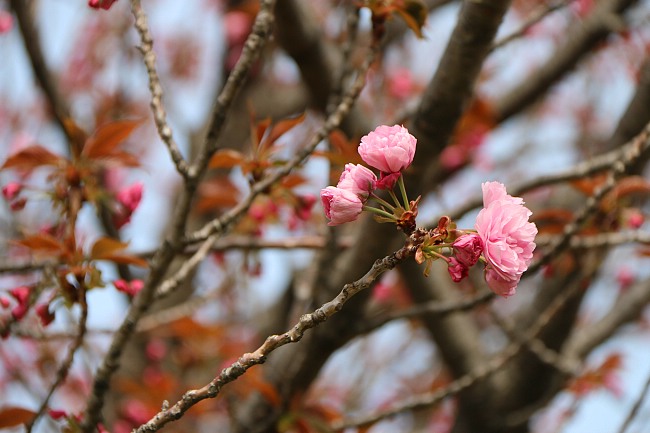 Kanzan cherry blossoms were beginning to open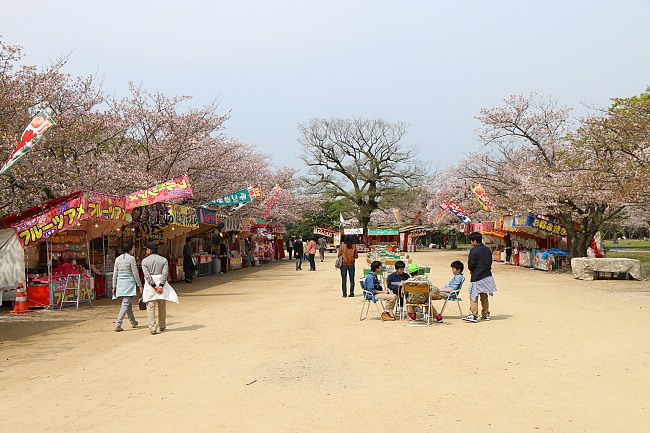 Festival stalls at neighboring Ohori Park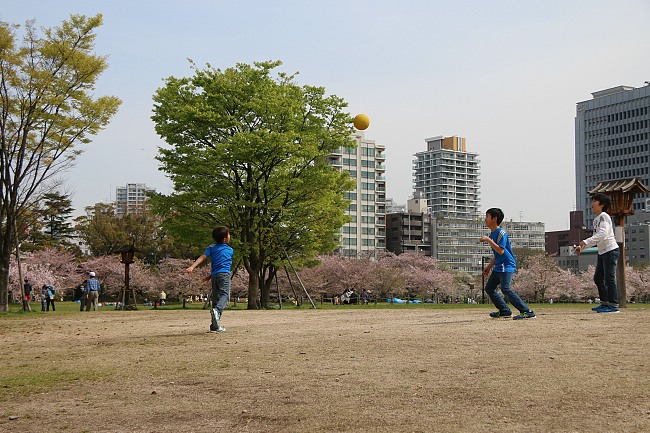 Children having a good time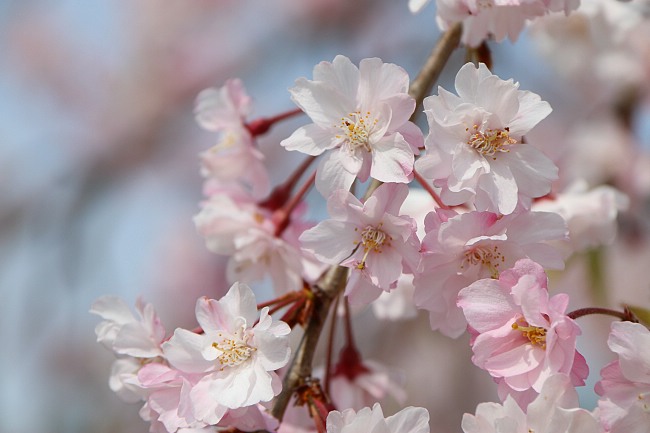 Weeping cherry blossoms in full bloom
Questions? Ask in our forum.