Cherry Blossoms 2011: Sapporo Report (5/9)
Cherry Blossom Report 2011
Official cherry blossom reports by japan-guide.com
This year's cherry blossom season will be overshadowed by the tremendous loss caused by the recent earthquake. However, we believe that the blossoms will serve as symbols of hope and resilience and a source of motivation along Japan's road to recovery. With this in mind, we never hesitated to go ahead with our annual reports in order to inform travelers in Japan and readers across the world about this year's cherry blossom season.
2011 Cherry Blossom Forecast - Schedule of upcoming reports - Post your own report
Popular cherry blossom spots - How to do hanami? - Cherry tree varieties
2011/05/09 - Sapporo Report
by francois
After our report from Hakodate from three days ago, Schauwecker and I made our last cherry blossom report from Hokkaido and the last report of the season. Today we visited some of Sapporo's most famous cherry blossom spots and found the city to have a trees at all different stages of development.
Maruyama Park and Hokkaido Shrine
May 9, 2011 - approaching full bloom (50-80%)
Maruyama Park and Hokkaido Shrine are just beside each other and are usually visited together. Together the two locations include some of the city's best places for cherry blossoms. Of the places we visited today the park and shrine had the largest crowds and most cherry blossom viewing parties (hanami), as well as a fellow cherry blossom reporter from the local newspaper.
The cherry trees in the area varied from around 30% to 60% of the flowers open, with a few trees even at full blooms. The majority of the shrine and park's trees should reach full bloom within a couple of days, and I suspect they will remain attractive through the weekend.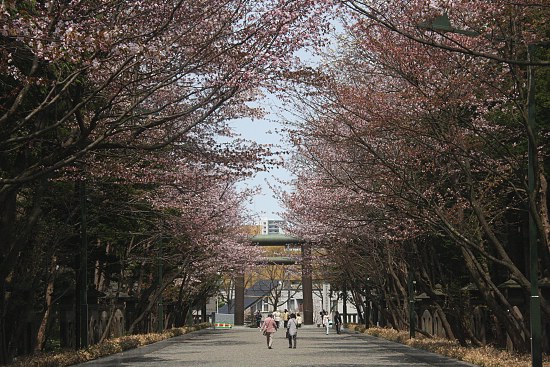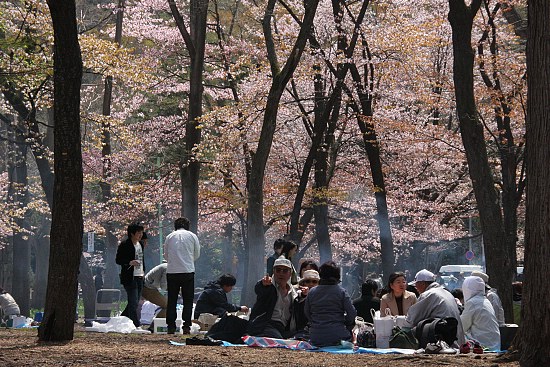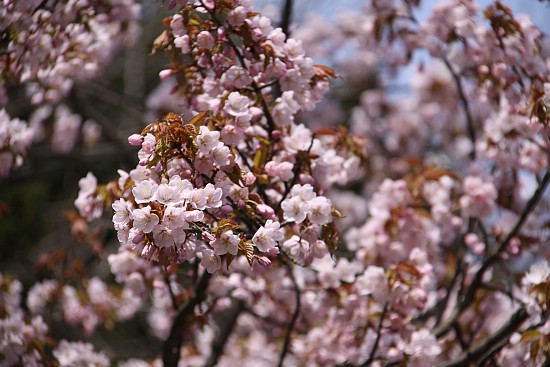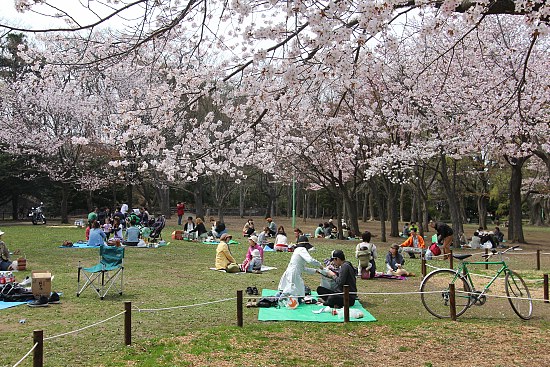 Odori Park
May 9, 2011 - full bloom
Odori Park marks the divide in Sapporo between north and south, and is one of the city's most prominent attractions. While the park only has a few dozen trees, they are currently at full bloom and worth visiting for travelers who are in the city center. Although we did not see any hanami parties today, we did see some people taking a short midday break on the benches over which the branches of the cherry trees hang.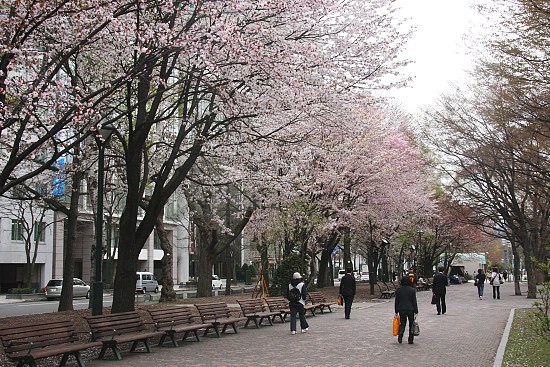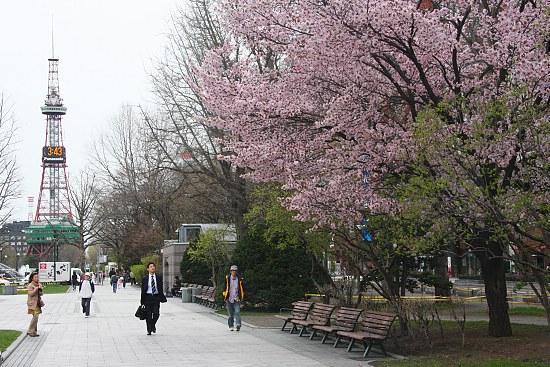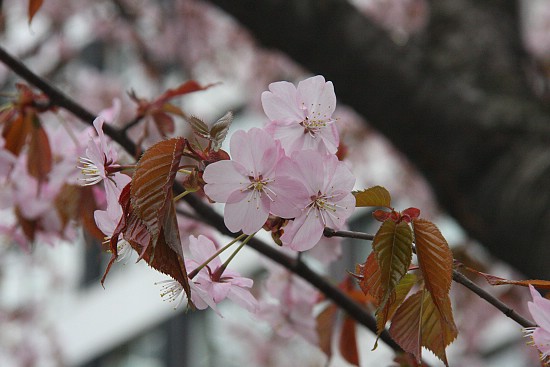 Moerenuma Park
May 9, 2011 - just opened (0-10%)
The highlight of the day was a first time visit to Moerenuma Park, which was designed by the famous Japanese American sculptor Isamu Noguchi. The park is on the outskirts of town and is somewhat difficult to access, but is remarkable for its uniqueness and massive scale.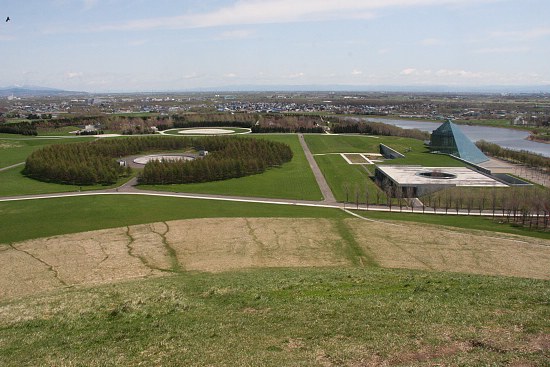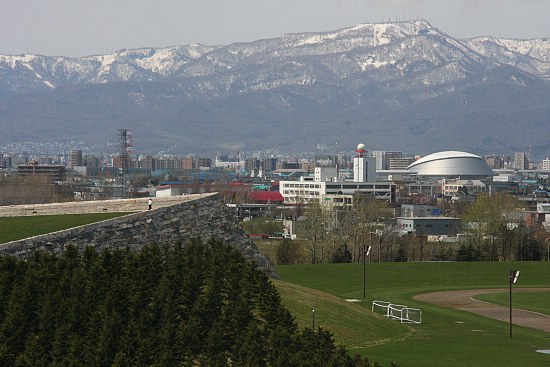 The park had quite a large cherry grove area, but its exposure to the elements seems to have significantly delayed the development of the trees. While we saw trees at full bloom at both of today's other sites, Moerenuma Park's trees had barely opened and only a few flowers were visible. While I would have liked to have seen the park's flowers at full bloom, I will have to hope for a user report sometime within the next week and a half or so, during which time the flowers will reach full bloom and then lose their petals.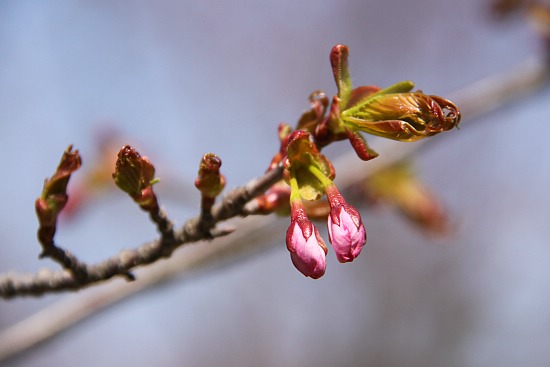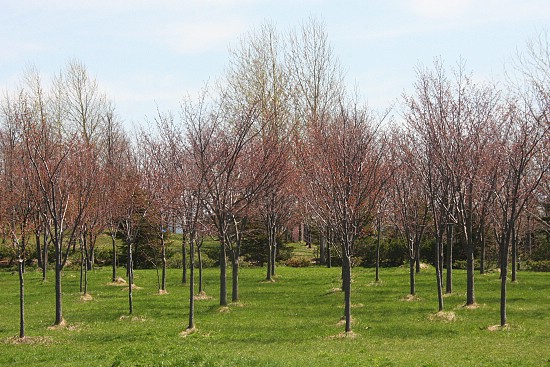 After spending the last month and a half following the progression of the flowers from southern Kyushu up to Hokkaido, today's report brings another season of cherry blossom reporting to a close. We at japan-guide are thankful to the users who have been following along and providing us valuable feedback. I suspect some readers may be saddened, like me, by the end of frequent updates on Japan's seasonal beauty. However, it is possible to find consolation in the fact that it is a relatively short four months away until the weather begins to chill and we will return to Hokkaido to follow the autumn colors as they make their way down across the country.
Questions? Ask in our forum.