Cherry Blossoms 2014: Fukuoka Report (3/27)
Cherry Blossom Report 2014
Official cherry blossom reports by japan-guide.com
2014 Cherry Blossom Forecast - Schedule of upcoming reports - Popular cherry blossom spots
How to do hanami? - Cherry tree varieties - Post your own report
2014/03/27 - Fukuoka Report
by scott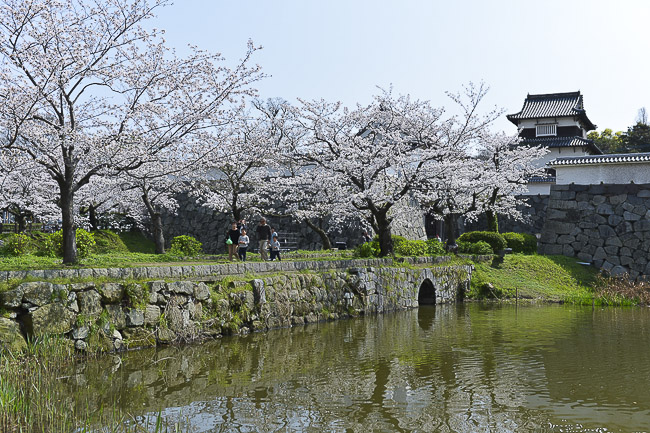 Entrance to Maizuru Park
The cherry blossoms continue to open up in cities across the country, including Kyoto and Osaka, both of which officially marked their openings today. With the addition of those two cities, the majority of western Japan is now blooming. Meanwhile, the blossoms around Kyushu are well on their way with some of the earliest spots in Fukuoka and Kumamoto just now hitting full bloom today.
Uminonakamichi Seaside Park
March 27, 2014 - approaching full bloom (50-80%)
Today Schauwecker joined me for some sightseeing around Fukuoka. Our first stop of the morning was to Uminonakamichi Seaside Park (海の中道海浜公園, Uminonakamichi Kaihin Kōen), a large park way out on the other side of Hakata Bay from central Fukuoka. The family friendly park is seriously huge, and made up of several different areas, includes gardens, playgrounds, an amusement park, sports fields, water park and a zoo. There were also tons of open picnic space and a wide variety of flowers planted all over the grounds.
The entire park is connected by a network of cycling trails, and bicycles can be rented at any of the entrance gates. Several sections of the cycling trails were lined with cherry trees creating cherry blossoms tunnels to ride through. Most of the trees were of the Somei Yoshino variety and were only just starting to approach full bloom. But it shouldn't be too much longer before they get there, especially with the beautiful warm weather that's forecast for tomorrow.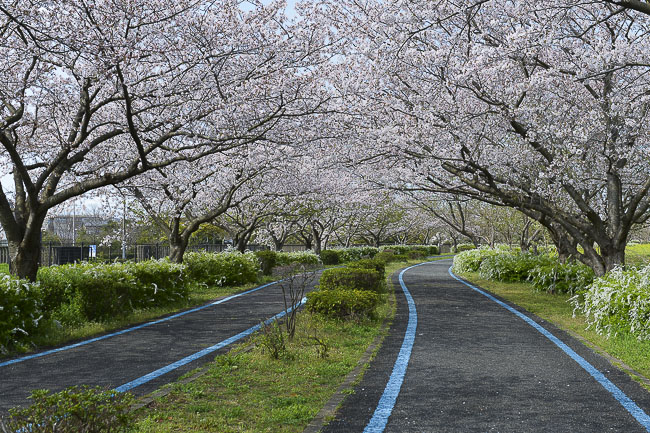 Uminonakamichi Seaside Park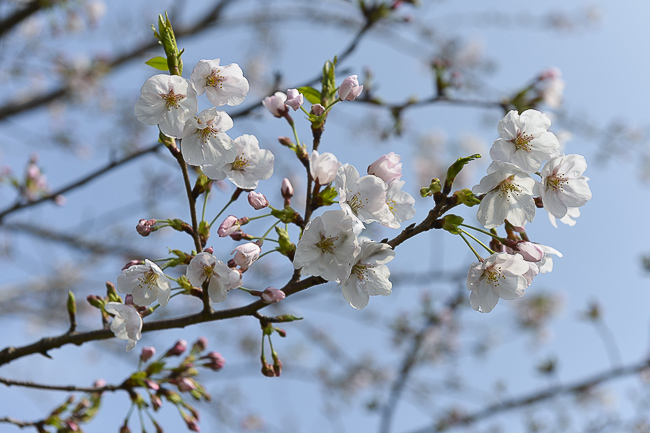 The blossoms are quickly approaching full bloom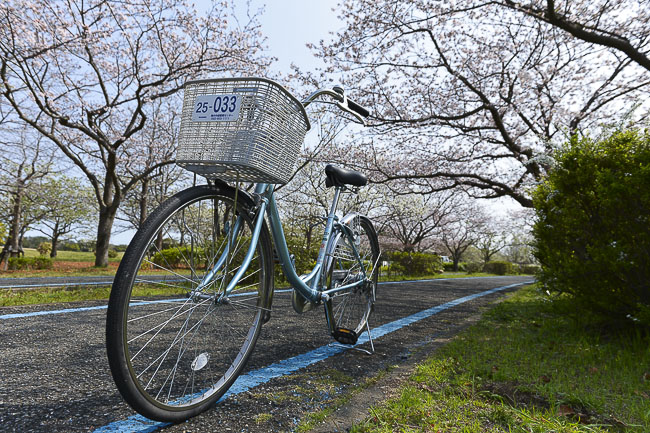 Rental bikes start at 400 yen for 3 hours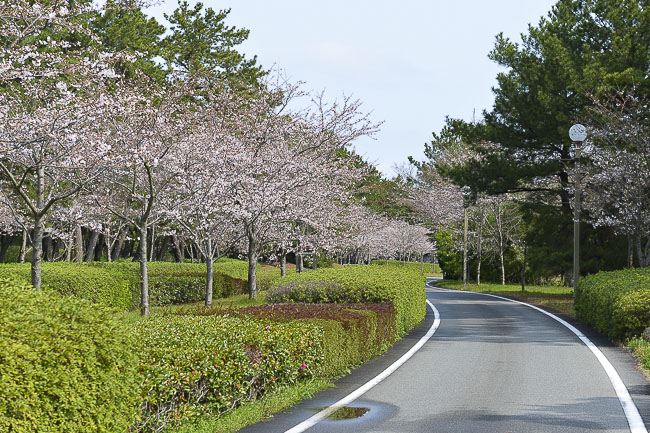 Somei Yoshino trees near the Wonder World Gate
There were also several concentrations of Oshimazakura trees that were at full bloom.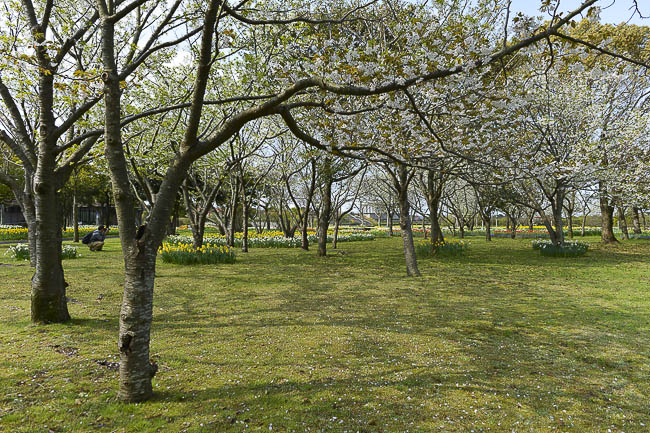 Oshimazakura trees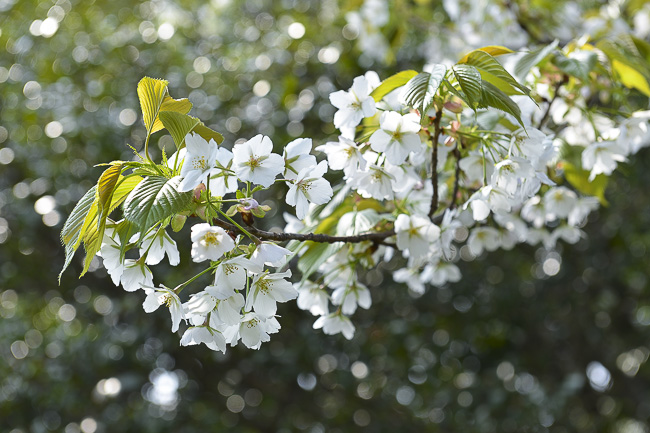 Full bloom
Uminonakamichi Seaside Park is open from 9:30 to 17:30 and admission costs 400 yen for adults and 80 yen for kids. It can be reached by train (about 45 minutes, 450 yen) from Hakata Station, or ferry (30 minutes, 1000 yen) from Hakata Port or Momochi Seaside Park.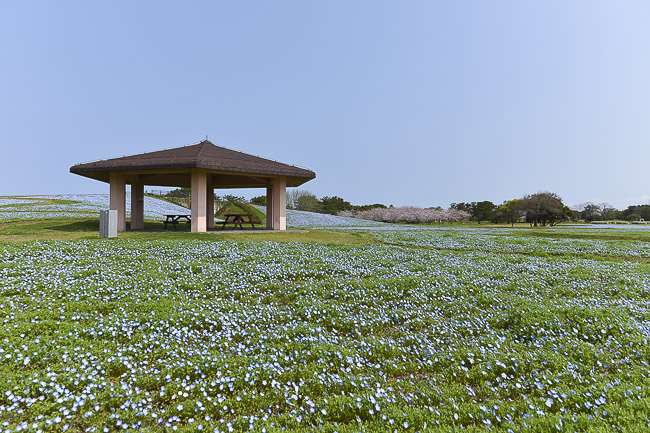 Nemophila flowers covering a hillside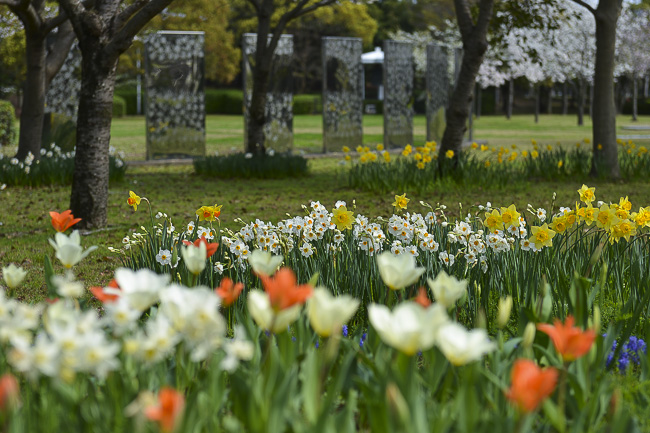 Lots of other types of flowers were in bloom around the park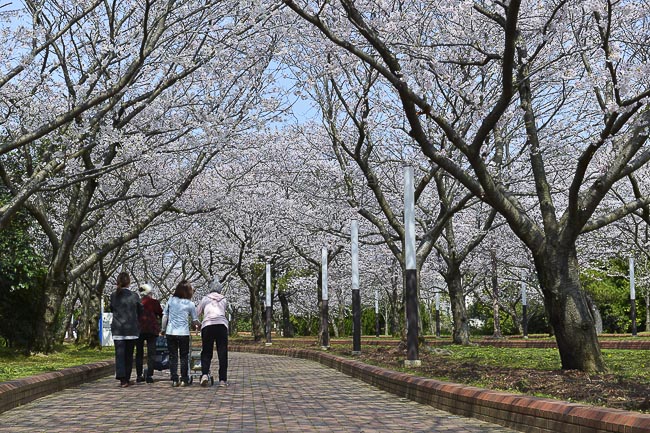 Cherry blossoms on the road between the park and nearby Marine World aquarium
Maizuru Park
March 27, 2014 - full bloom
Next we headed over to Maizuru Park which encompasses the ruins of the city's former castle. The park is one of Fukuoka's best cherry blossom spots, and consists of about 1000 trees planted around the former castle's stone walls.
Most of the cherry trees can be found around the main citadel, and can be viewed from an observation platform on the site of the former castle keep. In previous years there was a bamboo art installation installed here, but this year it was absent. The trees around the main citadel just reached full bloom today creating a beautiful atmosphere for the revelers enjoying their hanami parties underneath the blossoms.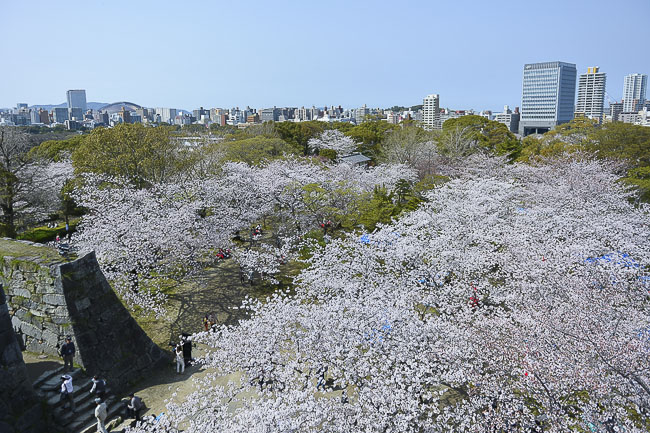 View over the main citadel from the foundation of the former castle keep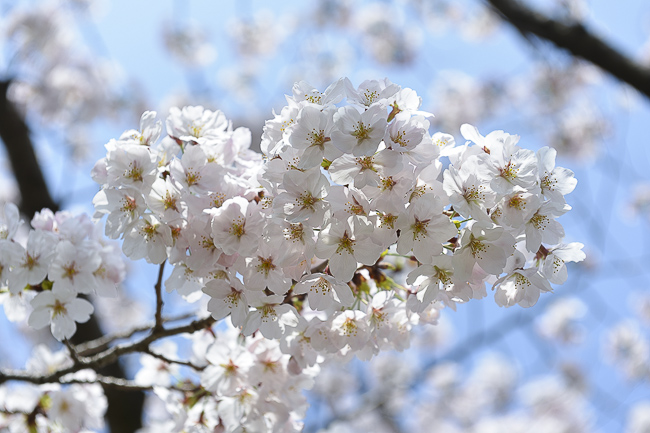 Full bloom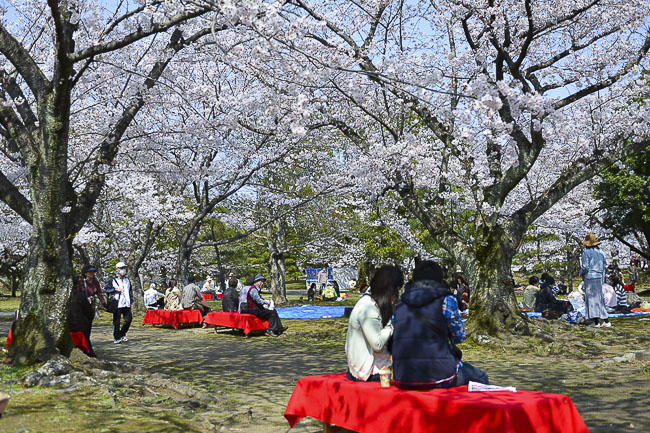 Hanami parties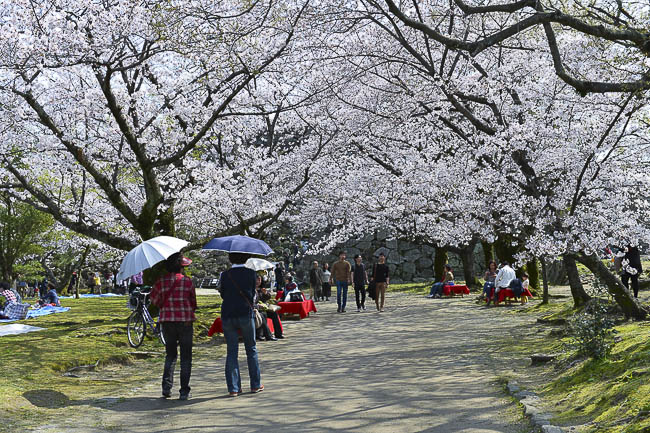 Enjoying the blossoms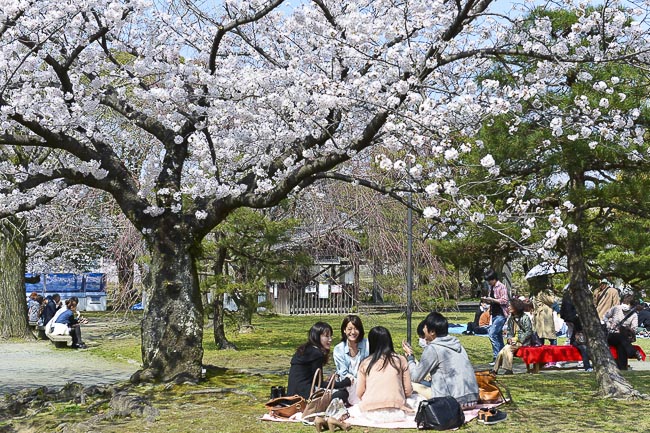 More hanami parties
Parts of Maizuru Park will be lit up in the evenings (18:00 to 22:00) from today until April 6, including the main citadel, the park around Tanmon Turret and the site of the former Otakayashiki Residence. This year they will begin charging admission to the light up. Entry will cost 300 yen to one area or 800 yen for all three.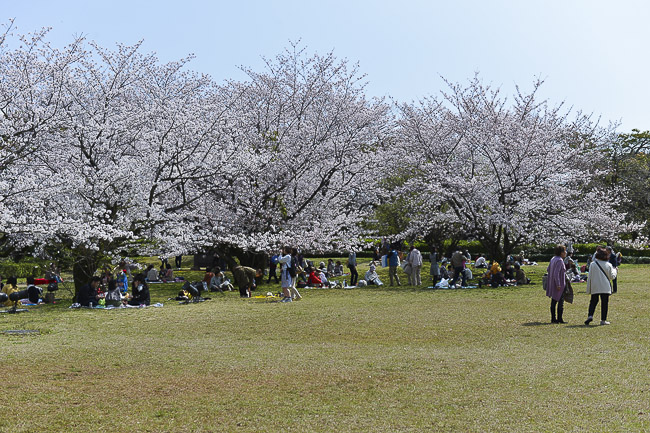 Full bloom around Tanmon Turret. These trees will be lit up evenings.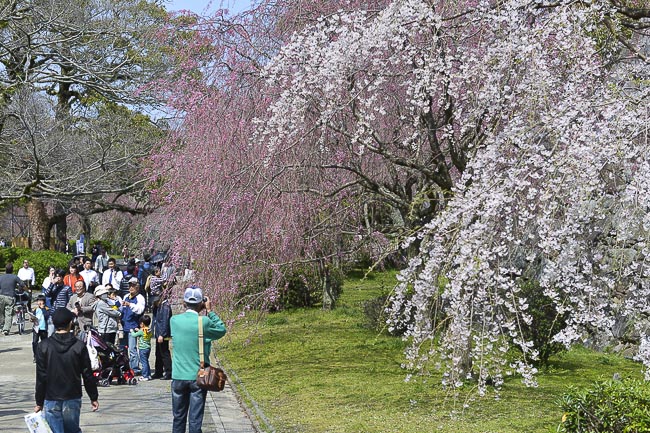 Weeping cherry trees along the way to Tanmon Turret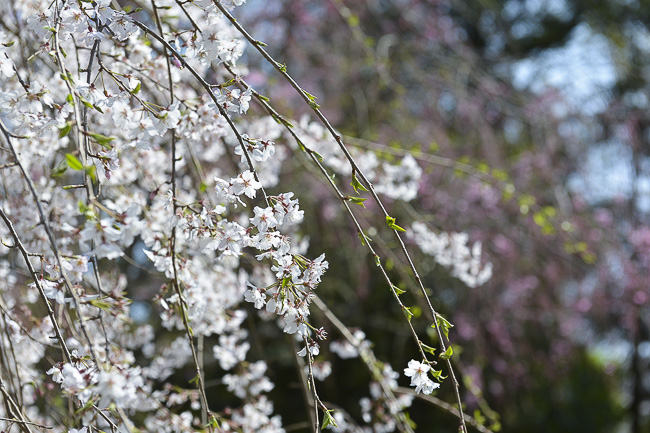 Early blooming weeping cherry blossoms in front of a later blooming variety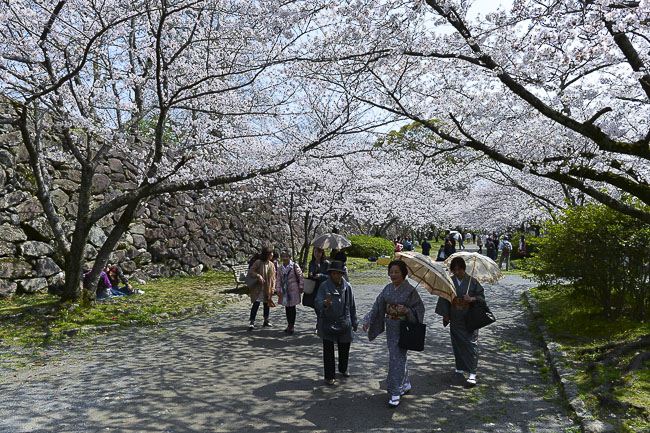 Cherry blossom tunnel along the former castle walls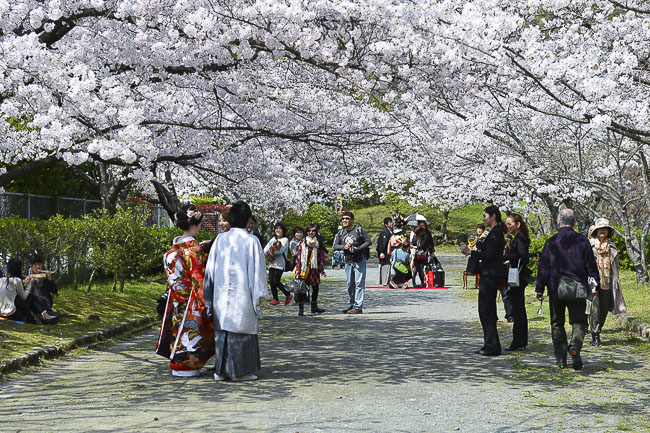 The tunnel was a popular spot for wedding portraits today
The trees around Ohori Park next door to the castle ruins were also at full bloom today.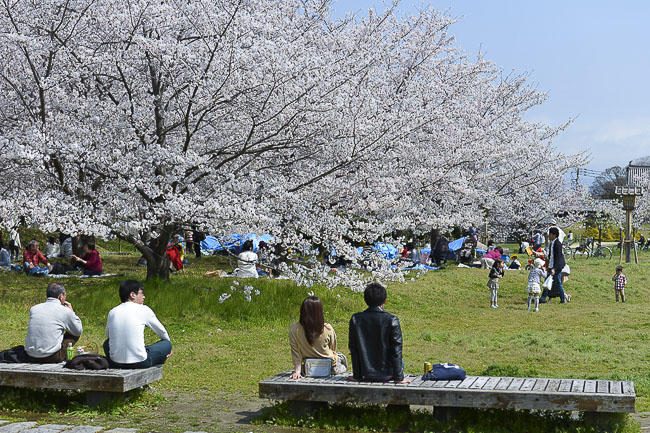 Ohori Park's Nishi Hiroba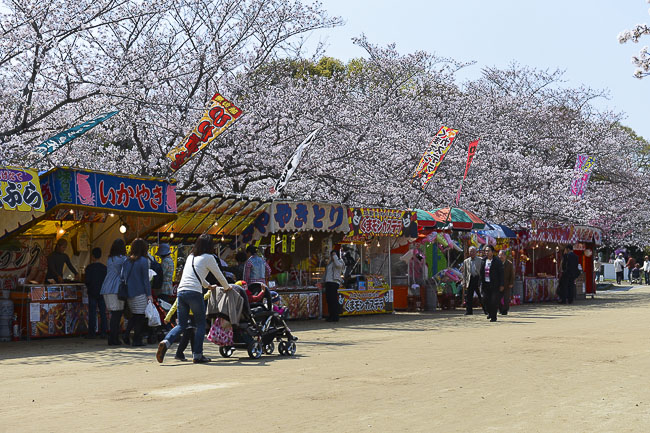 Lively festival food stalls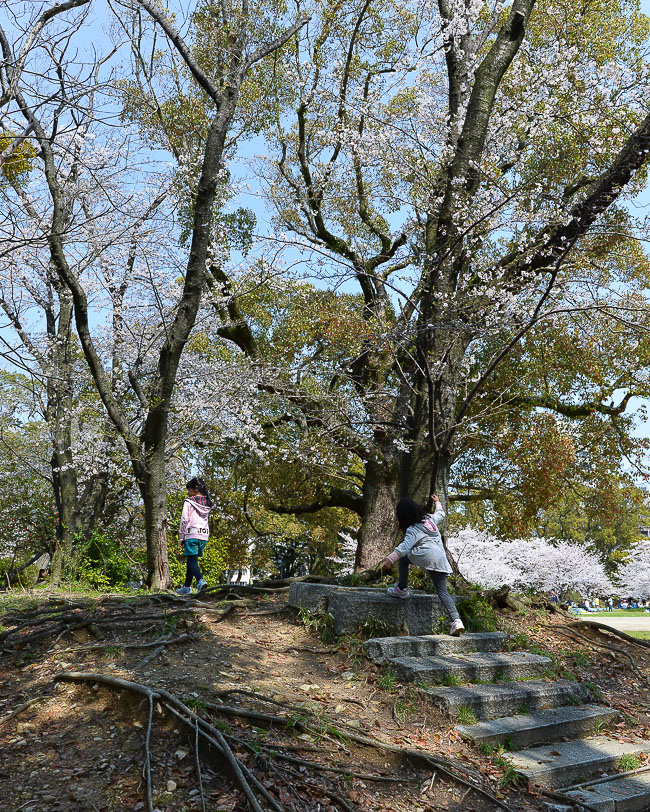 Kids playing around the park
Nishi Park
March 27, 2014 - full bloom
The final stop of the day was to Nishi Park, a wooded, hillside park just a 15-20 minutes walk north of Maizuru Park. The park is considered one of Japan's 100 best cherry blossom spots and has about 1300 cherry trees spread out around the smaller parks, picnic spots and grassy slopes found around the hillside. There are also a bunch of cherry trees around Terumo Shrine, the family shrine of Fukuoka's former feudal lords, which lies at the entrance to the park. All of the trees around Nishi Park were at full bloom today, and should remain at their peak for several more days.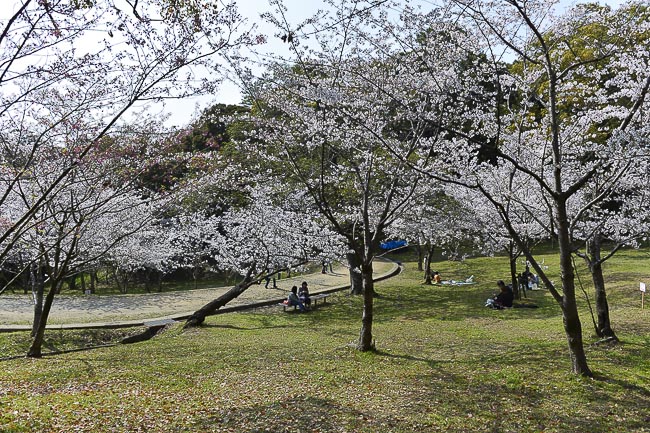 Nishi Park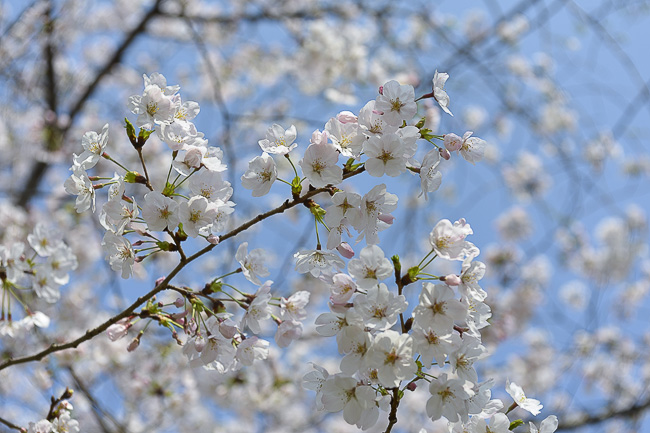 Full bloom around Nishi Park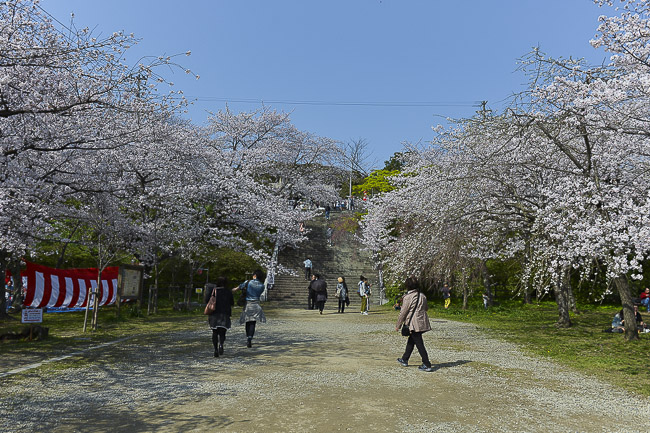 Approach to Terumo Shrine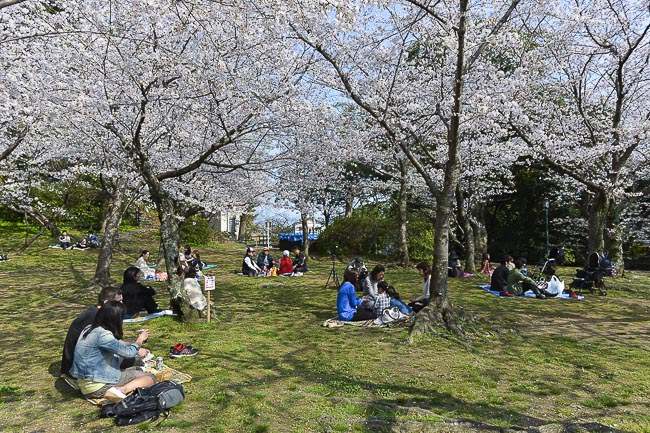 Approach to Terumo Shrine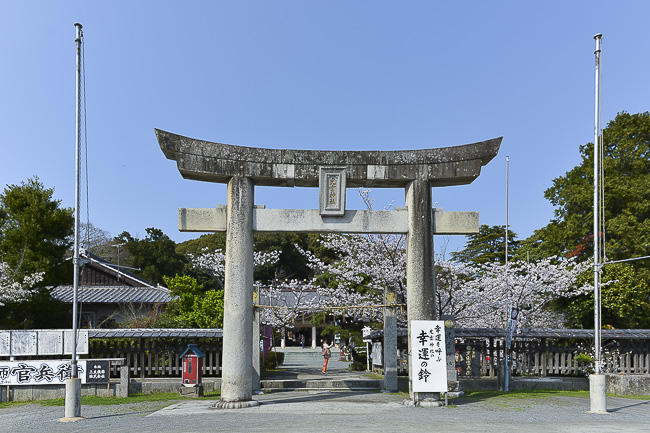 Terumo Shrine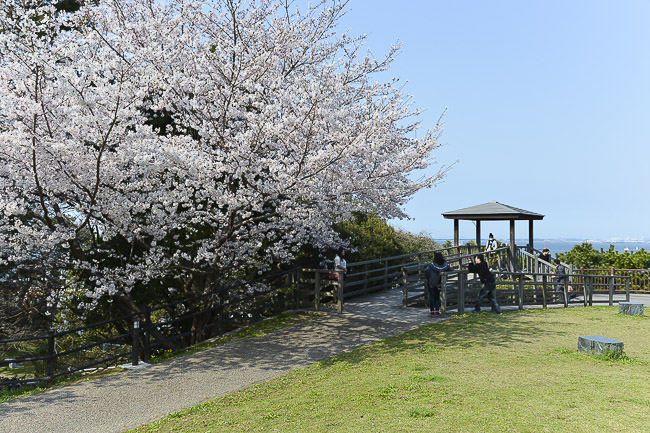 North side of the park
Questions? Ask in our forum.