Cherry Blossoms 2012: Mount Fuji Report (4/25)
Cherry Blossom Report 2012
Official cherry blossom reports by japan-guide.com
2012 Cherry Blossom Forecast - Schedule of upcoming reports - Post your own report
Popular cherry blossom spots - How to do hanami? - Cherry tree varieties
2012/04/25 - Mount Fuji Report
by scott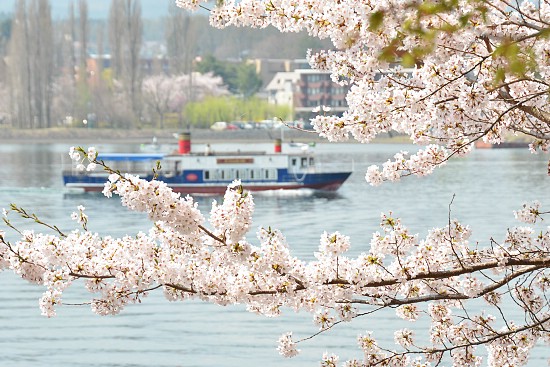 Today I made our yearly trek down to Yamanashi to check out the cherry blossoms around the Fuji Five Lake region at the base of Mount Fuji. The trees around the mountain typically open about two to three weeks after those in Tokyo.
Overall the cherry blossoms around the Fuji Five Lakes were at or just approaching full bloom today, and should be at their best for several days to come. Note that rain is forecasted over the next two days, but the blossoms are young and strong enough that they should be able to weather the storm without much damage.
Chureito Pagoda
April 25, 2012- full bloom
Chureito Pagoda is an out of the way, five story pagoda set on the mountainside overlooking Fujiyoshida City. You can climb the hill behind the pagoda for a popular view of it peeking out over a sea of cherry blossoms with Mount Fuji in the background.
The cherry blossoms on the mountainside look like they only just reached full bloom this morning, and dozens of photographers were streaming to Chureito Pagoda to take full advantage. Unfortunately Mount Fuji was covered in clouds pretty much all morning, but I was lucky to get a brief glance of the peak just long enough to get a picture.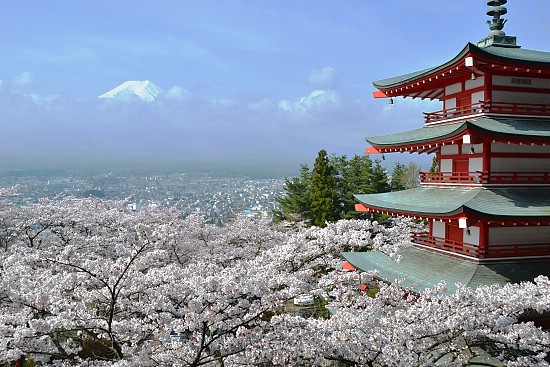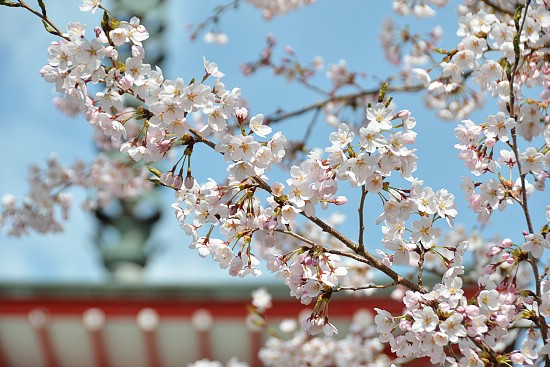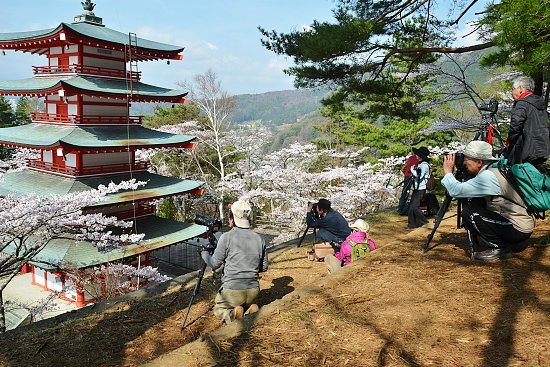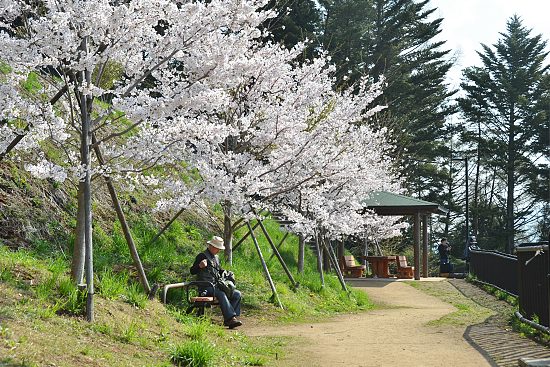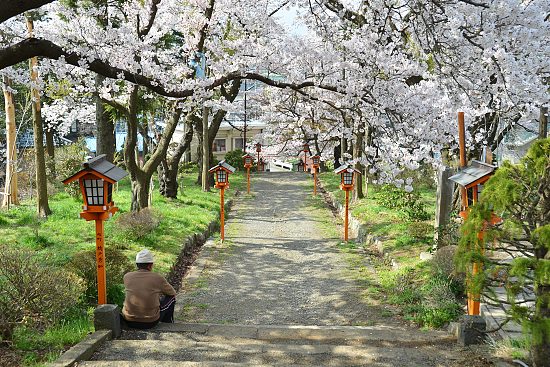 Ubuyagasaki Peninsula
April 25, 2012- full bloom
The Ubuyagasaki Peninsula lies at the northern end of the Kawaguchi Ohashi Bridge that lies across Lake Kawaguchiko. Several dozen cherry trees are planted along a short, forested path next to the waterfront from where there are nice views of Mount Fuji in combination with the lake and flowers. The cherry blossoms along the peninsula also looked to have just reached full bloom, but unfortunately Mount Fuji refused to show itself for a picture.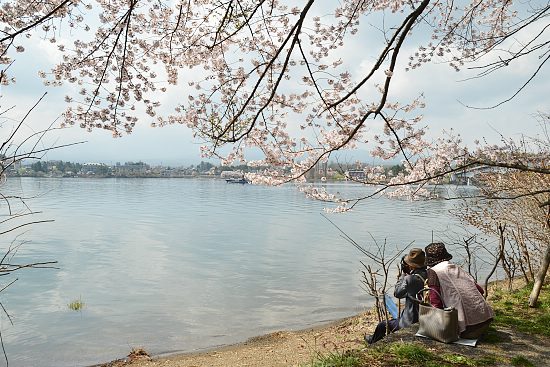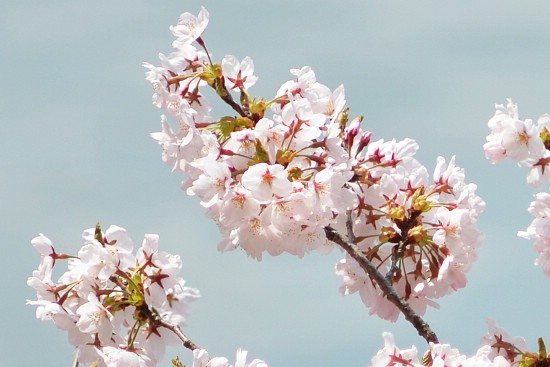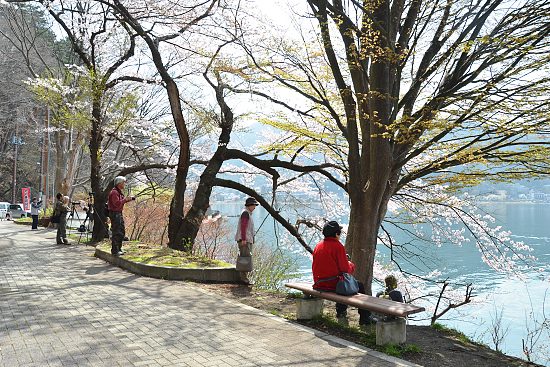 Northern Shores of Lake Kawaguchiko
April 25, 2012- approaching full bloom (50-80%)
Several hundred cherry trees are also planted along the northern shore of Lake Kawaguchiko among several museums, shops, and restaurants. As we've seen in the past the trees along the northern shore are a little bit behind those closer to the Kawaguchiko Town center. Still, the blossoms on the waterfront are just at the tipping point toward reaching full bloom. In fact, it may only be a matter of hours for some of the trees to fully open.
A cherry blossom festival will be held along the north shore area until tomorrow (April 26, 2012). The festival includes food vendors and a craft fair set among the trees. The cherry blossoms will also be illuminated in the evenings until 21:00.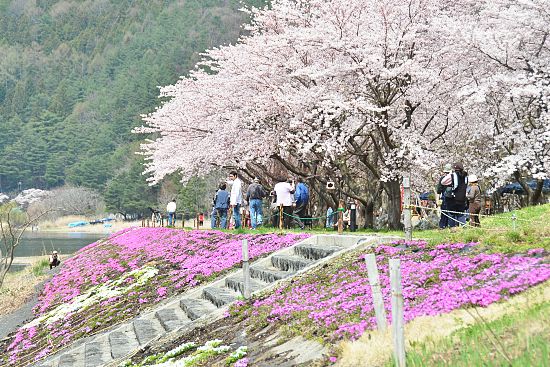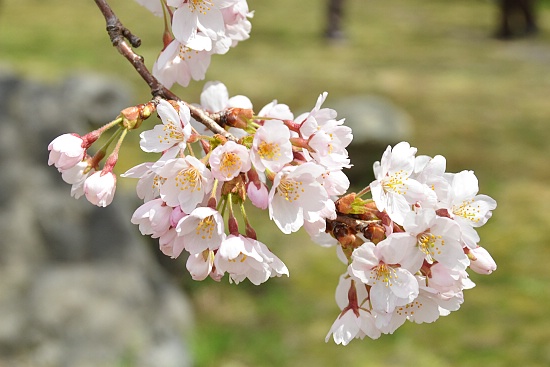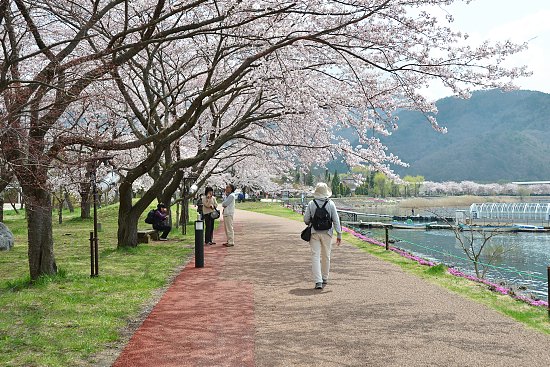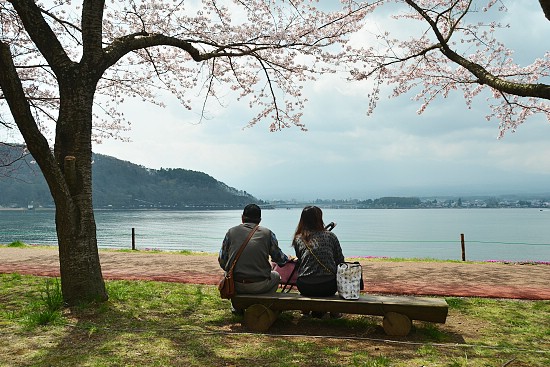 Questions? Ask in our forum.