Cherry Blossoms 2011: Kitakami Report (4/29)
Cherry Blossom Report 2011
Official cherry blossom reports by japan-guide.com
This year's cherry blossom season will be overshadowed by the tremendous loss caused by the recent earthquake. However, we believe that the blossoms will serve as symbols of hope and resilience and a source of motivation along Japan's road to recovery. With this in mind, we never hesitated to go ahead with our annual reports in order to inform travelers in Japan and readers across the world about this year's cherry blossom season.
2011 Cherry Blossom Forecast - Schedule of upcoming reports - Post your own report
Popular cherry blossom spots - How to do hanami? - Cherry tree varieties
2011/04/29 - Kitakami Report
by scott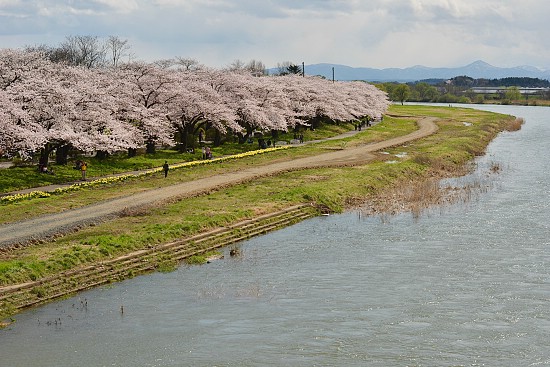 Today we are reporting from Kitakami in the Tohoku Region. Kitakami is located in southern Iwate Prefecture, about 50 kilometers inland from the coast hit by last month's tsunami. The city is far enough inland that it was unaffected by the tsunami, however the earthquake did some damage and we encountered semi-frequent road and bridge closures throughout the day.
Tenshochi Park
April 29, 2011 - approaching full bloom (50-80%)
Tenshochi Park is a city park that lies alongside the Kitakami River which flows through the center of town. It is rated one of Japan's top 100 best cherry blossom spots, and is home to an estimated 10,000 cherry trees which are packed into a 2km long stretch of riverbank. The cherry blossoms were just shy of full bloom, and really just on the verge of the peak. It was difficult to tell unless you looked very closely, but they will definitely be at full bloom soon.
Hundreds of people were out celebrating both the start of the Golden Week Holidays and the cherry blossom season today. The park was extremely lively with dozens of food stands serving festival food, and a variety of live performances to entertain everyone. We were fortunate to stumble upon an Oni Kenbai Sword Dance, a local style where dancers shout and leap about while dressed as demons, being performed by hundreds of dancers from twelve local dance troupes. Watching the dancers perform under the cherry blossoms to the sounds of taiko drums was definitely a highlight of this year's cherry blossom season.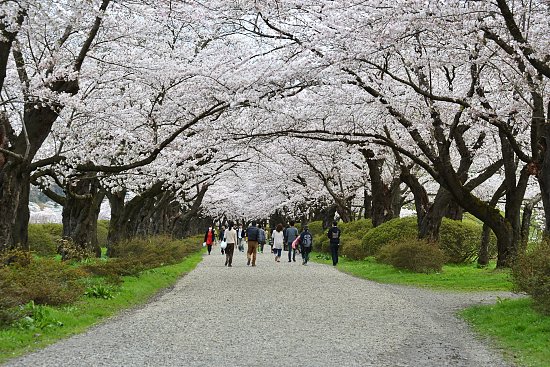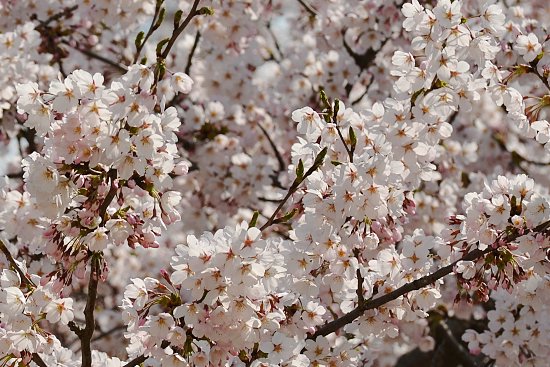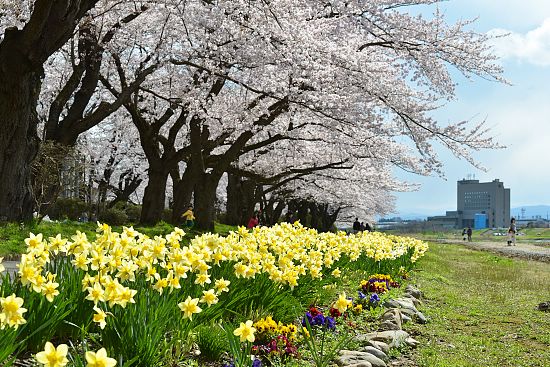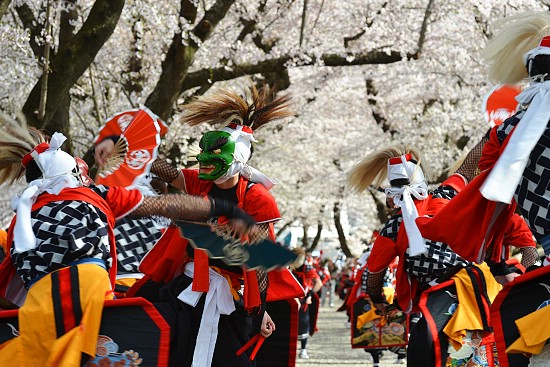 Questions? Ask in our forum.