Cherry Blossoms 2014: Kyoto Report (4/8)
Cherry Blossom Report 2014
Official cherry blossom reports by japan-guide.com
2014 Cherry Blossom Forecast - Schedule of upcoming reports - Popular cherry blossom spots
How to do hanami? - Cherry tree varieties - Post your own report
2014/04/08 - Kyoto Report
by sean
Enjoying the view at Keage Incline
Six days after the cherry trees in Kyoto were officially in full bloom, I returned to the nation's former capital to check out its cherry blossoms. I was delighted to find the season still at its peak at most of the locations that I went to today. The preceding days of slightly cold temperatures must have preserved the cherry blossoms in a good state. We should see fair weather in the next few days, making this an ideal period to enjoy sakura in Kyoto.
Arashiyama
April 8, 2014 - petals starting to fall
Arashiyama was as usual crowded with tourists this morning. I found the cherry trees to be still pretty full with flowers, albeit having already lost some petals. Great cherry blossom views should continue for another two days or so.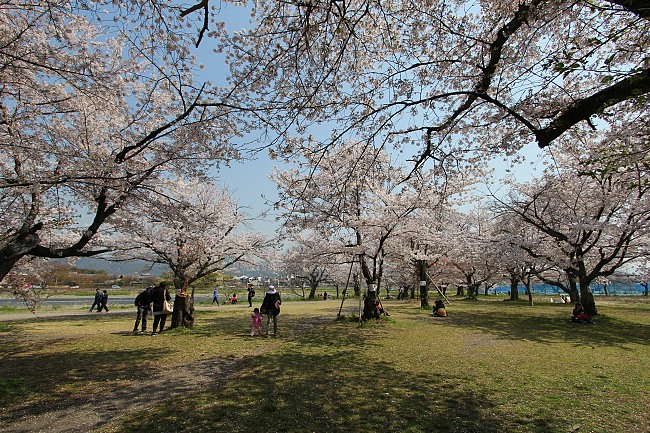 Cherry tree grove at Arashiyama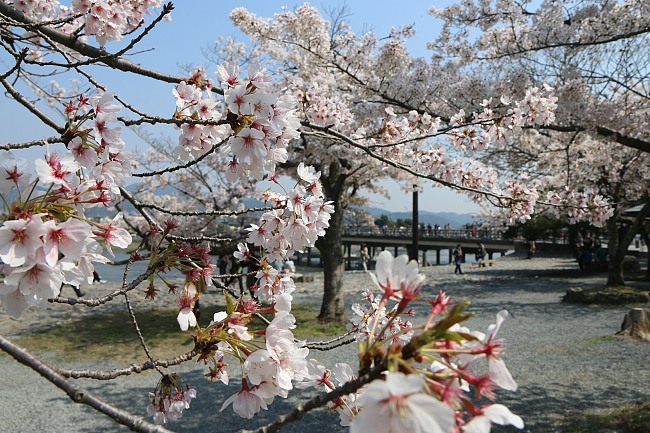 Close up on some blossoms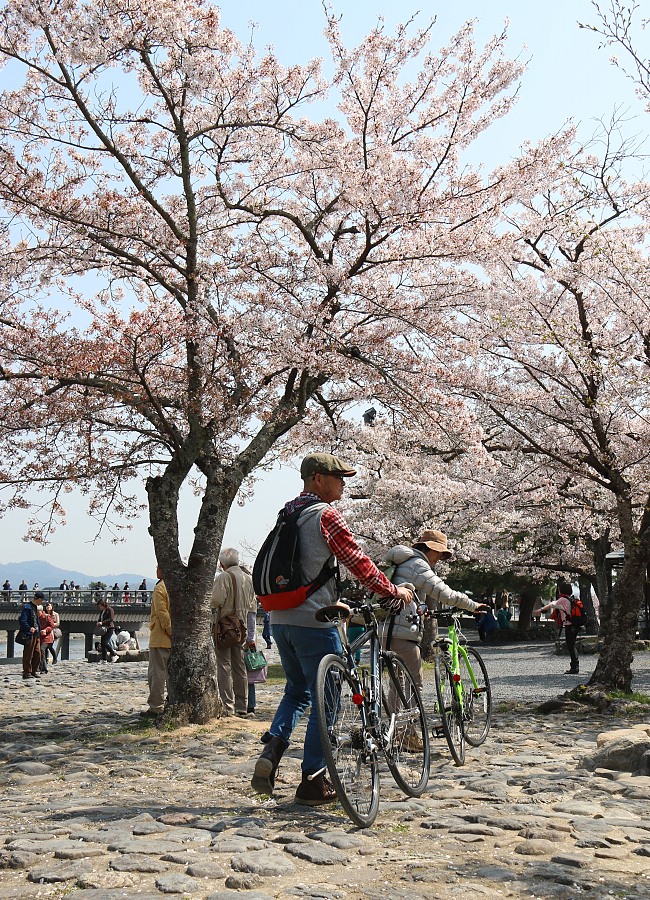 Cyclists visit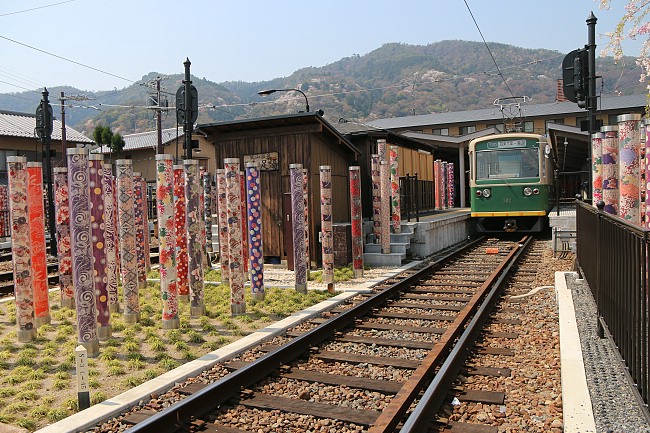 "Kimono Path" at Randen Arashiyama Station
Nijo Castle
April 8, 2014 - petals starting to fall (Somei Yoshino)
April 8, 2014 - full bloom (Yaebeni weeping cherries)
April 8, 2014 - opening (10-50%) (Late blooming varieties)
Unlike at most other cherry blossom spots, sakura of the Somei Yoshino variety do not make up the majority at Nijo Castle. The castle compound is home to a wide array of cherry tree types including late-blooming ones, making this a great destination for hanami (cherry blossom viewing) with an extended season. The Yaebeni weeping cherry trees are currently in full bloom and should remain so into the weekend, before other later blooming varieties take over in pleasing visitors.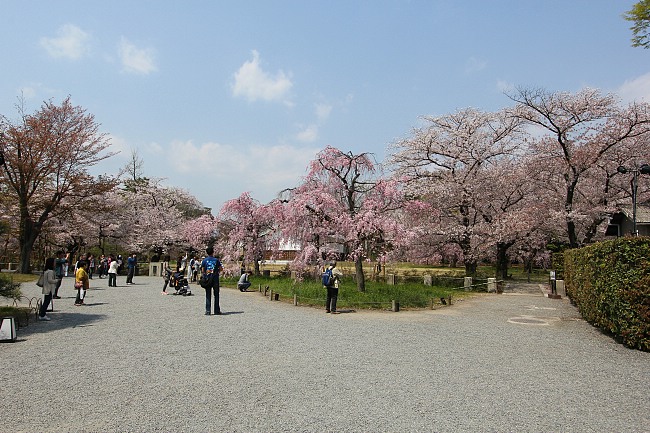 Yaebeni weeping cherry trees and Somei Yoshino cherry trees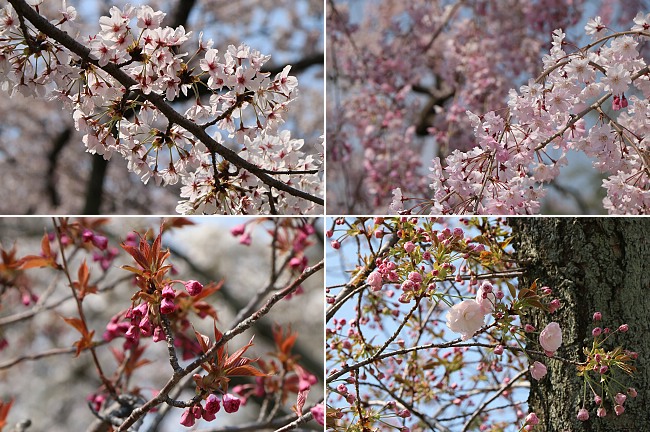 State of cherry blossoms clock-wise from top left: Somei Yoshino, Yaebeni weeping cherries, Ichiyo, Kanzan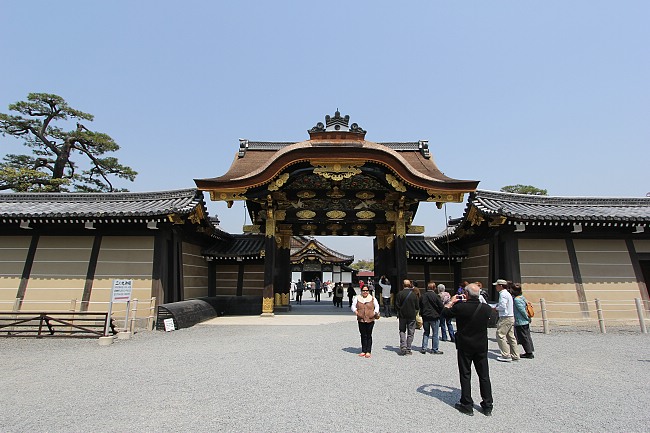 When I visited last year the Karamon Gate was under renovation
Keage Incline and Okazaki Canal
April 8, 2014 - petals starting to fall
When I last visited the Keage Incline one week ago, the cherry trees had already just reached their best. Due to the ephemerality of their blossoms I had expected the peak period to have passed by the time of this visit, but to my pleasant surprise sakura views were still great. I think good views should remain for another two to three days at least.
Just a short walk away is Okazaki Canal, and today I found the cherry tree branches here to be even fuller than those at the Keage Incline. Cherry blossoms can be enjoyed here whilst taking a boat ride on the canal. Daytime boat rides are available till May 6 from 9:30 to 16:30. Evening illuminations will take place everyday from 18:00 to 21:30 until April 13, during which night-time boat rides are available till 20:30.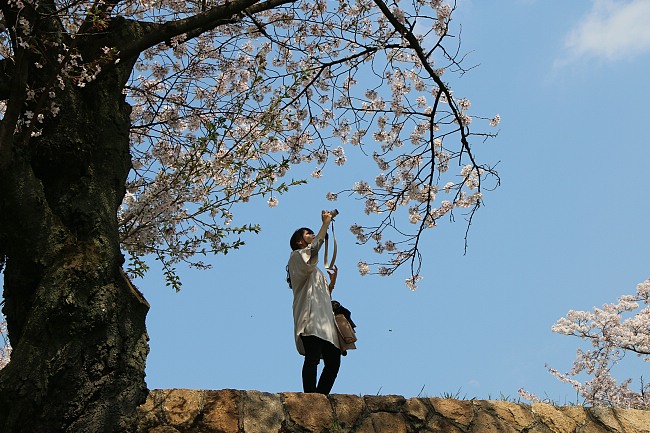 Arriving at Keage Incline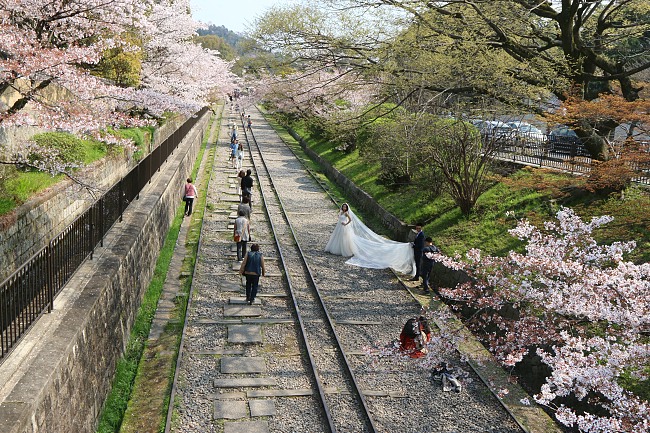 Best wishes to this couple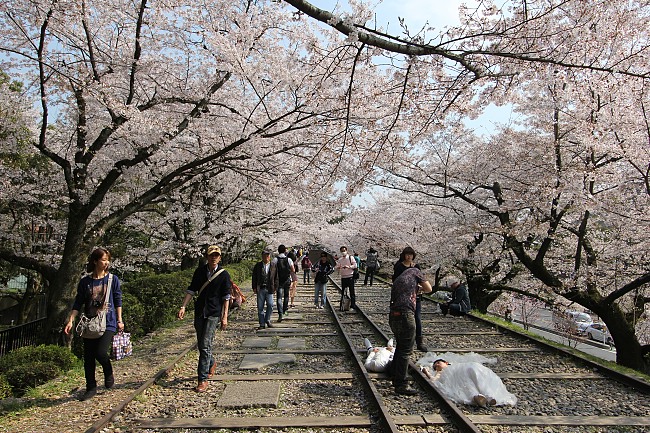 And to this couple too...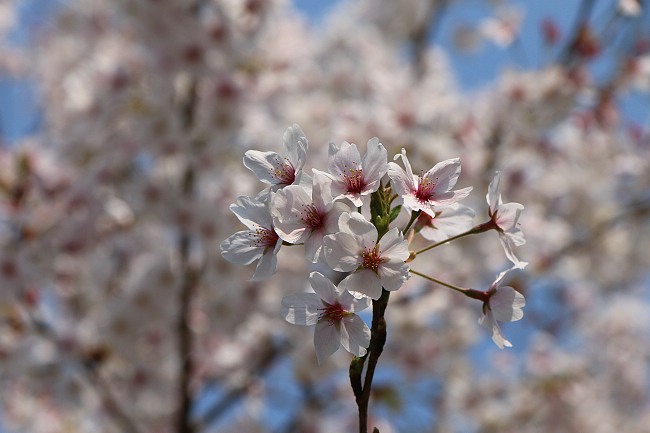 Nice cherry blossoms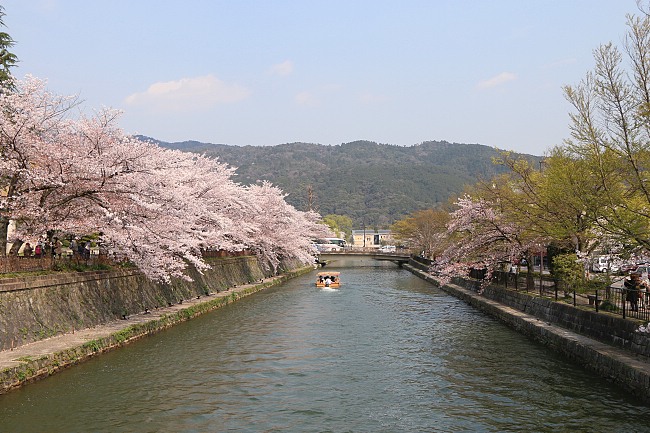 Okazaki Canal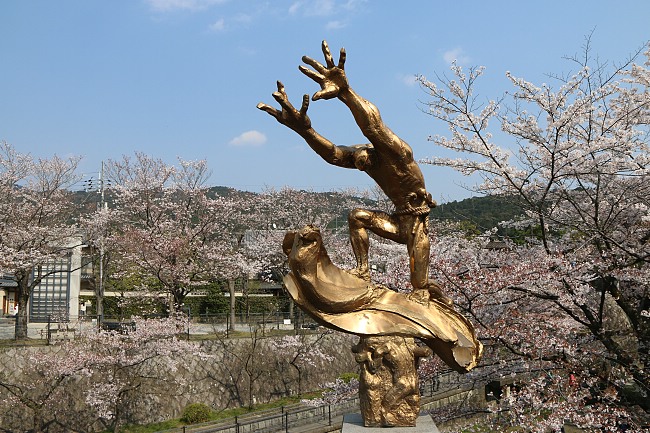 Interesting statue by the canal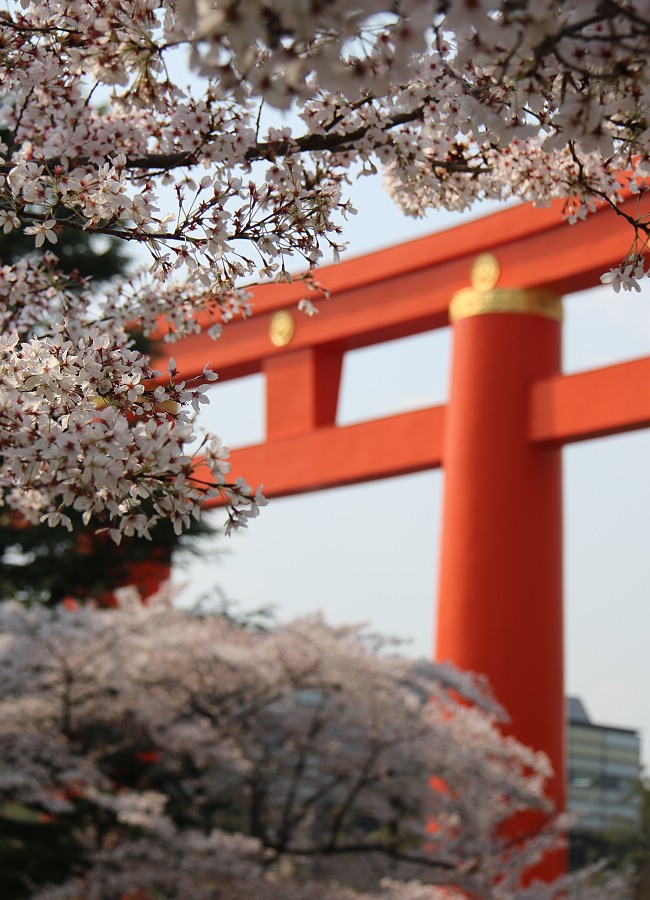 Heian Shrine's torii gate viewed from Okazaki Canal
Heian Shrine
April 8, 2014 - petals starting to fall (Somei Yoshino)
April 8, 2014 - full bloom (Yaebeni weeping cherries)
While the Somei Yoshino are usually the ones in the spotlight, it is the Yaebeni weeping cherry trees that are the superstars of Heian Shrine's garden. Today, these weeping cherry trees were at their very best, drawing gasps of awe from their audience. A few Somei Yoshino trees which stood here and there were shedding some petals as the wind blew, seemingly uncomfortable with the lack of attention given to them. It was gorgeous overall at the garden, and the Yaebeni weeping cherry trees will carry Heian Shrine's cherry blossom season into the weekend.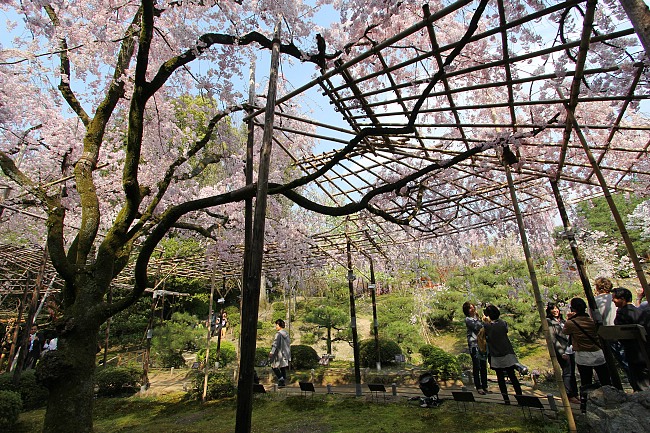 Garden of Heian Shrine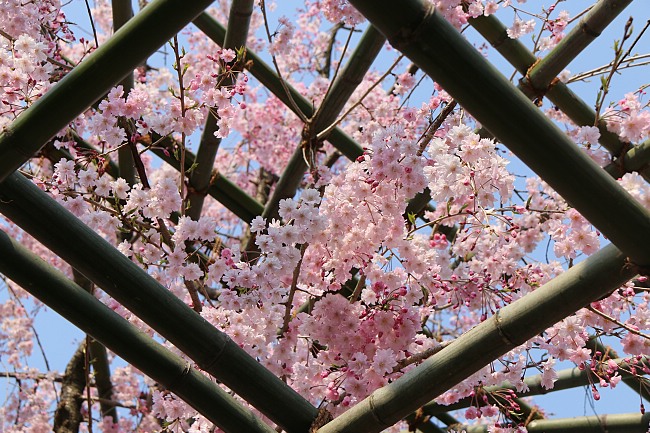 Picture perfect weeping cherry blossoms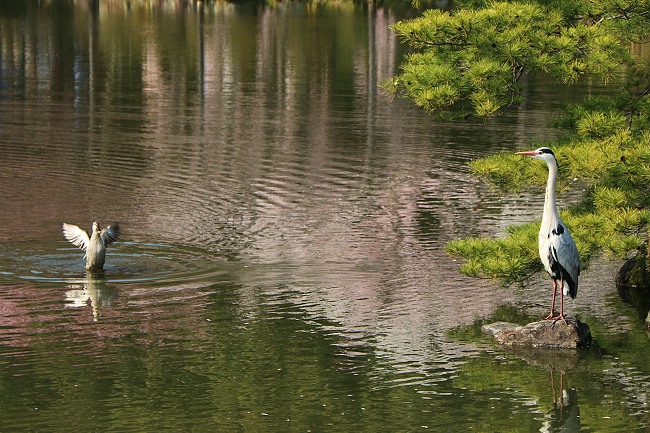 Reflections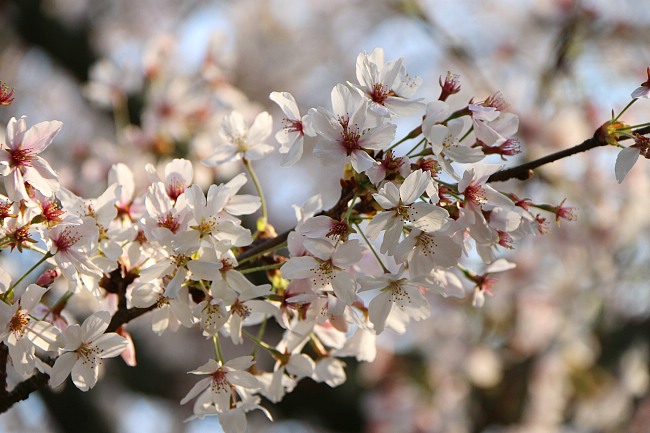 Jealous Somei Yoshino
Maruyama Park
April 8, 2014 - petals starting to fall
I rounded up the day again with a visit to Maruyama Park, where there were many having their hanami parties. Of the locations that I visited today, the state of the cherry blossoms was the worst here, although views were still pleasant enough. It was already past peak for the great weeping cherry tree at the center of the park. Overall, I think the window for cherry blossom viewing here will remain open for another couple of days, but will likely be closed around the start of the weekend.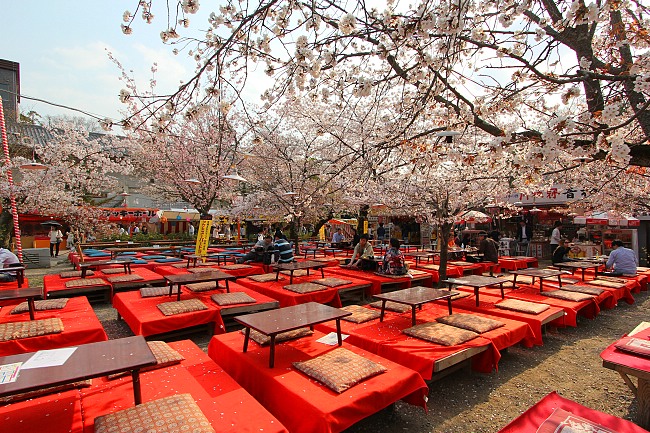 Maruyama Park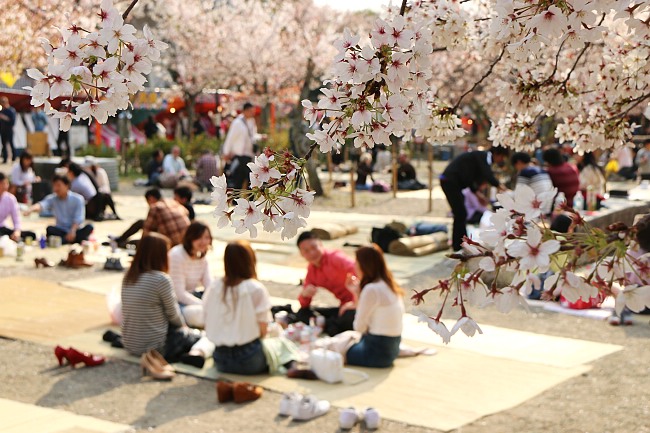 Hanami parties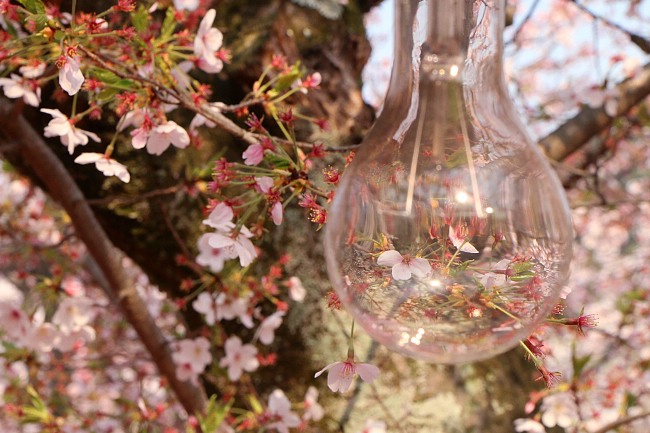 The light bulb
Questions? Ask in our forum.