Cherry Blossoms 2011: Tokyo Report (3/27)
Cherry Blossom Report 2011
Official cherry blossom reports by japan-guide.com
This year's cherry blossom season will be overshadowed by the tremendous loss caused by the recent earthquake. However, we believe that the blossoms will serve as symbols of hope and resilience and a source of motivation along Japan's road to recovery. With this in mind, we never hesitated to go ahead with our annual reports in order to inform travelers in Japan and readers across the world about this year's cherry blossom season.
2011 Cherry Blossom Forecast - Schedule of upcoming reports - Post your own report
Popular cherry blossom spots - How to do hanami? - Cherry tree varieties
2011/03/27 - Tokyo Report
by schauwecker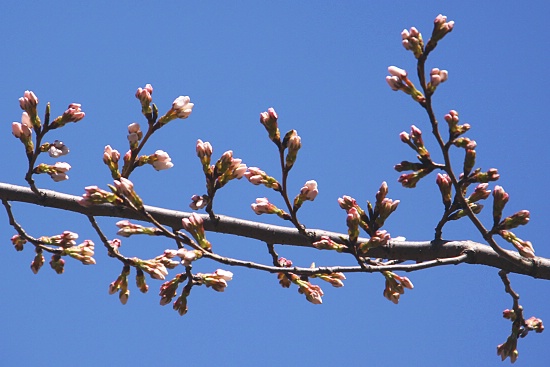 Welcome to the cherry blossom report 2011! The cherry blossoms have started to open on the southern islands of Shikoku and Kyushu over the past few days; however, I begin this year's reporting in Tokyo, where the blossoms are still officially closed. They are forecast to start opening tomorrow and reach full bloom about one week later.
Ueno Park
March 27, 2011 - about to open
I started the day at Ueno Park, arguably Tokyo's most famous cherry blossom spot. The cherry trees were still closed with the exception of a few scattered early flowering tree varieties.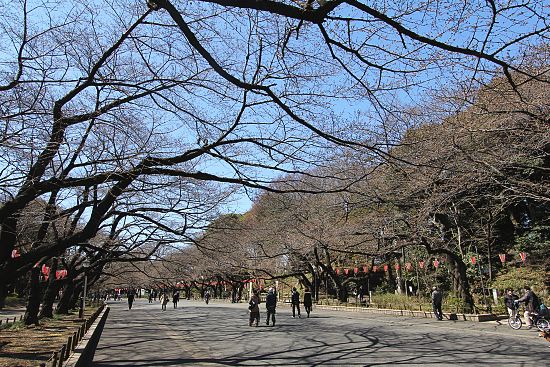 The predominant somei yoshino trees were on the verge of opening up. Among the hundreds of somei yoshino trees in the park, I counted two trees that actually started opening their first blossoms already. The rest should follow in the very near future and probably provide good hanami conditions by the next weekend.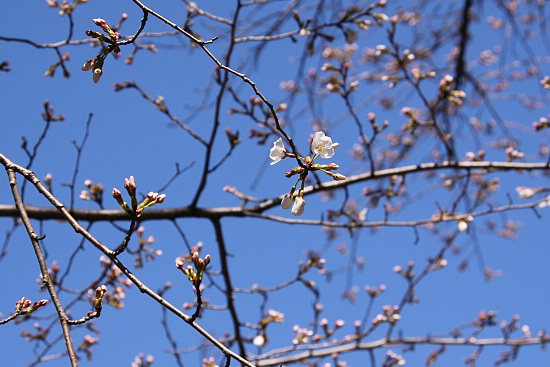 A few scattered trees of early flowering cherry varieties stood already in bloom. Among them was a pretty weeping cherry tree at the park's south entrance near Keisei Ueno Station.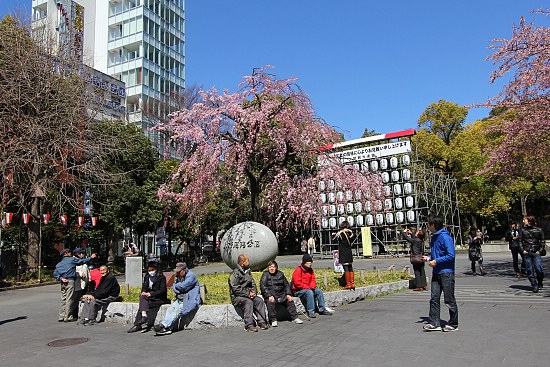 A few trees of the okanzakura variety provided some colors here and there among the otherwise still barren trees. And next to the Bentendo Hall at Shinobazu Pond people were enjoying the deep pink, bell shaped blossoms of some kanhizakura trees, an early flowering tree variety native to Taiwan and Okinawa.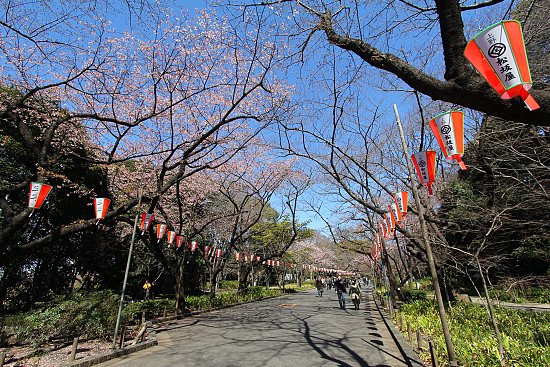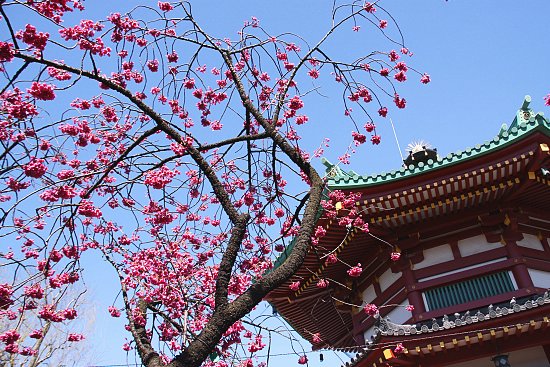 Shinjuku Gyoen
March 27, 2011 - about to open
The cherry trees in Shinjuku Gyoen were at a similar state as the trees in Ueno Park or possibly a couple of days less advanced, as I did not spot a single somei yoshino tree with an open blossom yet. Nevertheless, the buds do not look like they need too much more time before opening up.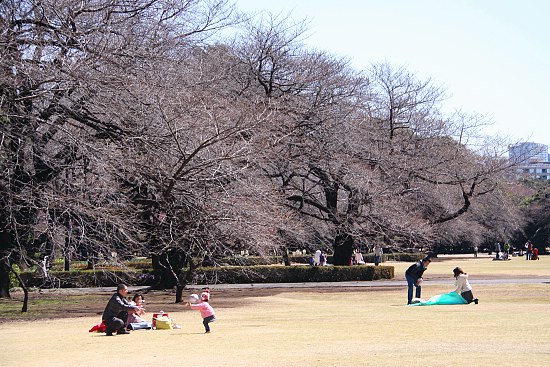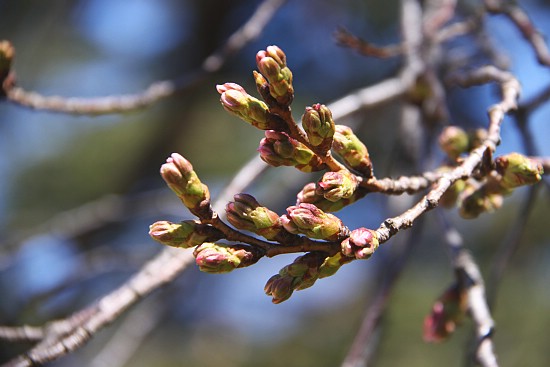 Apart from the still closed somei yoshino trees there were scattered early flowering trees of different cherry varieties. Best among them was a group of weeping cherry trees around the lower pond, which has already progressed into considerable beauty and attracted lots of park visitors.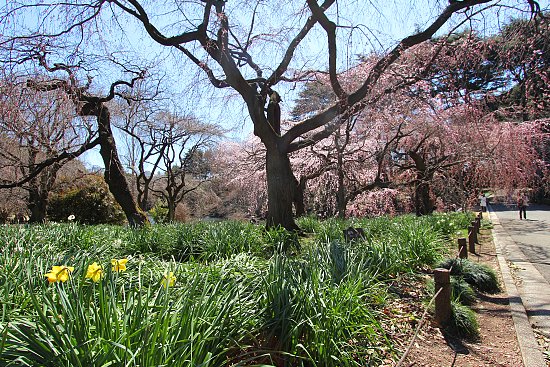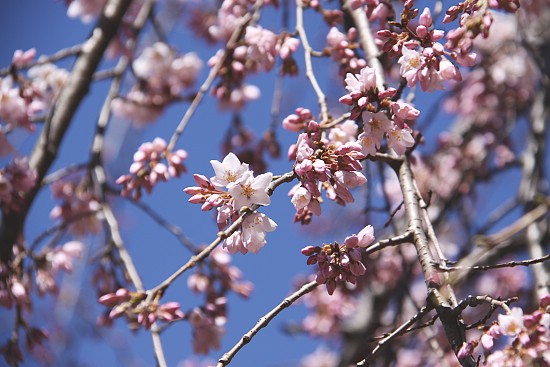 Despite the early state of the season, Shinjuku Gyoen attracted a rather large number of visitors this Sunday morning, who enjoyed the good weather for a walk, picnics and photographing.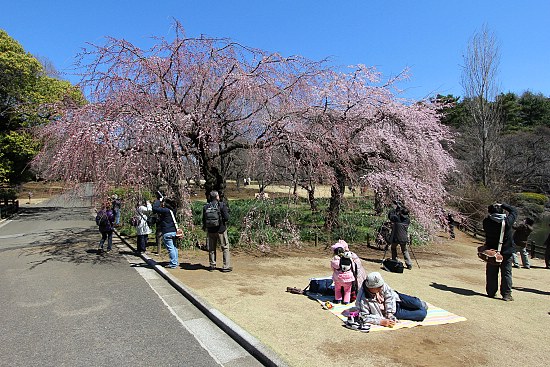 Koishikawa Korakuen
March 27, 2011 - just opened (0-10%)
Koishikawa Korakuen is one of Tokyo's prettiest Japanese gardens, located directly next to Tokyo Dome. The garden features several weeping cherry trees, which start blooming a few days earlier than the elsewhere predominant somei yoshino trees. Indeed, the weeping cherry trees in Koishikawa Korakuen were already around the ten percent mark.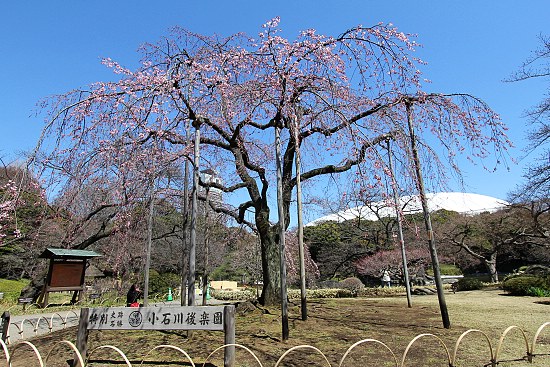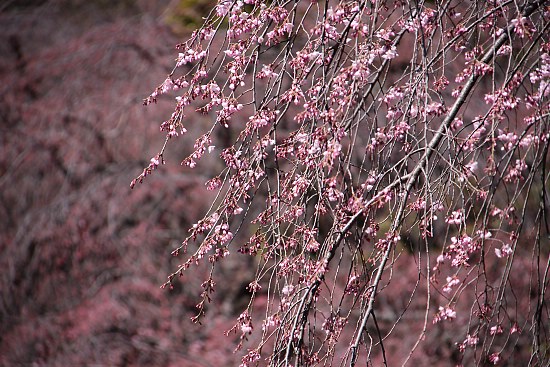 Chidorigafuchi and Yasukuni Shrine
March 27, 2011 - about to open
Next I visited the representative cherry tree of Tokyo. Standing on the grounds of Yasukuni Shrine, this single tree is used by the authorities to define the opening of cherry blossoms in Tokyo.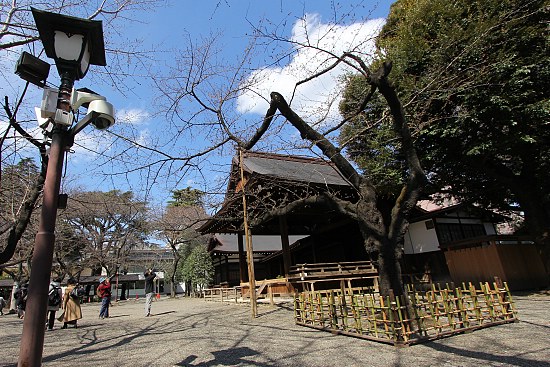 Taking a close look at the tree's branches, I discovered one or two single blossoms that had just opened up. Checking the news, it seems that the two blossoms were not sufficient for the official announcement of the start of the season yet, however, I expect this to happen tomorrow, just as forecast by the Japan Weather Association.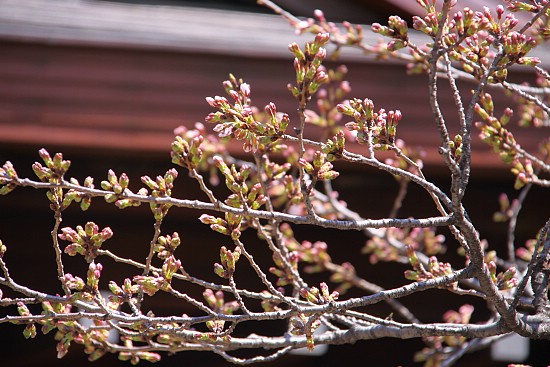 Just a few steps from Yasukuni Shrine is Chidorigafuchi, a popular cherry blossom spot featuring hundreds of cherry trees along the moats of the Imperial Palace. Although I could not make out a single open blossom yet, it won't take much longer for the flowering season to start here, too.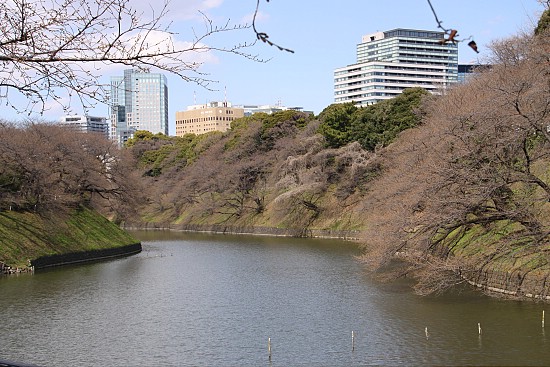 Due to the earthquake and resulting power shortages, the nightly illumination scheduled for Chidorigafuchi will be canceled this year. The rental of rowing boats will be possible from April 1.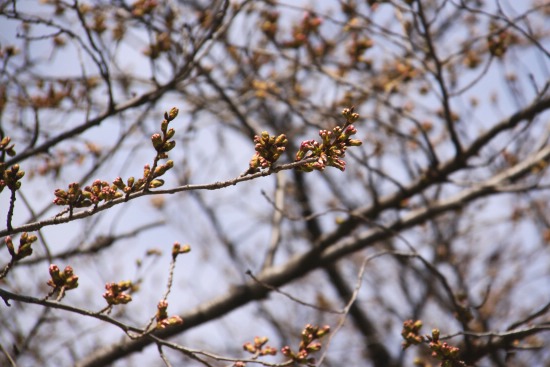 Questions? Ask in our forum.