Cherry Blossoms 2014: Kyoto Report (3/25)
Cherry Blossom Report 2014
Official cherry blossom reports by japan-guide.com
2014 Cherry Blossom Forecast - Schedule of upcoming reports - Popular cherry blossom spots
How to do hanami? - Cherry tree varieties - Post your own report
2014/03/25 - Kyoto Report
by scott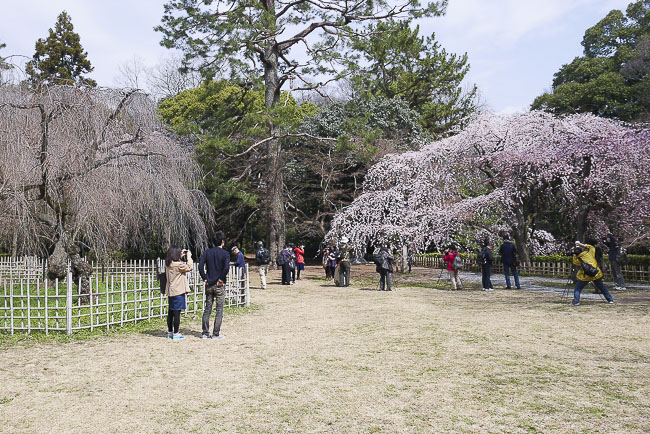 Early blooming weeping cherry trees at the Kyoto Imperial Palace
This year the cherry blossoms are expected to open more or less on an average schedule, with the exception of Kyushu and Shikoku, which were predicted to, and did open a few days earlier than usual. On the other hand, the blossoms around Tokyo just opened up today, beating expectations by a few days, while over in Kyoto the buds remain officially closed. But it won't be much longer as the blossoms are forecast to open in Kyoto the day after tomorrow.
With that in mind, today I have the pleasure of kicking off our 2014 cherry blossom reporting from Kyoto where I went to check out how some of the early season spots are doing. Also, from today japan-guide.com will be following the cherry blossoms with almost daily reports as they bloom across the country, finally wrapping up in Hokkaido in early May.
Kyoto Imperial Park
March 25, 2014 - approaching full bloom (50-80%) (weeping cherry trees)
I began this year's reporting from the northwest corner of the Kyoto Imperial Park where there some weeping cherry trees. The spot makes for a good early season visit because these trees tend to bloom a couple of days ahead of the predominant Somei Yoshino variety found elsewhere around the city. There are actually several different types of weeping cherry trees planted here so there was a lot of variation in the state of the blossoms. About a third of the trees were earlier blooming weeping cherries, the earliest of which were already well on their way to full bloom. The other kinds of weeping cherries were still closed, however, and don't look like they'll be opening for another couple of days.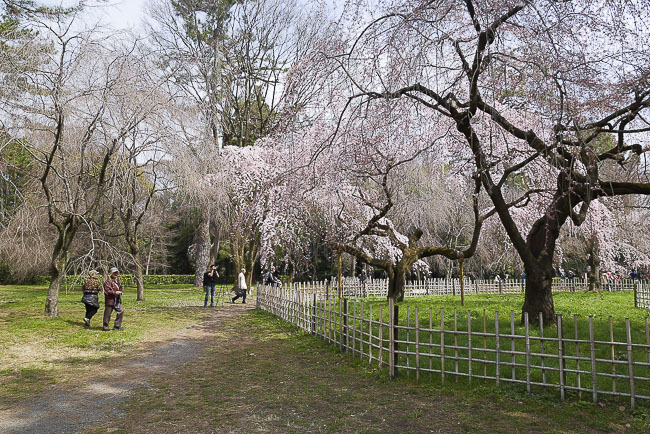 Kyoto Imperial Park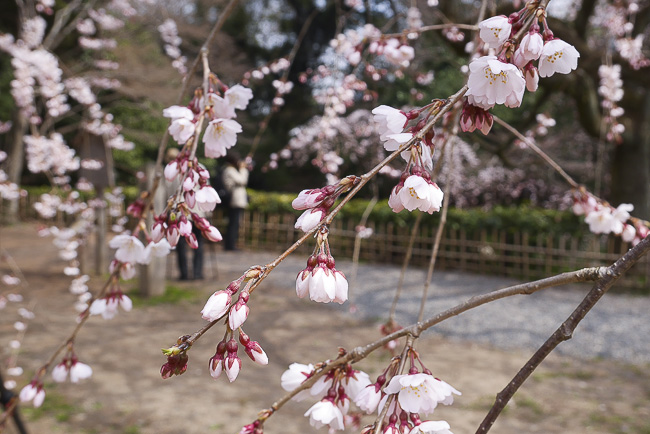 The blossoms of one of the more advanced trees
Photographing the best flowers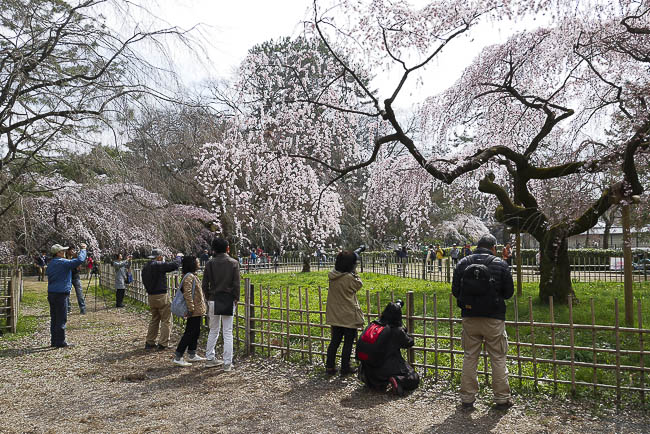 Photographers enjoying the blossoms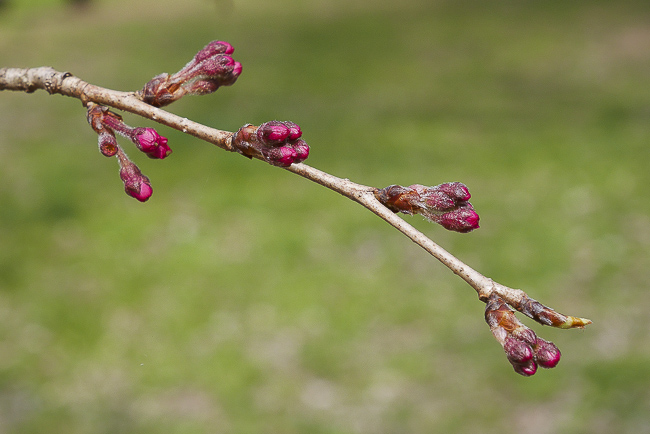 Later blooming weeping cherry blossoms still closed
Nijo Castle
March 25, 2014 - just opened (0-10%) (weeping cherry trees)
March 25, 2014 - still closed (Somei Yoshino)
Next up was Nijo Castle, the former Kyoto residence of the Tokugawa Shogun. The castle hosts several gardens filled with a variety of ornamental flowering trees, including different types of cherry and plum trees, that provide for a relatively long blooming season around the castle grounds.
I went to Nijo Castle expecting nice weeping cherry trees along the castle's western walls, but when I got there I didn't find a single open blossom. According to the information desk, it turns out that the trees are pretty much all the later blooming Yaebeni Shidare variety of weeping cherry blossom which explains why they all had tightly closed buds that were suspiciously dark pink.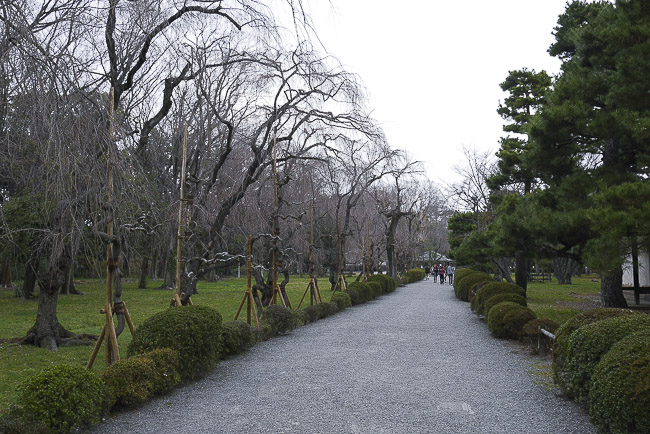 Later blooming weeping cherry trees along the castle's western wall
Their suspiciously dark pink buds were still tightly closed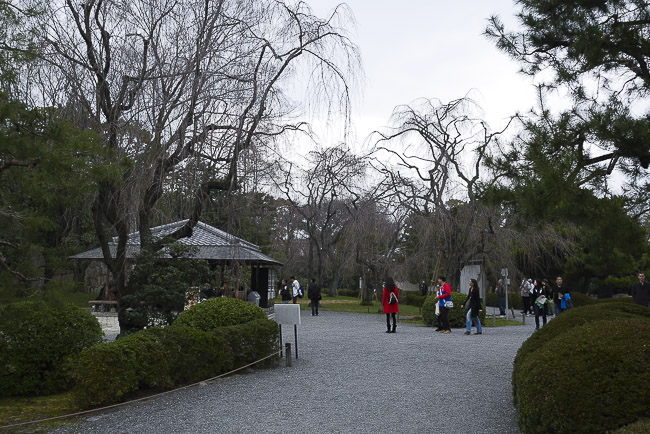 Just outside the entrance to the honmaru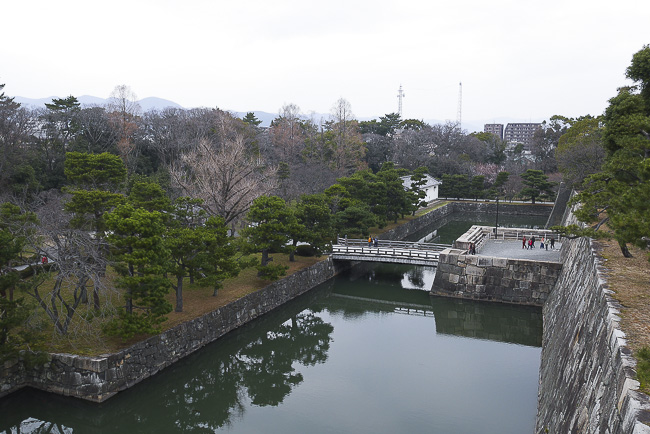 From the foundations of the former castle keep
Not surprisingly, virtually all of the cherry trees around the Seiryu-en Garden in the northeast and the Sakura-no-en Cherry Garden in the south of the castle grounds all still had tightly closed buds as the majority is made up of Somei Yoshino and late blooming Satozakura varieties of cherry trees. But there was a smattering of early blooming weeping cherry trees to be found if you looked hard enough, and those were just starting to bloom.
During the cherry blossom season (3/21 to 4/13) Nijo Castle hosts an evening illumination where they light up the cherry trees from 18:00 to 21:30. Entry lasts until 21:00 and costs 600 yen.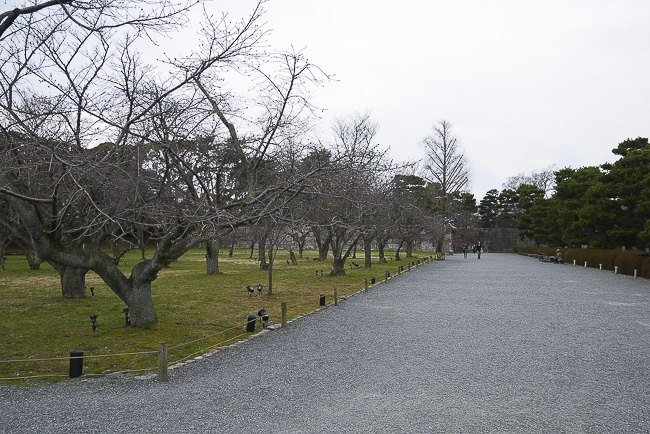 Sakura-no-en Cherry Garden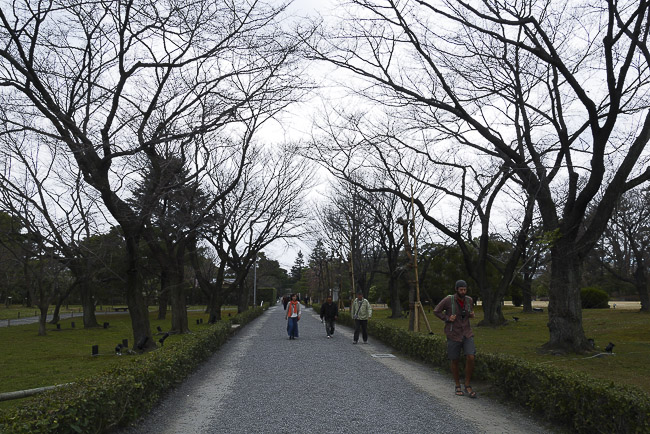 Seiryu-en Garden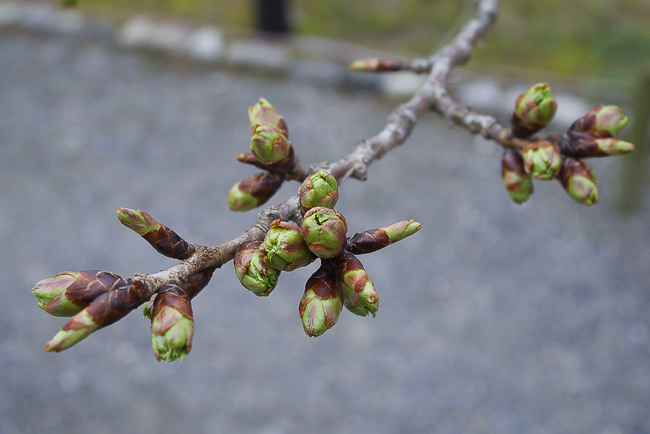 Tightly closed buds of the later blooming Satozakura cherry blossoms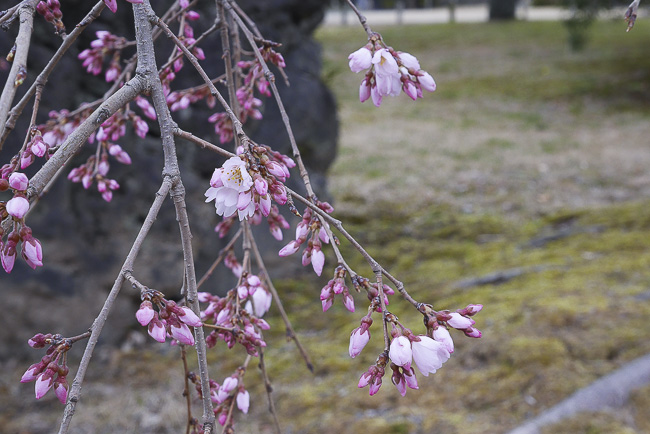 Weeping cherry blossoms opening
In addition, the castle has a beautiful plum garden that was filled with a huge variety of different plum trees, most of which were around full bloom today.
Nijojo's plum garden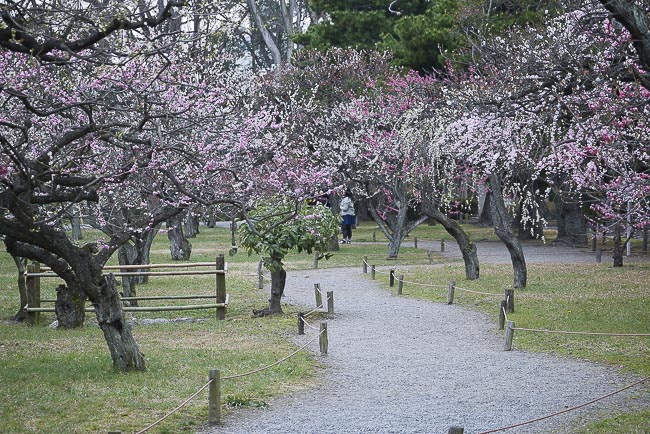 Plum garden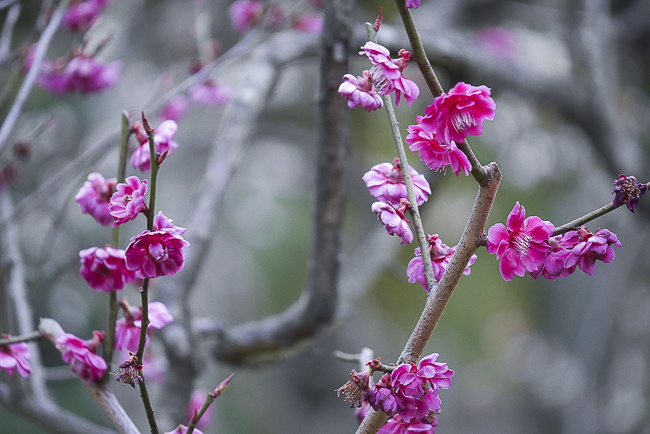 Many of the plums were at full bloom
Daigoji
March 25, 2014 - opening (10-50%) (weeping cherry trees)
March 25, 2014 - about to open (Somei Yoshino)
After visiting Nijo Castle I took the subway down to the southeastern corner of Kyoto to visit Daigoji. This large temple complex is home to some of the city's best weeping cherry trees and makes for another good place to see early blooming cherry blossoms.
Today the weeping cherry trees were only beginning to open around Daigoji, especially the impressive group of large trees in front of Sanboin. However, the prize of Daigoji, a really large weeping cherry tree in the back of the Reihokan treasure house gardens (additional paid entry), has really gotten going and was one of the best looking trees of the day. Even so, the tree still falls below the 50% open mark and should only continue to get better over the next few days.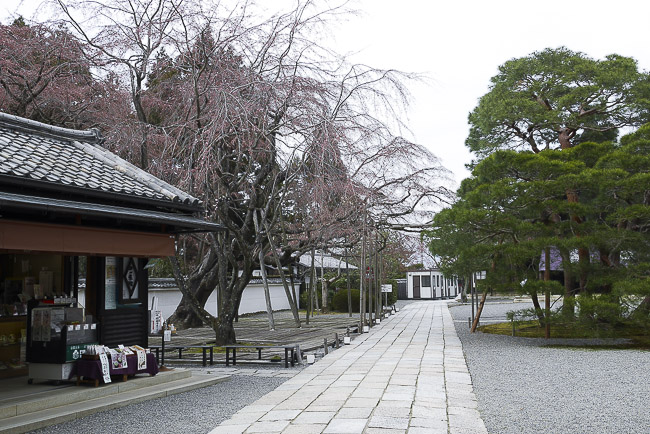 Large weeping cherry trees around Sanboin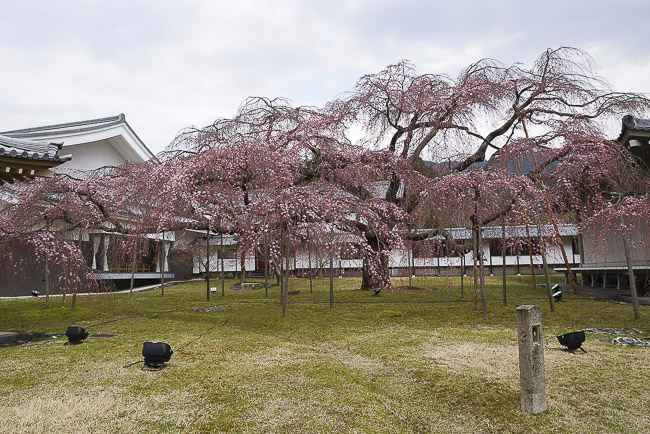 Daigoji's most beautiful cherry tree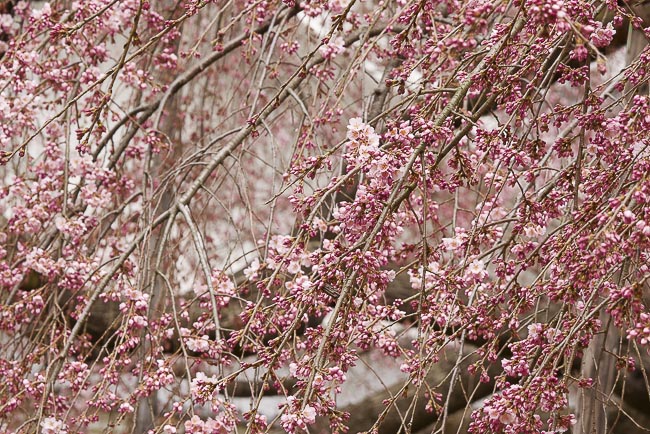 The blossoms were opening quickly, but still have a ways to go
The regular Somei Yoshino trees around the temple grounds were another story altogether. But while their buds were still closed, they were also farther along than the other Somei Yoshino trees that I saw today and some of them looked like they were just on the verge of bursting open.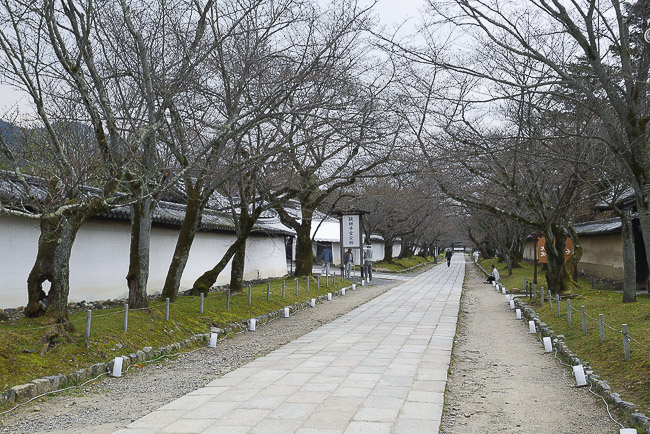 Somei Yoshino trees along the temple grounds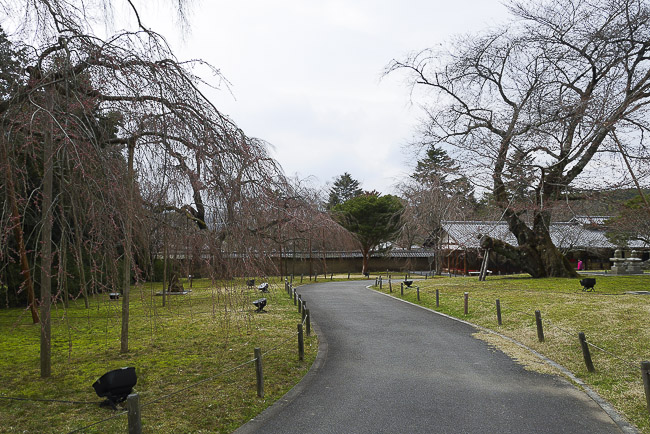 A mix of Somei Yoshino and weeping cherry trees inside the grounds of the Reihokan treasure house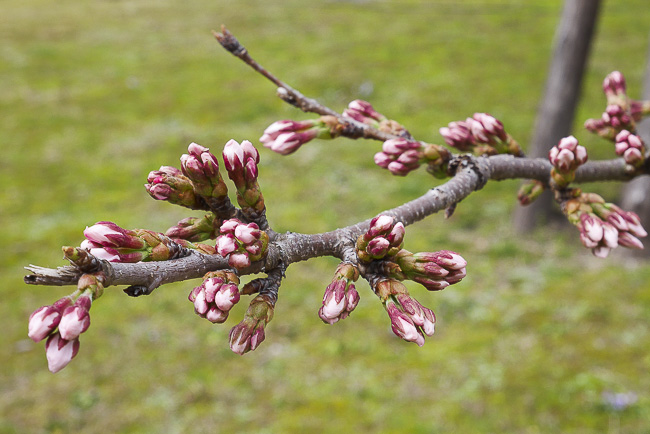 Just a little bit longer! These Somei Yoshino buds only need a bit more time to open
Maruyama Park
March 25, 2014 - still closed (weeping cherry tree)
March 25, 2014 - still closed (Somei Yoshino)
I finished up the day at Maruyama Park, one of the city's most popular spots for flower viewing (hanami) parties. And no doubt there were already people out today doing just that despite the fact that, except for a scattering of early blooming trees, there were no cherry blossoms to gaze upon. Both the earlier blooming giant weeping cherry tree and the Somei Yoshino trees around the park had buds that were still closed and only beginning to peek out of their coverings.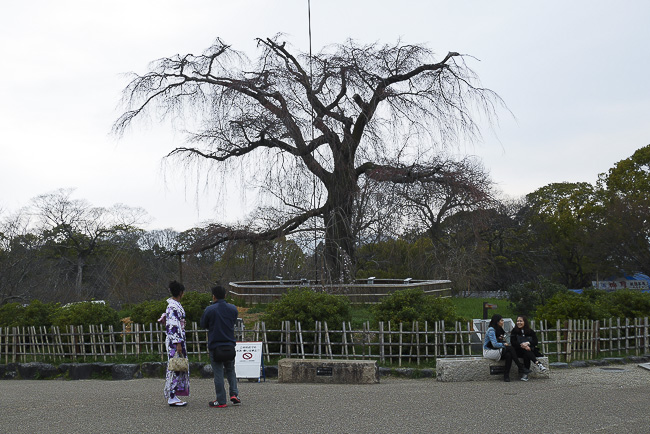 Maruyama Park's large central weeping cherry tree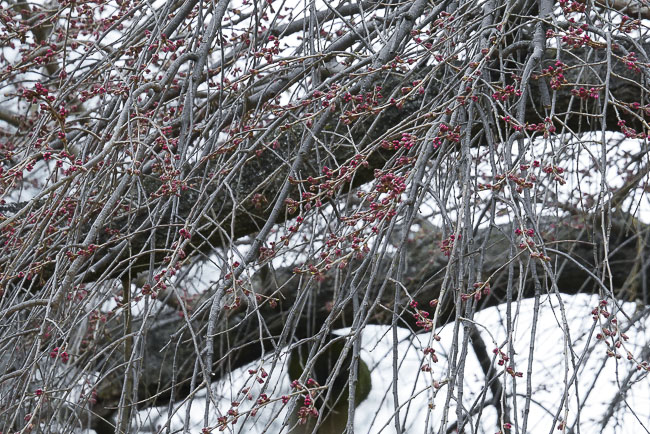 The weeping cherry tree's blossoms have yet to open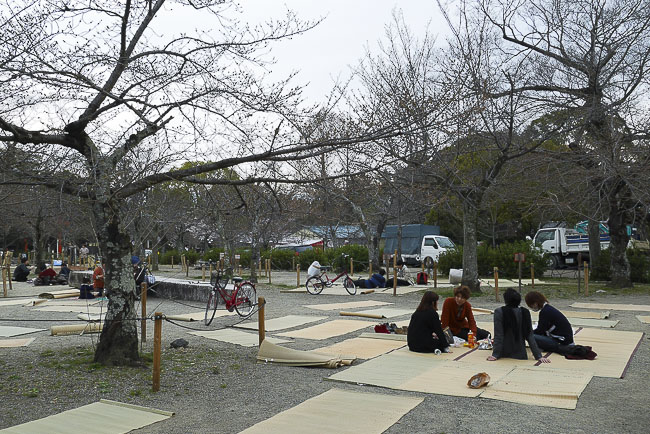 Maruyama Park has recently been banning blue tarps and provides attractive tatami mats to sit on instead.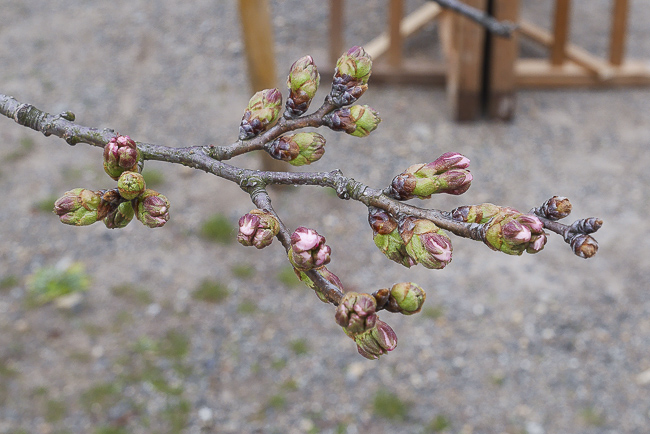 More closed blossoms
Questions? Ask in our forum.