Cherry Blossoms 2015: Tokyo Report (3/25)
2015/03/25 - Tokyo Report
by raina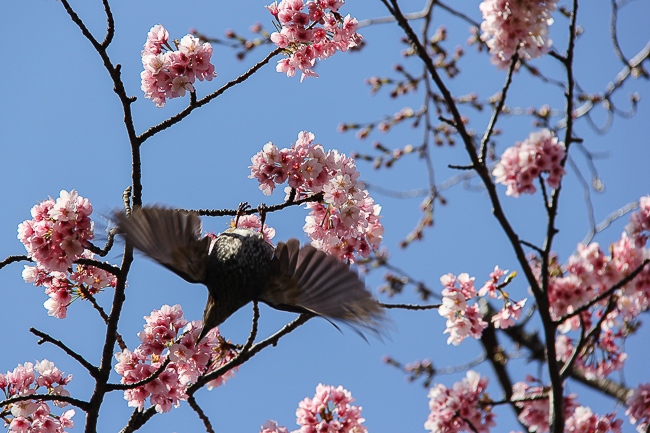 The cherry blossom season has started slightly early this year, with the trees in many cities opening about two to three days earlier than average. Nagoya, Kumamoto and Kagoshima kicked off the season on March 21 when the first blossoms were observed. Since then, the cherry trees in other cities, especially those in Kyushu and the southern part of the Chubu Region have blossomed.
Today, I bring you japan-guide.com's first cherry blossom report from Tokyo. The city's representative tree opened on March 23, about three days earlier than average. The cherry trees were mostly still in buds today but it will not be long before they blossom and peak in this warm weather. The best time to view the cherry blossoms at their peak is estimated to be from around early next week as the weather forecast for Tokyo for the next few days is expected to be sunny and warm.
Ueno Park (Ueno Koen)
March 25, 2015 - just opened (0-10%)
My first stop for today was Ueno Park, a popular hanami spot in Tokyo. There are about 1200 cherry trees in the park with a mixture of varieties, including some early flowering varieties. Even though most of the cherry blossoms were still closed, there was already space cordoned off for hanami parties. I saw many tour groups braving the morning cold and wind crowding around the early flowering cherry trees and the few Somei Yoshino cherry trees that had a few branches of blossoms opened.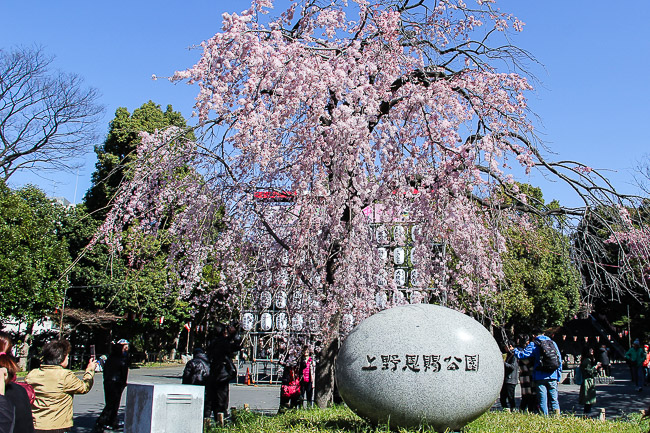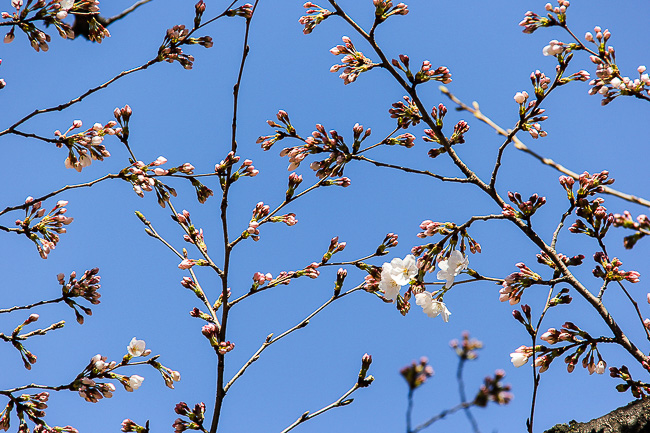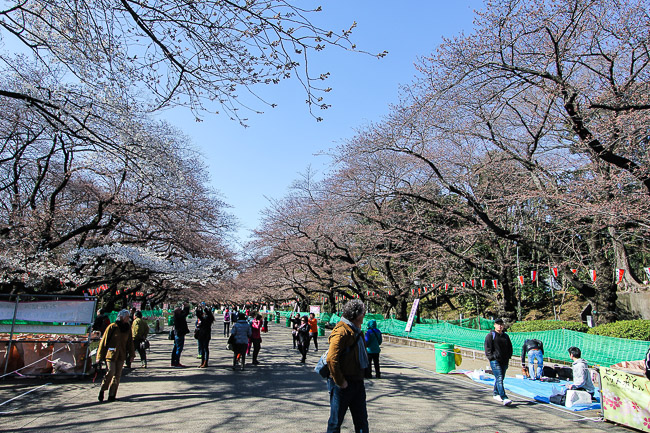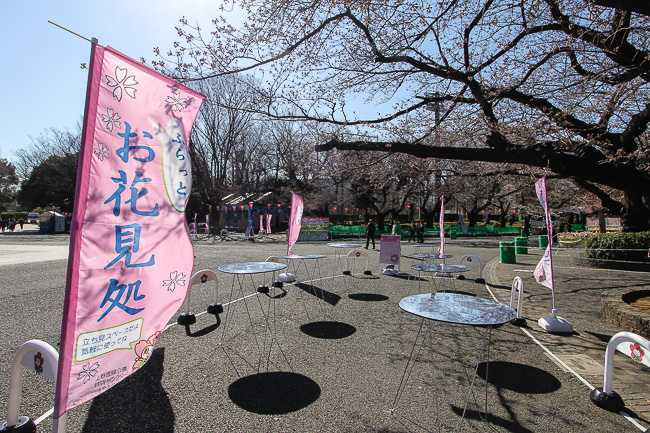 Rikugien
March 25, 2015 - opening (10-50%) (weeping cherries)
Rikugien is a beautiful Japanese landscape garden in Tokyo. I entered from the normally closed Someimon Gate (open until April 5) which is closer to Komagome Station, and made my way towards the garden's large weeping cherry tree that was planted about 50 years ago and blooms a few days earlier than the regular cherry trees. There was a steady stream of visitors from pre-school kids on excursion, to elderly visitors, and everyone seemed to have a good time walking around the garden regardless of age. The garden is also illuminated in the evenings from 17:30 until April 5 during the cherry blossom season.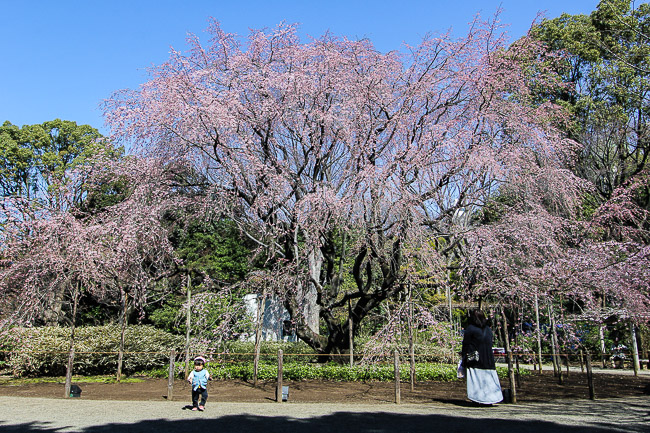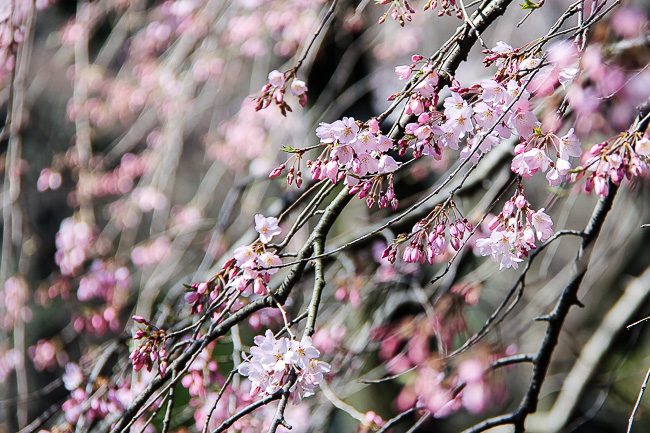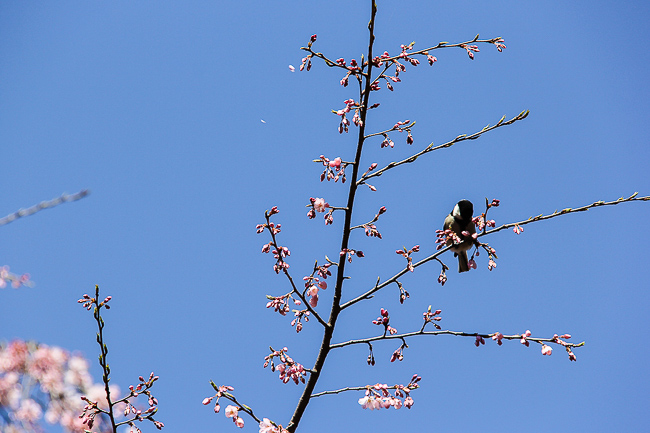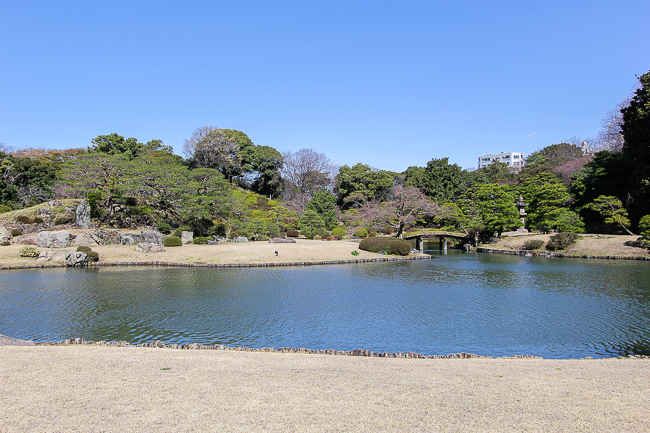 Koishikawa Korakuen
March 25, 2015 - approaching full bloom (50-80%) (weeping cherries)
Koishikawa Korakuen is one of Tokyo's oldest and best Japanese gardens, and also my third stop for today. The garden features many, slightly earlier blooming weeping cherry trees that were already in bloom and saw a constant flow of visitors who took many pictures of the blossoms. There is still on-going construction in the garden, with a bridge and walkway being renovated, however that did not affect any one who was there to enjoy the views and flowers.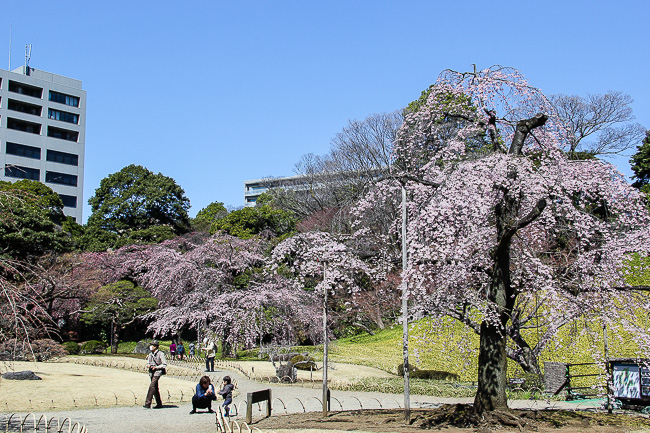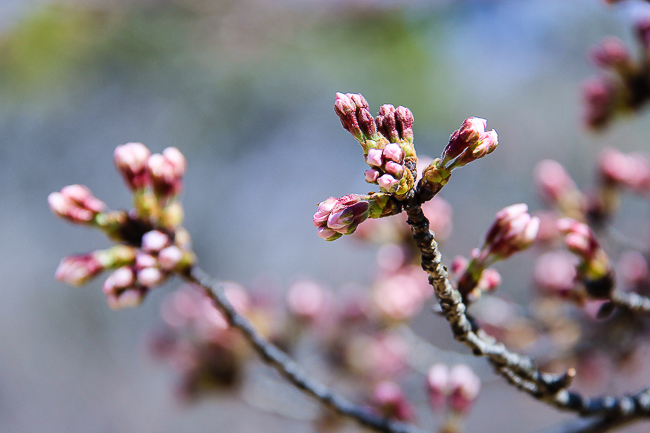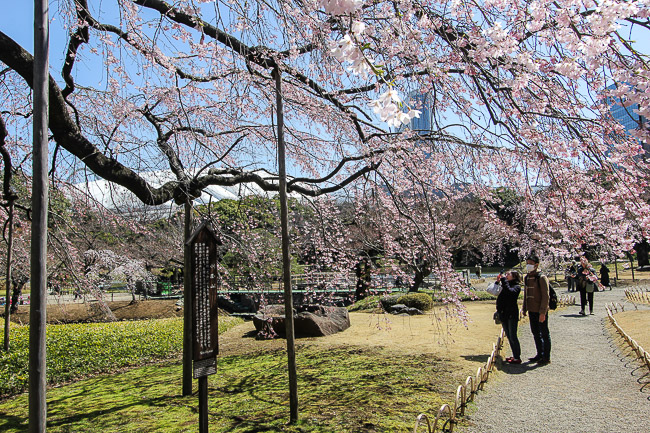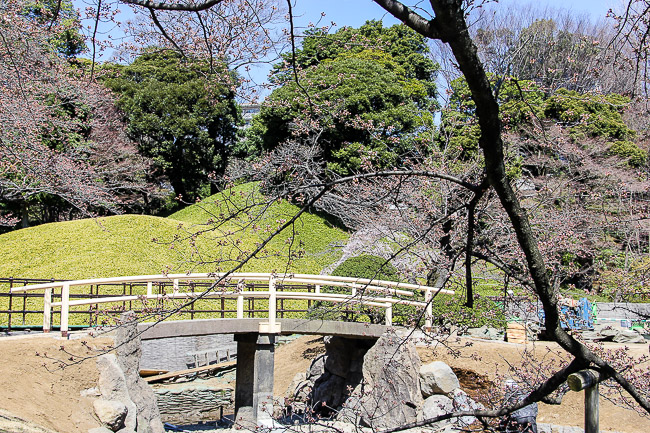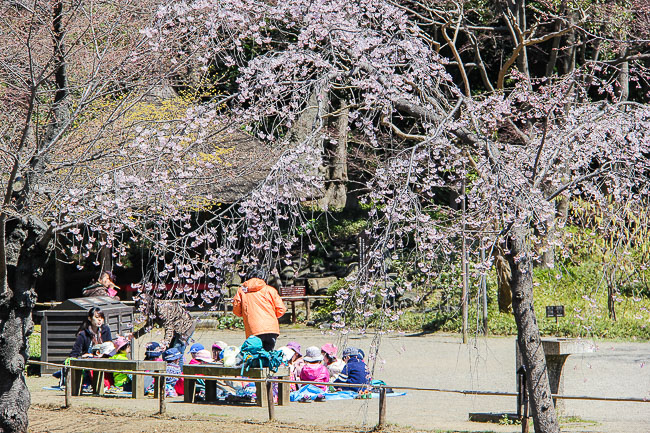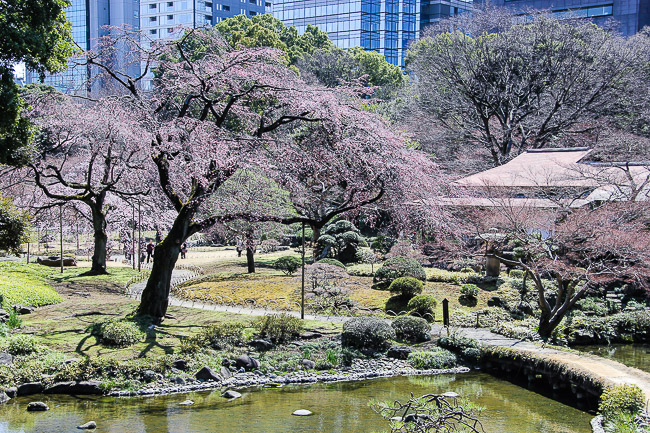 Shinjuku Gyoen
March 25, 2015 - just opened (0-10%)
My last stop for today was Shinjuku Gyoen, one of Tokyo's largest and most popular parks. Cherry trees of many different varieties are dotted around the park. There were lots of people in the garden crowded around the early flowering cherry trees and others enjoying the sun and picnicking on the spacious lawns. The most numerous Somei Yoshino trees only need a couple more days before they will be filled with blossoms.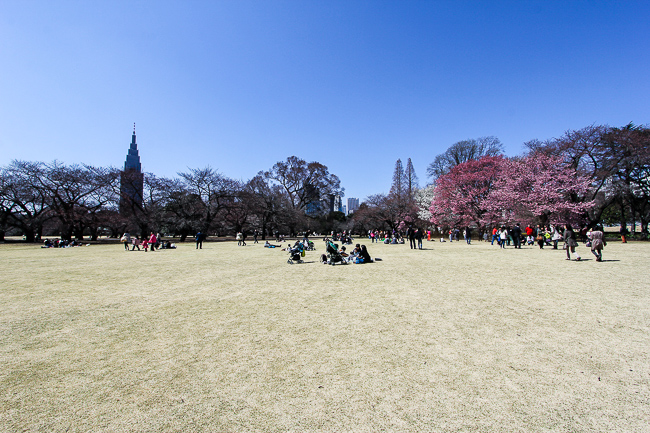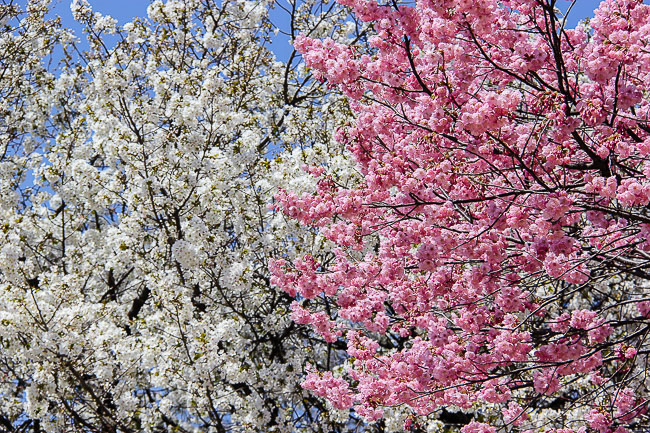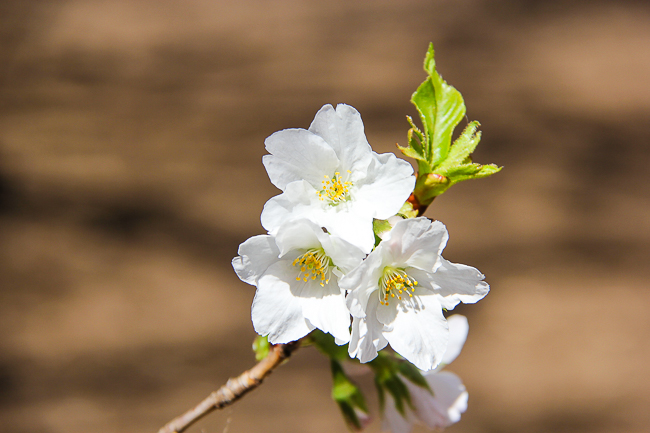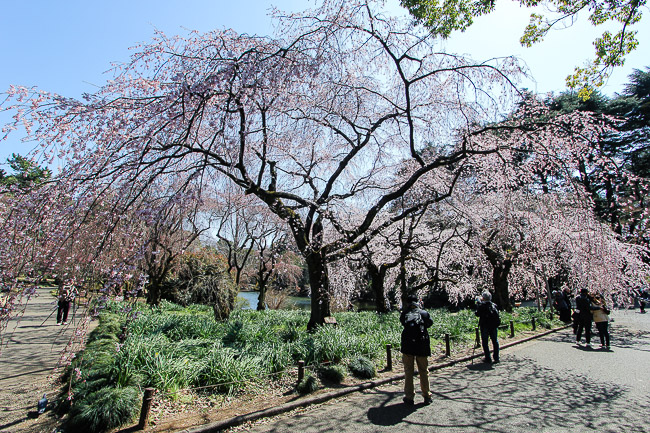 Questions? Ask in our forum.