Cherry Blossoms 2011: Iwakuni Report (4/7)
Cherry Blossom Report 2011
Official cherry blossom reports by japan-guide.com
This year's cherry blossom season will be overshadowed by the tremendous loss caused by the recent earthquake. However, we believe that the blossoms will serve as symbols of hope and resilience and a source of motivation along Japan's road to recovery. With this in mind, we never hesitated to go ahead with our annual reports in order to inform travelers in Japan and readers across the world about this year's cherry blossom season.
2011 Cherry Blossom Forecast - Schedule of upcoming reports - Post your own report
Popular cherry blossom spots - How to do hanami? - Cherry tree varieties
2011/04/07 - Iwakuni Report
by scott
After spending the morning checking out the cherry blossoms in Hiroshima (a separate report can be found here), I took the rest of the afternoon to explore Iwakuni, a beautiful riverside town not to far from Hiroshima. But before reading this report you may want to check out this excellent cherry blossom report trip by community member AlexRowan who visited Iwakuni on April 3, 2011. Thanks for the great report Alex!
Kintai-kyo Bridge
April 7, 2011 - full bloom
My first stop in Iwakuni was the city's iconic Kintai-kyo Bridge, an arched wooden pedestrian bridge that spans the Nishiki River. The bridge looks the best in spring when the hundreds of cherry trees planted along the riverbank form a beautiful backdrop of white blossoms behind the bridge. The cherry trees around the bridge and along the riverside park next to the bridge were in full bloom today and looked spectacular. Definitely check it out over the next few days while the cherry blossoms are at their best.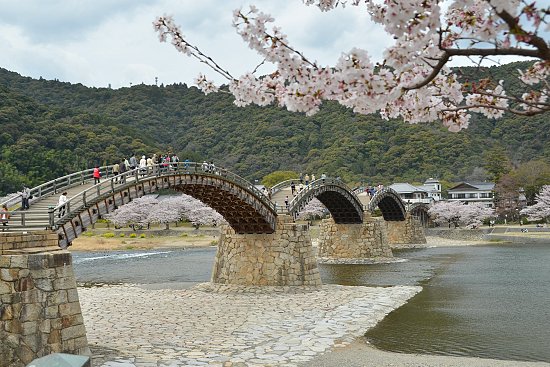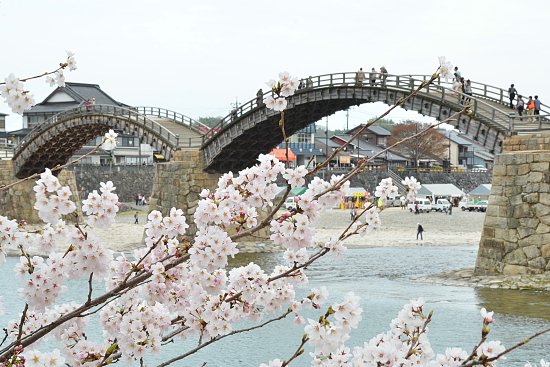 Kikko Park
April 7, 2011 - full bloom
Next the bridge lies Kikko Park, a large public park that was built of the former grounds of the feudal family that ruled the area during the Edo Period. The family's third lord, Kikkawa Hiroshi, commissioned the construction of the Kintai-kyo Bridge.
The cherry trees that are scattered throughout the park were also at full bloom today. There were lots of people having hanami parties under the trees and enjoying the wide open spaces found around the park as well. You can expect that the trees will continue to look their best for a few more days just like at the bridge next door.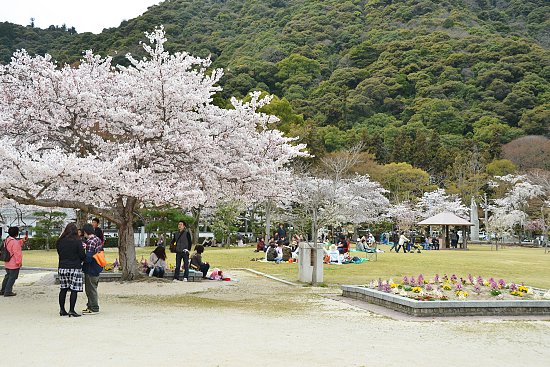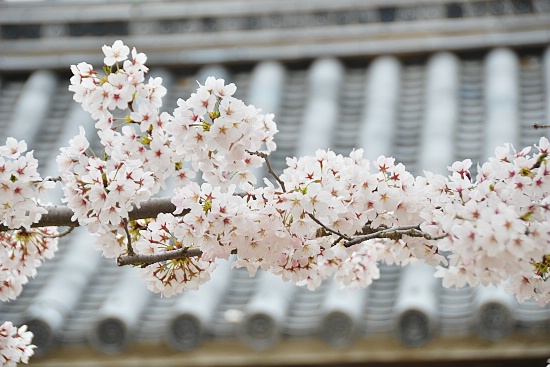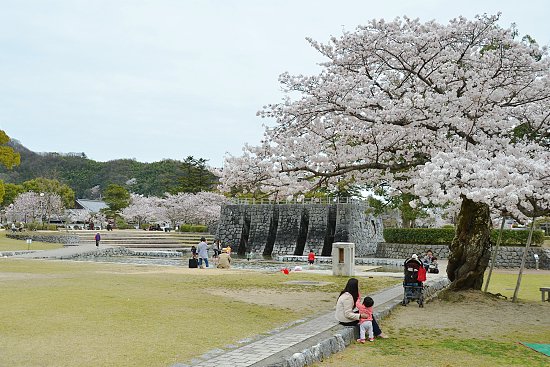 Questions? Ask in our forum.