Cherry Blossoms 2013: Matsumoto Report (4/12)
Cherry Blossom Report 2013
Official cherry blossom reports by japan-guide.com
2013 Cherry Blossom Forecast - Schedule of upcoming reports - Popular cherry blossom spots
How to do hanami? - Cherry tree varieties - Post your own report
2013/04/12 - Matsumoto Report
by sean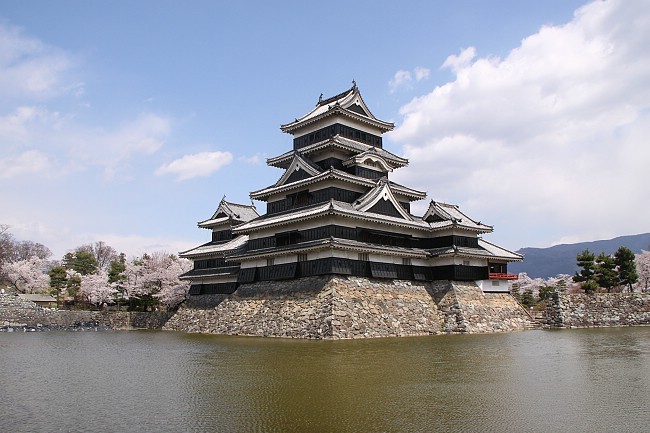 Matsumoto Castle
Today I went to Matsumoto to check out its cherry blossom spots. The city is located in Nagano Prefecture, and can be reached in about 2 hours and 40 minutes from Tokyo's Shinjuku Station by direct limited express trains.
The cherry blossom season in Matsumoto started on April 3rd this year, a week earlier than the average year. Today I caught some good views at Matsumoto Castle and Koboyama Park, which should last through the weekend at least.
Matsumoto Castle
April 12, 2013 - petals starting to fall
Matsumoto Castle is the pride of the city. It is one of the most complete and beautiful among Japan's original castles, with its characteristic black facade, authentic wooden structure, and interesting interior design. There are a few hundred cherry trees planted around the castle moats and inside the paid inner grounds of the castle.
A noticeable number of fallen petals were spotted on the ground today, and cherry blossom colors were not as saturated as they would have been at their absolute peak. However, they were still very very beautiful [sic] - I am sure the many others present today would agree, judging by the gasps of delight that I heard. Today was a somewhat cold day, which could help to preserve the fragile blossoms a bit. This is good news for the weekend crowd, who can come to enjoy them in the predicted fair weather.
There are benches and lawns under cherry trees around the outer grounds, which make ideal spots for visitors to have hanami (cherry blossom watching) parties and picnics.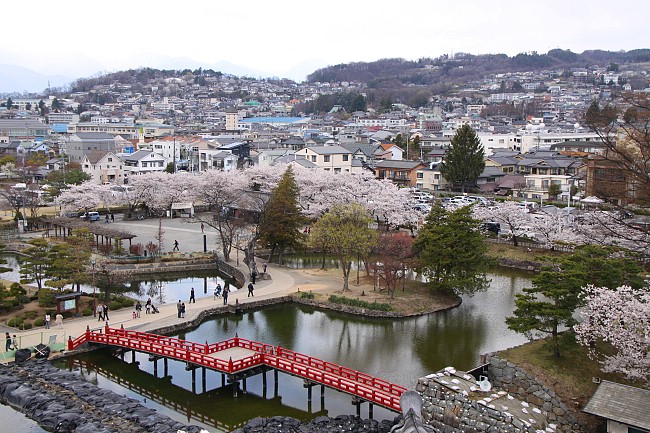 View from the castle's keep
Cherry blossoms at the castle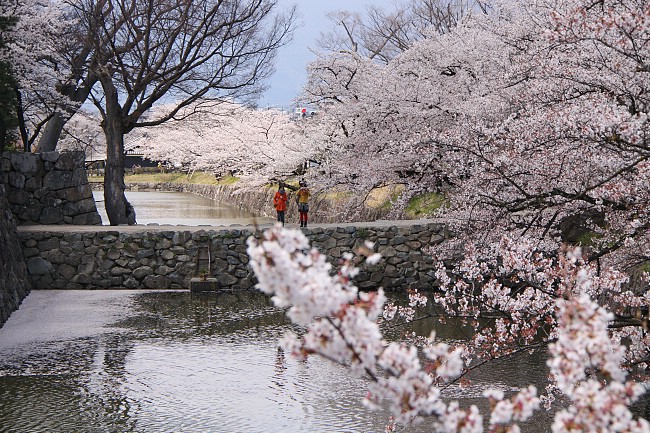 Castle moat
Koboyama Park
April 12, 2013 - full bloom
The cherry blossom season is usually later by a few days at Koboyama Park than at the castle due to its slightly higher elevation. The park is located on a hill which is actually a kofun, an ancient burial mound. Kofun are a significant characteristic of Japanese history from around 300 to 538. This period is therefore known as the Kofun Period.
Approximately 2000 cherry trees cover the slopes of the park/hill, making it an attractive cherry blossom spot. Today I found most of them to be at full bloom. There was an interesting mix of cherry trees and weeping cherry trees at the park, providing nice scenery with different hues of pink. At the top of the hill there were no trees, but there was simply open space with unobstructed panoramic views of the cherry trees below and the city beyond. Fantastic.
There were many at the park today, including some classes of children who were enjoying their excursion. Here, there was a feeling of openness within nature, with little boys rolling themselves downhill and little girls sliding down in more elegant fashion. Over at this end there were a group of ladies having some snacks; over at that side there was a couple lying on the grass and admiring the sky. How we forget the joy that the simple things in life bring.
Festival stalls were set up at the park and are scheduled to remain for another two weeks. Although I do not think that the cherry blossom views here would stay that long, the flowers were looking quite fresh today and I am optimistic that they would linger for another three or four days before they start to fade.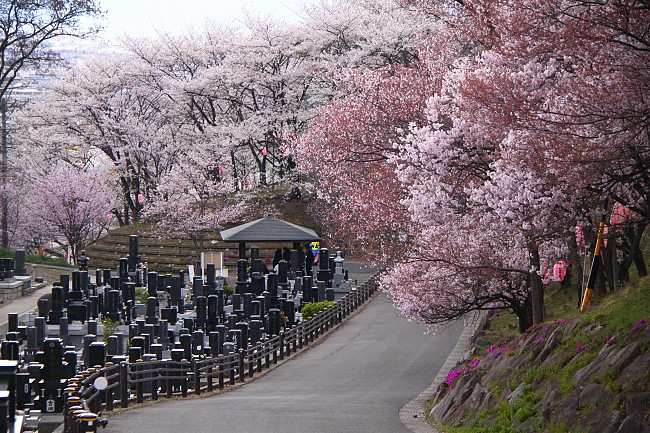 Road leading up the hill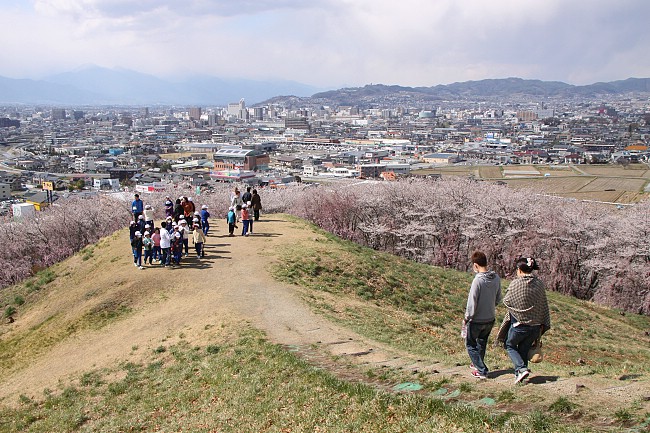 View from the summit of Koboyama Park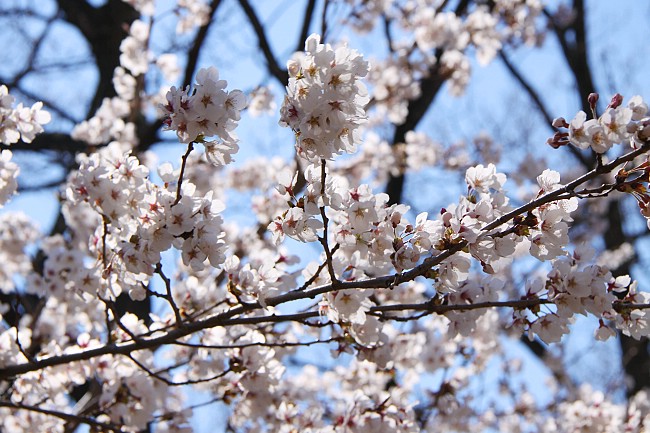 Cherry blossoms shimmering in the sunlight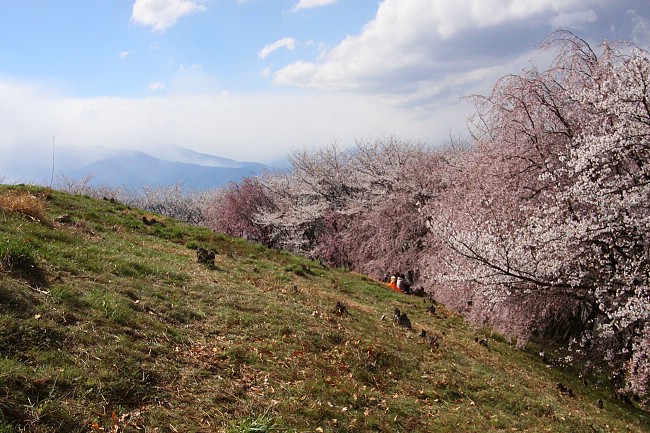 Scenery along the slopes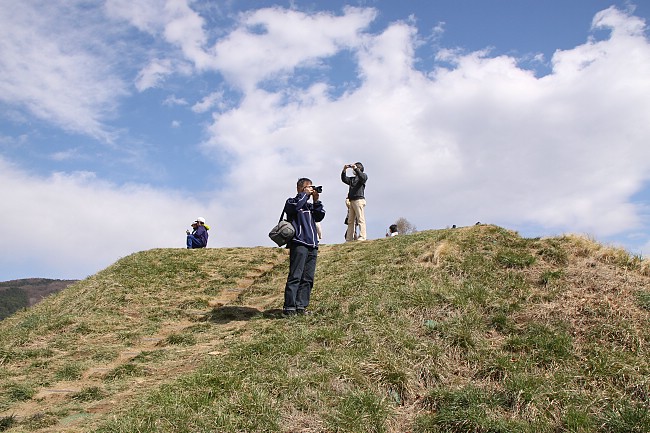 Questions? Ask in our forum.